Brenda's Big Batch Bircher Muesli
Bircher Muesli is an awesome, healthy alternative to the cardboard box breakfast
Swiss nutritionist Dr. Bircher-Brenner believed that the raw, natural ingredients of his muesli brew (brewsli!) would have healing properties for his patient's health.
Bircher Muesli was born!
It is crucial to soak the ingredients overnight in order to reduce the phytic acids found in grains (and nuts & seeds). This not only makes them more digestible, but also allows the body to absorb the nutrients more efficiently.
This is my family's favourite home-made combination for bircher muesli, which is jam-packed full of goodness and a great way to start the day. There's some in the fridge right now!
This is a big batch that will be enough to last for breakfast, snacks and lunchboxes for the week.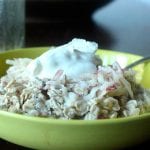 Brenda's Big Batch Bircher Muesli
2016-06-09 12:04:29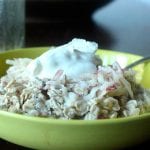 A delicious breakfast option to make mornings run smoothly.
Ingredients
5 x cups of rolled oats
3 x cups of milk or coconut water or a combination of both
A couple handfuls of almonds
A couple handfuls of sunflower seeds
2 tablespoons of chia seeds
A couple handfuls of sultanas
2 x cups of natural yoghurt
Juice of one orange
1 x grated apple
A good shake of cinnamon
A good pinch of vanilla powder
Instructions
Mix all of the above together, cover and leave pop into the fridge overnight.
In the morning, serve with extra milk and/or yoghurt, fresh seasonal fruit and a swirl of raw honey or pure maple syrup.
Brenda Janschek Health & Lifestyle http://brendajanschek.com/
Notes:
* Fresh fruit is a fabulous source of fibre and has been shown to reduce the risk of cancer and other diseases. In this recipe I use grated apple, which is packed with vitamins like A, B1, B2 and C, as well as minerals like calcium, potassium, iodine, iron and phosphorous.
* Oats can be powerful in lowering cholesterol and, therefore, fighting heart disease. Oats contain insoluble fibre which lowers blood sugar and control diabetes.
* Nuts and seeds are rich in omega-3 fatty acids, which are associated with numerous health benefits including the development of the nervous system and reducing bad cholesterol. They are also are great source of protein which is important for building and repairing muscles.
* Chia seeds deserve a special mention as they are highly nutritious and a natural source of Essential Fatty Acids, a great source of fibre, full of antioxidants, protein, amino acids, essential minerals and vitamins.
* Yoghurt provides good bacteria for the digestive tract, is a good source of protein and is loaded with vitamins like calcium, vitamin B-2, B-12, potassium, and magnesium.
So let's think outside the cereal box and enjoy this nutrient-rich, healthy wholefood breakfast which is exploding with goodness!
Bren x
As far as breakfast cereal goes, I always say, "you may as well eat the box', it's probably more nutritious than what's inside! Here are 5 things to think about before you reach for the boxed cereal in the supermarket.

Download Now