So that was my 40's!
Today I celebrate my last birthday of my 40's.

While most of my 30's was consumed with the craziness of babies and dealing with post natal depression, insomnia and anxiety that came along for the ride. All the while I managed to nurture my kids as they grew into toddlers, then school-age children (boy didn't that go fast!).


My 40s on the other hand have allowed for more time for personal growth and reflection.

My kids are now teenagers, and while I remain ever-present for them, their growing independence has allowed me the space to become more self aware and I realise in my 40's I'm happier being me despite the changes in how my body looks, the greying hair, the extra wrinkles and the perimenopause symptoms (!)


I also appreciate being alone with myself and I understand myself better. I care less about what people think of me, if they don't like me, it's their problem not mine, and generally feel more confident within myself which makes me feel more powerful.

I am blessed with a wide friendship group, but have learnt that friendships change over time. Sometimes they have an expiration date and fizzle away. And that's OK. But I can now recognise the handful of besties who will always, always have my back. Even if I don't speak to them all that often, because well #life, I know they're there as I am for them.

I have learnt to cherish the deep scars from events in my life that were difficult or traumatic. They somehow remind me I'm alive and have gifted me my biggest life lessons.

As I travel through my 40's, love, peace and harmony are what I crave. I have no interest in being sucked into someone else's drama, so I've become ace at creating boundaries : )

The big one though, is having time for self care and slowly but surely getting better at the art of graciously saying "no" AND not feeling guilty about saying it.

As my children grow older and I can feel their inevitable and natural separation, I realise that nothing is more important to me than them and our precious family unit.
My big goal in life is to stay connected to them. So I'm conscious of making beautiful memories with them, to be present in their lives everyday, and ensure that I look after my health so as I grow older I can keep up with them, show up for them, stay well for them.

Onwards and upwards.
Watch out 50, here I come!
One of the ways I address my health is by doing a deep cleanse around spring to feel ready for summer with a reset of the mind, body and soul. Right now we are offering a Break Through! Signature Cleanse Summer Special available for a short time only! All the recipes are absolutely bursting with nutrients and flavour and are antioxidant-rich and anti-inflammatory, which makes them super powerful and helps with weight management, balancing hormones, reducing cravings and feeling fantastic in a body you love. Find out more here.
Brenda x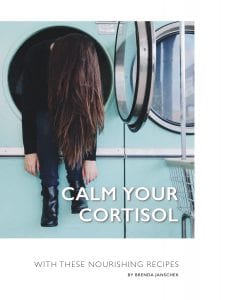 Grab your FREE copy of my 'CALM YOUR CORTISOL' recipe book to soothe your cortisol and start your journey to high energy, fast metabolism, and feeling like yourself again!