5 Breakfast Beauties for Mother's Day
Happy Mother's Day everyone! And by everyone, I mean Mums.
I'm never quite sure where the apostrophe goes in 'Mother's Day'. That's true of most apostrophes, bothersome little things that they are, but is that the right place? Or is it 'Mothers' Day', as in the collective noun that describes a hotbed/brilliance/sparkle of Mothers? Whatever the case, in this house it will be 'Mother's Day' (there being only one, as far as I know), where my agenda will include lots of things that make life very simple … for me.
Specifically, I'm expecting:
– no responsibilites (I'm not here, I'm not here … unless you're spoiling me)
– no decisions (which, granted, could go pear-shaped if history is a guide)
– a general smattering of spoiling by my family (so I hope you're reading!)
– no apostrophes
– palm leaves and grapes (soaring too close to the sun?…)
– breakfast in bed (no, hubby, you're not invited – get your apron on)
When I thought about brekky, it dawned on me (get it? get it?) that I had so many breakfast ideas on this little blog of mine, and I had quite forgotten how many. So, strap yourself in for a short compilation of some of my favourite brekkies. 'Get your orders in early' is my advice!
My latest and favourite is the Date and Walnut Muesli. It's so totally simple that it can be prepared the night before in 5 minutes flat, even by males (well, 25 minutes and four days for them). It's so full of goodness and it's great to know that some of the ingredients are boosting my immune system. This is a great one for the kids if they want to do it themselves and serve to Mama with some extra yoghurt and fresh fruit.
I haven't made my famous 'Notella' for a while, so bring it on so I can lather it onto some Spelt and Buckwheat pancakes, or some Sonoma Spelt Sourdough bread. It's so simple to make in the food procerssor or Thermomix, I think the kids could handle this one on their own. Dad could help them out with a warming cup of chai tea to accompany. Mmmmmm!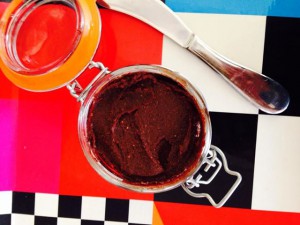 But what if I'm feeling in more of a savoury mood? Well, cue my tasty Egg Muffins, which never let me down. I just hope the kids remember that I particularly love them wrapped in a piece of organic bacon, or they could 'surprise. Perhaps a variation like spinach and ricotta! Just as long as they remember the cheese please (love the stuff!)
Any recipe that includes the words 'coconut cream' or 'ginger ' automatically gets my vote. So a steaming bowl of my Coconut and Ginger Infused Rice Porridge would be a welcome breakfast in bed. So nourishing and grounding and made out of only properly prepared natural ingredients. Yum!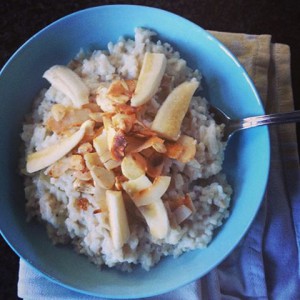 These Date and Cinnamon muffins are a cracker! With the gorgeous richness of dates and the warming sweetness of the cinnamon, it's a match made in heaven! Plus with all the added benefits of vitamins and minerals and the cinnamons's blood-stabilizing effects. These would be complemented beautifully with a steaming mug of hot chocolate made from my 'Notella' stirred into some hot milk. So indulgent, but still so healthy!
What's your favourite Mother's Day breakfast? I'd love to hear from you!
If you are interested in finding out my families top 10 breakfast recipes then sign up for a copy of my free breakfast ebook here.
Bren x