Chocolate & Ginger Angel Mud Cake
My cousin Julie is as intuitive when cooking as she is is in life. Rarely does she need to look far for inspiration because it oozes out of her (in a nice way!). So you can imagine the gift that awaited an acquaintnce who went out of their way to help her out of a bind.
For such an act of generosity, she dreamed up this sweet (yet savoury!), healthy (yet delicious!) cake as a tasty thank you.
To dress the cake, Julie used freshly harvested tumeric, which she acquired from both her green-thumb Mother, and Milkwood Permaculture Farm, where she was doing a course. I would never have thought of adding tumeric to a cake! But it makes sense when you think about the health benefits, and it adds the pizzazz that Julie is known for.
To introduce her cake, and introducing her cake instinct, here's Julie:
"I made it with my cake instinct (no trademark, but you can use it), so please use your very own cake instinct when attempting to reproduce this uniquely flavoured and textured wonder.
I encourage using organic and biodynamic ingredients where possible. Whatever you can get your hands on, really. It's open to experimentation!"
Many of the ingredients in this recipe can be sourced from my one-stop-favourite, organic wholefoods online store, The Wholefood Collective. They go to great lengths to ensure everything they source is amazing quality, they stock all my favorite products and I don't even have to leave the house! Oh and the cherry on the cake is they donate profits to improve food security for vulnerable Aussies.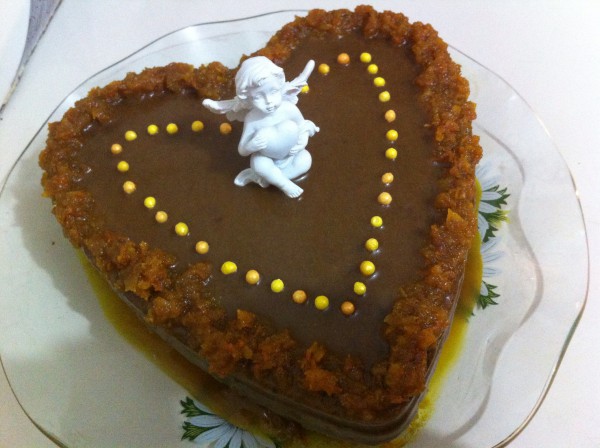 Chocolate and Ginger Angel Mud Cake
Ingredients:
2 cups almond meal
1 cup wholemeal spelt flour
1 cup rapadura or coconut sugar
125 g melted butter
1 1/2 cups macadamia oil
6 or 7 eggs depending on the size
1 cup grated fresh ginger
1 cup cacao
1 tsp baking soda
a few tablespoons of milk to get the right consistency
Preparation:
Pre heat oven to 190 degrees C
Butter two cake tins and make two cakes (or you can make 1 large cake)
Bake for 40-45 mins for two cakes or approx an hour for 1 large cake ( you will know it's ready when your kitchen smells like CAKE!!)
Test with a skewer
Let cool in tin then run knife round the edge and gently tip out onto wire rack
When totally cool scoop the caramel icing on, it should not be too runny and dress with the Crystallised Tumeric
Caramel Icing:
75g butter
1/4 cup rapadura or coconut sugar
2 tablespoon milk
Melt butter, add sugar and mix until dissolved. Add milk and mix until smooth, and to thicken, add a tablespoon or two of sifted spelt flour and stir out the lumps if any.
Crystallised Tumeric:
Pop a handful of peeled and grated fresh tumeric into a saucepan with a cup of sugar along with a wee bit of water and stir it up until it's the consistency of jam.
Keep going until you are happy with the texture. Don't let it dry out too much because its always good to retain a little bit of moisture. Dress the top of the cake with the Crytallised tumeric.
"Good luck everyone! Don't forget to use your very own cake instinct and fiddle with the sweetness and consistency until you are confident. If it means using more or less oil, then don't be afraid to adhere to the 'more is better' motto. Then again, 'less is more', as they say, so there you go – it's fate, it'll be perfect!
If you are using the best quality ingredients you are making actual food and not empty calorie confectionary."
Happy Baking!
Bren x