Mini Meat Pies
Feeling patriotic while my crew recently watched the Aussies smash NZ in the World Cup Cricket final (sorry Kiwis, I really do love you), I set out to make some good ol' Aussie Meat Pies.
With my 'planning ahead' hat on, I thought about all the ways we could get more than just a meal out of them that day. I didn't really have to think that hard either! Because of their size, they are perfectly suited for the kids' school lunchboxes. And because they're ready to go, they save oodles of time in the morning helter skelter. Or, you could simply heat up some of your stash for a quick heat-it-up-dinner with a scrummy salad for the kids if you've made plans to be out with friends (as I did that week!).
After a long Sunday of work, chores and cooking, I was incredibly grateful when the kids eagerly jumped up to take over the cutting of the pastry rounds, scooping the meat into the pastry, glazing with the egg wash, and sprinkling with sesame seeds. I was even more relieved when they gave the finished product the double thumbs up! (I'm always a nervous wreck waiting for their ratings!)
Because the pies are so little, they are a little time consuming to make, so I highly recommend making them as a school holiday activity and getting the kids involved in helping out. There are so many benefits to getting the kids in the kitchen, and it's such a lovely way to connect with them too. You could also just make them into the bigger sized pies for a heartier meal or I've been known just to pop some pastry into a dish, fill it up with the meat mixture, top it with pastry and shove it in the oven!
Many of the ingredients in this recipe can be sourced from my one-stop-favourite, organic wholefoods online store, The Wholefood Collective. They go to great lengths to ensure everything they source is amazing quality, they stock all my favorite products and I don't even have to leave the house! Oh and the cherry on the cake is they donate profits to improve food security for vulnerable Aussies.
Here are some of the ingredients you'll need:
Oregano
Cayenne pepper
Curry powder
Tomato paste
Tamari
Salt and pepper
Spelt flour
Milk
Sesame seeds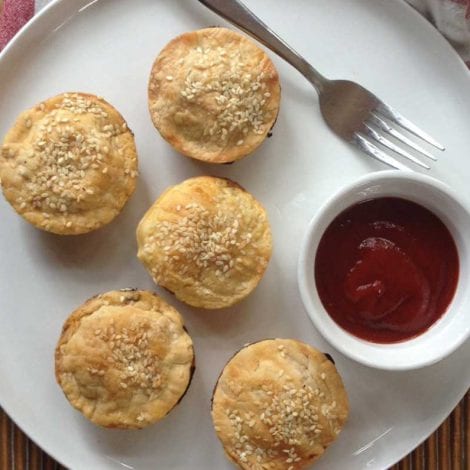 Mini Meat Pies
Ingredients
1

brown onion

finely chopped

2

tablespoons

butter

3

garlic cloves

finely chopped

1

medium carrot

finely chopped

1

small zucchini

finely chopped

5

mushrooms

finely chopped

400

gms beef mince

1

teaspoon

oregano

1

pinch

cayenne pepper

1

heaped teaspoon curry powder

2

tablespoons

tomato paste

2

tablespoons

tamari

Salt and pepper to taste

1

cup

beef stock

1

tablespoon

spelt flour

3 - 4

sheets butter puff pastry

1

egg

splash of milk

Sesame or poppy seeds
Instructions
Gently cook onions in the butter in a large frying pan. Add garlic after a couple minutes and saute for a minute.

Add the carrots and continue to cook until soft, then add zucchini and mushrooms and cook for a further couple of minutes.

Add the beef and cook until it is well browned, then add the oregano, cayenne pepper and curry powder and saute for 1 minute.

Stir through tomato paste, tamari, salt and pepper and then add the beef stock and simmer for a few minutes.

Add the spelt flour, mixing well, and allow to simmer for 15 minutes.

Preheat oven to 200 degrees C.

Grease 2 x 12 hole muffin tins.

Whisk together the egg and splash of milk.

Using a cookie cutter or empty glass jar, and while the pastry is still cold but malleable, cut out circles to fit into the muffin holes and for lids (noting I stretched out the pastry circles a little further with my hands for the bottom of the muffin holes).

Spoon in approximately two tablespoons of mince mixture into each hole (be careful not to overfill) then top with the lid and press sides down gently to seal the pie.

Brush the top of each pie with the egg wash and sprinkle with sesame or poppy seeds.

Bake in the oven for about 20 minutes or until golden.
Here's my boy having fun helping out while my daughter continued cutting out rounds…then they swapped roles for the second batch.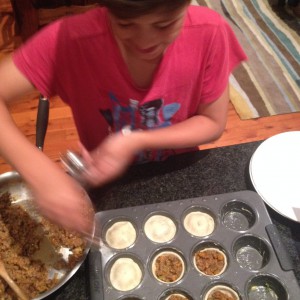 Do you have any plans to cook with your kids these school holidays? What are you going to make? Check out the recipes on my blog for some easy and fun dishes you can create!
Enjoy!

Created by certified health coach, Brenda Janschek, and her hungry and creative son Orlando, this eBook contains a rich variety of over 20 nourishing, real food recipes designed to satisfy the tastebuds and growth requirements of developing teenagers.

Add to cart

$

9.95