Rustic banana, blueberry and coconut cake
Being under the weather, my 11yr old son stayed home from school for a couple days.
He was feeling much better by the second day, courtesy of a pretty tough immune system and also a great example of allowing a fever to do its work. But while he was lounging about like a Roman Emperor and no doubt figuring out how he could possibly eek out another day at home, he noticed some squishy bananas and released his inner chef. Pretty soon he was asking for help to create a recipe incorporating the bananas.
So together we sat down and penned a recipe guided by him. We don't always see eye to eye with recipes – he's a bit more exploratory and likes to play with combinations, whereas I play it a bit on the safe side.
We had fun creating the recipe, though, then hung out together in the spring sun in the backyard afterwards (still in our PJ's) enjoying the fruits of our labour.
The raspberry sauce he had his heart set on making to pour over the cake didn't quite work, but it didn't stop him from enjoying his creation.
Many of the ingredients in this recipe can be sourced from my one-stop-favourite, organic wholefoods online store, The Wholefood Collective. They go to great lengths to ensure everything they source is amazing quality, they stock all my favorite products and I don't even have to leave the house! Oh and the cherry on the cake is they donate profits to improve food security for vulnerable Aussies.
Here are some of the ingredients you'll need:
Wholemeal spelt flour
White spelt flour
Baking powder
Cinnamon
Bicarbonate of soda
Desiccated coconut
Salt
Rapadura sugar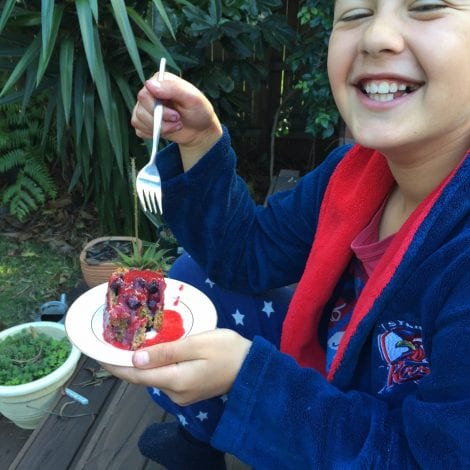 RUSTIC BANANA, BLUEBERRY AND COCONUT CAKE
Ingredients
1

cup

wholemeal spelt flour

1

cup

white spelt flour

2

teaspoons

baking powder

1

teaspoon

cinnamon

1/2

teaspoon

bicarbonate of soda

1/2

cup

desiccated coconut

pinch

salt

1/2

cup

rapadura sugar

2

eggs

lightly beaten

3

large mashed bananas

125

grams

melted butter

1

cup

frozen blueberries

2

tablespoons

natural yogurt
Instructions
Preheat oven to 175 degrees celcius

Grease a cake tin and line with baking paper

*Blueberries don't get added until the end

Mix all the dry ingredients together

Beat all the wet ingredients together

Fold the wet ingredients into the dry ingredients until just combined then add the blueberries and gently stir through

Pour into cake tin and pop in the oven for 4o-5o mins or until skewer does out clean

Leave to cool in pan for 5 minutes before turning out onto cake rack

THERMOMIX INSTRUCTIONS

Mash bananas in mixing bowl 5 sec/speed 6

Add softened butter (not melted) and sugar and beat 20sec/speed 4

Add eggs and yoghurt and mix 10sec/speed 4

Add remaining ingredients and combine 20sec/speed 4

Pour batter into a bowl and gently fold in blueberries

Pour into cake tin and bake 40-50 minutes

Pour into cake tin and pop in the oven for 4o-5o mins or until skewer does out clean

Leave to cool in pan for 5 minutes before turning out onto cake rack
Created by certified health coach, Brenda Janschek, and her hungry and creative son Orlando, this eBook contains a rich variety of over 20 nourishing, real food recipes designed to satisfy the tastebuds and growth requirements of developing teenagers.

Add to cart

$

9.95