Why Miss 8 ate up her dinner even though she said didn't like it.
When it comes to eating healthy food I have to admit my kids are pretty awesome. The thing is, they've been exposed to healthy food since they were babies, so it's second nature to them.
Mr 10 is a standout, and the more exotic the better for him. He'll take on such things as chicken hearts or mussels head first, and doesn't think twice about mixing fermented vegetables through his salad. Goodness, how many parents can say that?! I can't even believe I am!
But it's not all smooth sailing. Miss 8 is not as open about her food, and even though this is perhaps more 'normal' in a child with developing taste buds, it doesn't make it any less tricky.
My stategy with the kids has always been to focus on the healthy food they already enjoy, then explain to them why I'm so thrilled they like it. For Mr 10, I might focus on his love of meat, noting how it helps build and the repair muscles he uses for cricket. Or, I might mention to Miss 8 that the vitamins and fatty acids in the nuts she snacks on help with dry skin. Both of them love kale chips, so it's easy to slip in that they are full of iron and energy, which is so useful for their many other activities and in fighting disease.
Last night as my taste buds danced with anticipation as I made Quirky Cooking's Coconut Lemon chicken soup (with loads of vegetables), I knew I might have a small battle on my hands with Miss 8. The soup had lots of delicious spice in it, and that was going to be a challenge. One rule we have here is that you have to at least try the food before hurrumphing, and if you don't like you don't have to eat it. But, no complaining. Her reaction was predictable and I had to remind her about the last part of the rule as she screwed up her nose and readied for a tirade.
My response was to stay calm and let her know that, while she didn't have to eat the soupy part, she could pick out chicken and the vegetables. Watching all of us enjoy and exclaim about how delicious the meal was, she then asked "Is this dinner good for you?" It gave me the opportunity to casually explain that the broth was full of beautiful herbs and spices that were great for the immune-system and warding of coughs and colds. Bescause she detests getting sick, she began with the chicken and vegetables, before sneakily picking up the bowl and guzzling it down like a drink.
In that moment, I realised all my education and 'tactics' were starting to pay off. While initially choosing to be mindful about her health, she discovered pretty quickly that it really was quite tasty. Most western kids aren't used to spicy foods, and it's natural that they're hesitant to embrace them. Once they actually take the plunge (as Miss 8 did), it's not uncommon to find them asking for more.
A quick word on this dish – it's DIVINE!! I don't want to be bossy, but you just HAVE to try it. I bulked it up with vegetables and threw in 2 heaped tablespoons of Great Lakes gelatin in the green container  (which benefits the skin, hair, nail growth and digestive qualities amongst many other benefits). You can get it from my affiliate shop Organics on a Budget.
Here's the recipe:
Many of the ingredients in this recipe can be sourced from my one-stop-favourite, organic wholefoods online store, The Wholefood Collective. They go to great lengths to ensure everything they source is amazing quality, they stock all my favorite products and I don't even have to leave the house! Oh and the cherry on the cake is they donate profits to improve food security for vulnerable Aussies.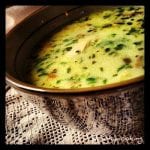 Photo from Quirky Cooking
Coconut lemon chicken soup
Ingredients
4cm cube fresh ginger, peeled
2 cm piece fresh turmeric or 1 tsp ground turmeric
3 garlic cloves
6 sprigs fresh coriander, leaves only, pus extra to garnish
2 spring onions/shallots, trimmed, cut into quarters, plus extra, thinly sliced for garnishing
1/2 long red chilli, deseeded
1000g Thermomix liquid chicken stock
400 g canned coconut milk
30g lemon juice (approx 1 lemon)
3 tsp coconut sugar
2 tbsp fish sauce
2 tbsp Chicken stock paste (optional)- I didn't have any so used Vegetable stock paste
300 g skinless chicken thigh fillets, cut into cubes (3 cm) – I used 500 g
You can find the rest of this recipe by Quirky Cooking here or in her awesome new cookbook.
Do you have any stategies in place when it comes to meal time?
Bren x
I am running a second and final "Think Outside the Cereal Box " breakfast workshop on Saturday 14th June. Information and bookings can be found here or here. Only 3 spots left.
Bookings for my healthy kids school holiday cooking classes are already starting to trickle in. For more info click here.