18 of the best Self Care Apps you need to try
Need to drink more water? There's an app for that!

Need to cut down phone time?
There's an app for that!
Since compiling this list I'm convinced there's an app to address virtually every aspect of self-care!
No matter what your definition of self care, whether it be…
Taking 5 minutes to focus on your breath each day.
Meeting a friend for coffee.
Enjoying a regular pampering session.
Whatever decisions, actions and intentions helps to refuel your mind, body, soul just make sure you prioritise them because life is tough, and looking after your wellbeing is paramount.
Using apps is an easy, convenient, and affordable way to boost your mental and emotional health.
Below are some favourites I researched and as voted by you!
18 of the Best Self-Care Apps you need to try
They have a free version and it has many different options for meditation styles, depending on what you may need that day. I personally recommend listening to Sarah Blondin.
This one is definitely one of the most popular meditation apps around. It's meditation made simple in just a few minutes per day. It also teaches you how to apply mindful techniques in different areas of your life. It has a free 10-day basic series pack.
Vent is a social network for people to express their feelings and connect with people who care. Vent allows you to express yourself and to listen others during tough times. A safe space to vent anything without judgement from the understanding community.
A daily inspiration drop to brighten up your day. Who doesn't need a bit of that?
Best described as a mobile life or mood/habit tracking journal. Daylio allows you to keep a private diary without having to type a single line. You can also add notes and keep an old school diary. Free to download.
A great app for meditation and sleep. Perfect for those anxious, monkey minds who find it hard to fall asleep at night and need some help to switch off. There's a couple of us at least in this house. Has a free trial.
Habitica is a free habit-building and productivity app that treats your real life like a game. With in-game rewards and punishments to motivate you and a strong social network to inspire you, the aim is to help you achieve your goals to become fit, healthy and happy. Love this idea.
MoodSpace is a great app for mental health. It aims to create a self-help space where you have the opportunity to experiment with different treatment methods, in the form of interactive mood workouts, to see what works for you.
These mood workouts are designed as short, habit building, self-help exercises that can be completed on your phone, at any time you choose and every workout is based on the latest research into depression treatments.
The Three Clouds (daily gratitude journal), Mindful Meditation and the Thought Diary (which challenges difficult thoughts) are popular activities.
Down Dog is a free guided yoga app, providing a studio-like yoga experience in the comfort of your home and which fits perfectly with any schedule.
Each time you practice, Down Dog creates a brand new vinyasa yoga sequence so you won't have to do the same routine over and over again.
Offers an easy solution to fitness with guided workouts for any schedule, has personalised plans with useful guidelines for strength , cardio, yoga and stretch training, you can select a focused workout from within that category. Offers a fun and effective way to fit in a workout on busy days or for the gymophobes amongst us.
11.J & J Official 7 minute app
Designed by an exercise physiologist and based on science-backed routine called interval training, combines aerobics and cardio for a great session you can do at home. Short workouts that get your heart racing.
A free unique journaling app that captures your thoughts, moods, interests and habits. Then prompts reflection and insight to help you make personal discoveries
This app, created by a clinical psychologist from Stanford University, makes mental health accessible to everyone. It helps people examine how they react to challenging situations and to think through them with step-by-step guidance using methods from Cognitive Behavioural Therapy (CBT).
Powered by the science of games, positive psychology and behaviour change, Superbetter is designed to increase your resilience and optimism and help you overcome difficult obstacles.
You'll be challenged to complete different wellness tasks each day in the form of a game. SuperBetter takes a holistic approach to help with depression, anxiety, chronic illness or pain, and PTSD. Plus, it covers a wide range of topics including divorce, workplace issues, grief, and more.
Space is the perfect app to help you break your phone addiction and find your phone/life balance.
If you find your phone use to be disruptive and distracting you from people and things that are most important to you, this app is for you.
16.Plant Nanny
Plant Nanny is a simple, cute little app that reminds you to drink water. Combining health with fun to remind you to drink water regularly.
17. Grateful: A Gratitude Journal
This app was created based off of research from Harvard Medical School that shows the link between gratitude and improved health and emotions. By posting daily journal entries in the app, you'll practice gratitude daily and get the pick-me-up you need whenever you're having a rough day.
This app helps you track your sleep. Just put your phone next to your pillow when you sleep (on aeroplane mode of course!) and it will analyze your sleep patterns based on your movements.
The next morning, Pillow will wake you up in the 30-minute window where you're in light sleep and you'll get detailed statistics of your sleep quality the night before.
And while the extra suggestions below aren't apps, they are some pretty powerful self -care tools.
Program
Break Through! Signature Cleanse
I created this program with Naturopath Naomi Judge to help women reset their hormones, get off the blood sugar rollercoaster, reduce inflammation, improve digestion, maintain a healthy weight and feel fantastic in a body they love!
Full of delicious recipes and lifestyle advice, The 28 Day Break Through! Signature Cleanse is a great way to increase energy and transform your body from the inside out by focusing on YOU.
YouTube
Free yoga videos on her website or YouTube. The yoga sessions are very manageable, around 30 minutes. Each day, there's a theme, starting with practicing ease, practicing intention and so on.
Facebook
Jada Pinkett Smith, her daughter Willow, and mother Adrienne – three generations of women open their home for a series of candid conversations with family and friends.
Websites
This game is designed to help you get through your busy day. It's basically an interactive flowchart to help you practice self care.
The name says it all.
Podcast
The Live Awake podcast helps bring you back to your grounded centre through reflection and guided meditation.
Enjoy!
Have you used any of these apps? Do you have any other faves I can add to the list?
Just let me know in the comments.
Please go ahead and share this post and spread the self-care message and remember …
"the only person who can pull me down is myself, and I'm not going to let myself pull me down anymore." – C. JoyBell C.
Bren x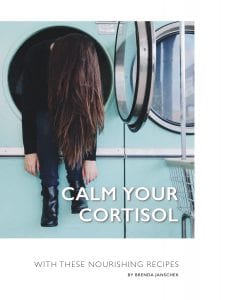 Grab your FREE copy of my 'CALM YOUR CORTISOL' recipe book to soothe your cortisol and start your journey to high energy, fast metabolism, and feeling like yourself again!