My Personal Shopping Session with FiFi
While it may not be an obvious choice, fashion is one of my favourite forms of self care.

After all, what we wear not only surrounds and protects us, it enhances our features and expresses our personality.
I have to admit though, getting dressed for the day can become confusing and burdensome especially when one minute you are at a netball game or trudging around a hilly golf course, and the next at a dinner with your girlfriends in a gorgeous Sydney restaurant …
The change of season also throws me and I find a closet clean-out clears the decks for the new season and breathes fresh air into my wardrobe, allowing space for some new and necessary pieces.
Cue Sydney personal shopper and stylist extraordinaire, FiFi!
The time and money saved by hiring a stylist at least once a year is invaluable to me and this is why…
– They help cull your wardrobe of clothes which no longer serve you (pass these on to friends, family and/or charity).

– They are experts in optimising and transforming what already exists in your wardrobe.
– They make an inventory of items you need to buy which makes getting dressed each day effortless, allowing you to get the most out of your wardrobe, and they know exactly where to get them from no matter what budget.

– They save money on new purchases and wrong purchases which never see the light of day #guilty #guilty #guilty

– They save you the the agony of looking through racks of clothes when you have kids to pick up from school in an hour!

– They help you feel confident every time you step out the door.
– They give back time in your day because getting dressed each morning and looking chic becomes quick and effortless.
Our shopping session consisted of FiFi finding all the missing pieces to make getting ready for any occasion, effortless.
According to FiFi I'm ready and set for at least the next 7-8 Winters with the perfect pieces she found for me.
The whole experience was such a pleasure with FiFi doing the research and pounding the pavement first, then organising all the clothes for me in the dressing rooms of the different stores to try on.
Now I couldn't be happier or more excited to get dressed each day.
Quite the ultimate act of self-care, because I'm totallyworth it ❤
A personal style session with FiFi would make a fab Mother's Day gift don't you think?
So below I am sharing three, 3 in 1 looks FiFi styled together for me, to showcase the versatility of some new and specific items I invested in. Look out for FiFi's style tips below.
3 Ways with Black Leather Leggings
FiFi Style Tip: Black leather leggings add an edge for your look but are still a classic versatile black piece. For casual day time in the week toss on a big slouchy sweater white sneakers and an easy bucket bag. For wintery weekends it's about wearing these leggings with a big parka, a simple knit, white sneakers and a tote. For evening add heels, a chic sophisticated wrap shirt plus grab a clutch ! Done !



3 Ways with Dark Denim Flares
FiFi Style Tip: A great new addition to your wardrobe are these dark denim high waist flares from Country Road, they are just so versatile. Not as casual as jeans but not boring black pants. They fill a gap in your wardrobe. For casual day time wear with a long brown cardigan, crisp white tee and sneakers. Add a tan bag to tie it in all and tone together. For a more dressed up day time look or a casual dinner toss over a check blazer with the tee and grab a small chic bag. For evening these jeans look fabulous with a simple black top, heels and a clutch. Add earrings.



3 Ways with Animal Print Dress
FiFi Style Tip: A long covered up dress is a a great piece for winter. It will take you from day to evening. It should have long sleeves, and go for a longer length. It should be over the knee. for a sophisticated day look try with long boots and a leather jacket. For casual weekends toss over a sweater and add boots and a big tote bag. For lunch or dinner add gold sandals and a chic designer bag.



Can't really hide it, but I'm as happy as a pig in mud!
So tell me, what do you think of these looks? Do you have a fave?
Follow FiFi on instagram where she shares so many of her fab finds from luxe to less, and also keep an eye on my instagram too. FiFi and I discussed the possibility of doing a regular, fun Friday Fashion post series with looks for the different occasions I've got coming up …!
Bren x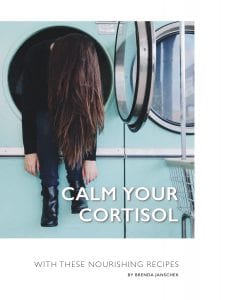 Grab your FREE copy of my 'CALM YOUR CORTISOL' recipe book to soothe your cortisol and start your journey to high energy, fast metabolism, and feeling like yourself again!