Spicy Chicken Wings
My 12yr old son Orlando requested that we share a few more recipes from our recipe eBook, Real Food For Hungry Teens, on the blog. The whole experience of creating the eBook together has really provided many more learning opportunities for him than I ever envisioned.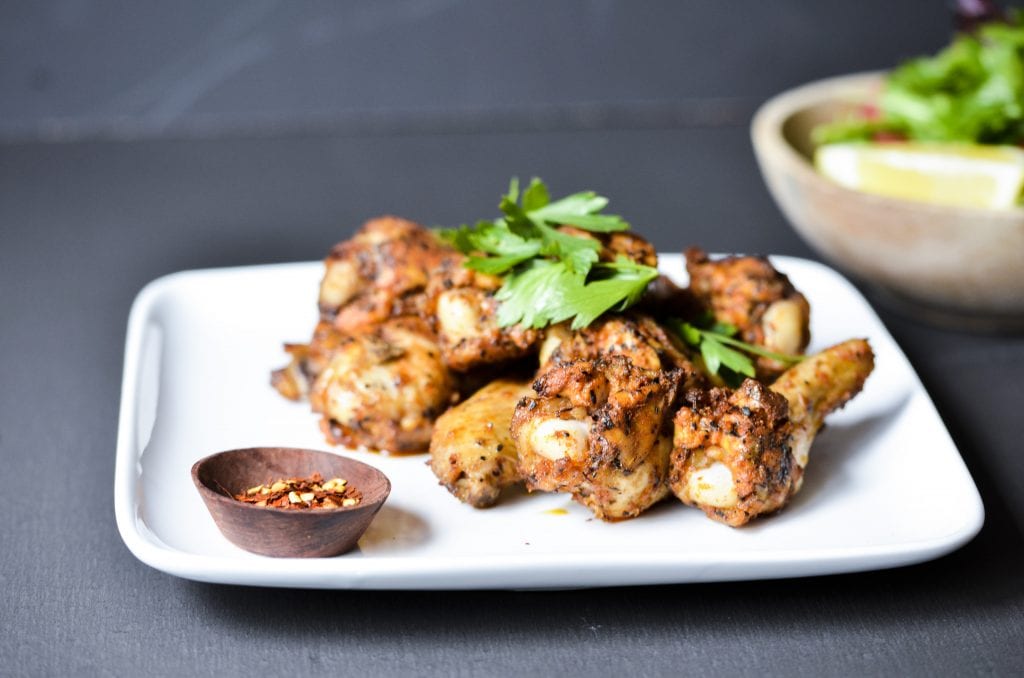 On top of all the learnings of how to create, execute and cook a recipe, he's learnt what's involved in creating an eBook, as well as business concepts like costs, breaking even, profits and valuing your product. I'd love to think my kids are little entrepeneurs in the making!
So we agreed to share just one more recipe from our eBook, and based on a Facebook poll, the most popular recipe chosen from the options were these totally scrumptious SPICY CHICKEN WINGS.
Orlando pretty much created this recipe on his own and I have such fond memories of sitting together at the kitchen bench, sun streaming through the windows and foraging through the herb and spice box. From there he threw together a few flavours with a couple of other essential marinade ingredients and voila, spicy chicken wings were born!
It took him a couple of tweaks to get the balance right (he was initially a bit heavy handed with the cayenne pepper – ouch!) but the end result is sooooooo good and I'm one heck of a proud mum.
We hope you love this recipe as much as we do.
Many of the ingredients in this recipe can be sourced from my one-stop-favourite, organic wholefoods online store, The Wholefood Collective. They go to great lengths to ensure everything they source is amazing quality, they stock all my favorite products and I don't even have to leave the house! Oh and the cherry on the cake is they donate profits to improve food security for vulnerable Aussies.
Here are some of the ingredients you'll need:
Chilli powder
Oregano
Cayenne pepper
Paprika
Thyme
Onion powder
Olive oil or coconut oil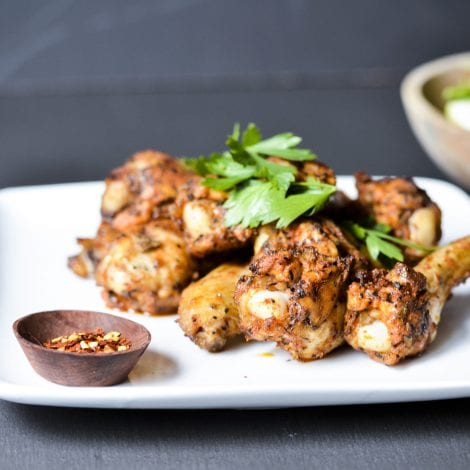 Spicy Chicken Wings
Ingredients
3

cloves

garlic

peeled

1

teaspoon

chilli powder

1

teaspoon

oregano

¼

teaspoon

cayenne pepper

½

teaspoon

paprika

1

teaspoon

thyme

1

teaspoon

onion powder

2

tablespoons

olive oil or melted coconut oil

Juice from half a lemon

700

grams

chicken wings

or around 7 medium sized wings (small drummies are also an option)
Instructions
Preheat oven to 180 degrees celcius.

Crush garlic cloves into a large bowl.

Add all the herbs and spices.

Add the oil and lemon juice and stir well.

Pop the chicken wings into the bowl and massage the marinade in thoroughly.

Place chicken wings onto a baking tray and cook in the oven for approx. 45-55 minutes.

Serve with lightly steamed and buttered broccoli and green beans, or a side salad and homemade sweet potato and potato chips (these are seriously sooooo good, and also have a special herb and spice mix and can be found in the snack section of Real Food for Hungry Teens.
Real Food for Hungry Teens eBook
Created by certified health coach, Brenda Janschek, and her hungry, foodie son Orlando, this eBook contains a rich variety of over 20 nourishing, real food recipes designed to satisfy the tastebuds and growth requirements of developing teenagers.
Teenage years place a great burden on the body as it transforms into adulthood. These tasty recipes are designed to help our growing kids through this period of physical, emotional and intellectual upheaval with food that actually supports their accelerating growth, without simply resorting to a loaf of bread at each sitting.

Created by certified health coach, Brenda Janschek, and her hungry and creative son Orlando, this eBook contains a rich variety of over 20 nourishing, real food recipes designed to satisfy the tastebuds and growth requirements of developing teenagers.

Add to cart

$

9.95