Apple and Berry Crumble – Cheats Version
If you're anything like me you are open to embracing time saving tricks in the kitchen.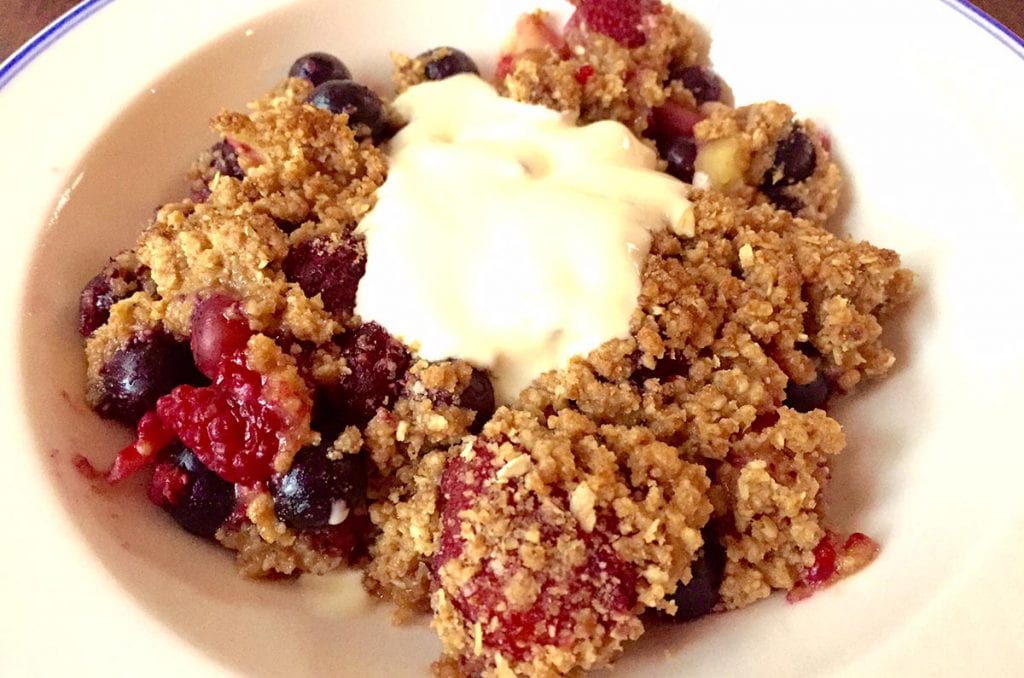 In this recipe I manage to skip the step of stewing the apples by simply slicing the apple thinly enough so they cook through in the oven. And adding the berries means you need less apples to peel and slice.
This dish makes another lovely well-balanced #thinkoutsidethecerealbox breakfast or dessert option, providing good carbs from the apples, berries (not to mention all the antioxidants) plus oats, good fats from the cream and butter and protein from the almonds. And it's perfect fare to eat in the depths of winter in front of the heater with your favourite ugg boots on. Nom nom.
I make some of the topping nut free by either leaving them out or replacing them with sunflower seeds, so I can pack some of this deliciousness into lunchboxes.
Many of the ingredients in this recipe can be sourced from my one-stop-favourite, organic wholefoods online store, The Wholefood Collective. They go to great lengths to ensure everything they source is amazing quality, they stock all my favorite products and I don't even have to leave the house! Oh and the cherry on the cake is they donate profits to improve food security for vulnerable Aussies.
Here are some of the ingredients you'll need:
Ground cinnamon
Nutmeg
Spelt flour
Rapadura or coconut sugar
Oats
Desiccated coconut
Vanilla powder
Apple and Berry Crumble (Cheat's Version)
Ingredients
3

medium green apples

peeled, cored and thinly sliced or chopped

1

cup

mixed frozen or fresh berries

2

tablespoons

lemon juice

1

teaspoon

ground cinnamon

A pinch of nutmeg

Cream to serve

Crumble

1

cup

spelt flour

¼

cup

rapadura or coconut sugar

1

cup

oats

1

cup

desiccated coconut

½

teaspoon

vanilla bean powder or vanilla extract

150

grams

butter

melted
Instructions
Preheat oven to 180 degrees fan forced

Combine the apples, berries, spices, lemon juice in a bowl and pop into an ovenproof dish with 1/3 cup of water.

To make the crumble, place all the ingredients in a bowl and mix to combine.

Spread the crumble mixture over the fruit, then pop into the oven and bake for 30 - 40 minutes or until the top is golden brown.

Serve with a big dollop (or two!) of thick, fresh cream and a sprinkling of chopped macadamia nuts.
Notes
This is also delicious served cold.
Make extra crumble topping, pop on a baking tray and bake until golden brown. The topping is handy to throw on top of fresh fruit, served with yoghurt for a quick breakfast, snack or lunchbox idea. Just store in the fridge or freezer.
Enjoy!
Bren x
As far as breakfast cereal goes, I always say, "you may as well eat the box', it's probably more nutritious than what's inside! Here are 5 things to think about before you reach for the boxed cereal in the supermarket.

Download Now
Real Food for Hungry Teens
Created by certified health coach, Brenda Janschek, and her hungry food son Orlando, this eBook contains a rich variety of over 20 nourishing, real food recipes designed to satisfy the tastebuds and growth requirements of developing teenagers.

Created by certified health coach, Brenda Janschek, and her hungry and creative son Orlando, this eBook contains a rich variety of over 20 nourishing, real food recipes designed to satisfy the tastebuds and growth requirements of developing teenagers.

Add to cart

$

9.95