Coconut & Ginger Infused Rice Porridge
Somehow my yummiest creations always come about when I'm scrounging around for ingredients in the pantry and fridge, or when I need to finish off something I've opened (I hate waste…sorry was that my dad?!)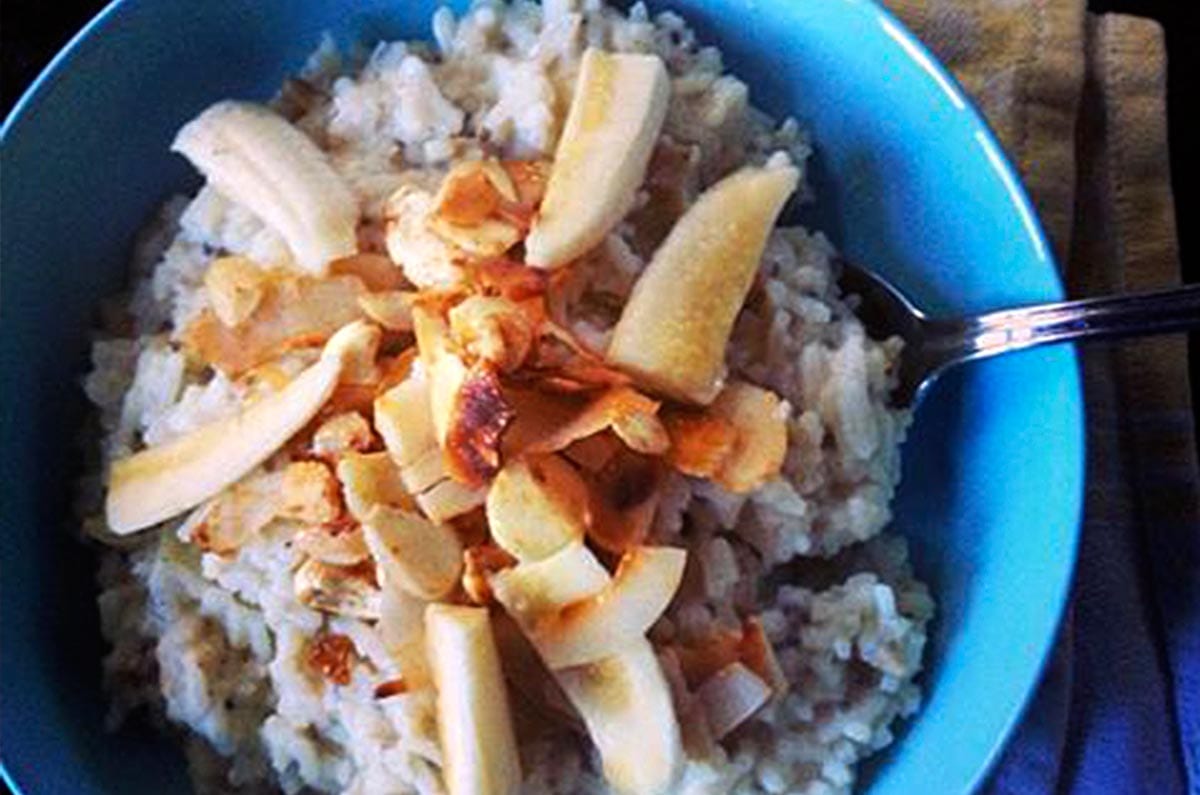 So when I found some "need to be used" coconut cream and ginger in the fridge, I decided to throw it into the batch of rice I was cooking that night. The end result was a delicious and subtley infused rice.
This rice was perfect with a simple red kidney bean, sweet potato and kale casserole for dinner and with the leftovers I made a winter-warming rice porridge for breakfast.
So keep in mind this recipe made enough rice for 1 dinner and 2 breakfasts for a family of 4 (or 2 dinners & 1 breakfast).
If you decided to cook only 1 cup of rice, then add 1 cup of water and 1 cup of coconut cream.
Here's what I did…
Coconut & Ginger Infused Rice Porridge
Ingredients
2

cups

basmati rice

2

cups

water

1

cup

coconut cream

3

big slices of ginger

1

cup

of chia seeds

A good handful of sunflower seeds

Both are quite neutral tasting for difficult for the kids to detect, otherwise you could grind them up

2

teaspoons

of cinnamon

1

teaspoon

of vanilla powder

1

tablespoon

of raw hone

pure maple syrup or coconut sugar for serving

½

cup

almond flakes

½

cup

cashews

½

cup

coconut flakes

1

tablespoon

brown rice syrup

honey or maple syrup
Instructions
Put the rice, water, coconut cream and ginger into a saucepan and stir.

Bring to the boil and then turn down to low & cook for approximately 20 minutes until rice is ready.

Discard the slices of ginger.

You can now serve for dinner and/or save some or all for breakfast.

In the morning put desired amount of cooked rice into a saucepan with double the amount of milk.

Add chia seeds, sunflower seeds, cinnamon, vanilla powder.

Put on low heat for 10 minutes to heat and absorb some of milk.

While this is warming up heat a small to medium frying pan and toast up the almond flakes, cashews and coconut flakes in the dry pan.

Just before the nuts were lightly toasted, added a tablespoon of brown rice syrup and stir the mixture around for a further minute.

Serve the rice porridge in bowls, topped with the nut mixture and some slices of banana or your favourite fruit.
If you're looking for some lunch inspiration, take a look at my recipe ebook, Easy Wholefood Lunchboxes. It's packed with 40 delicious nut-free, refined sugar free sweet and savoury recipes which have all been kid-tested and approved!
Stay warm.
Bren x

Packed with 40 delicious nut-free, sweet and savoury wholefood recipes your kids will love!

Add to cart

$14.95
As far as breakfast cereal goes, I always say, "you may as well eat the box', it's probably more nutritious than what's inside! Here are 5 things to think about before you reach for the boxed cereal in the supermarket.

Download Now