Crunchy Kale Chips
Hail the mighty kale!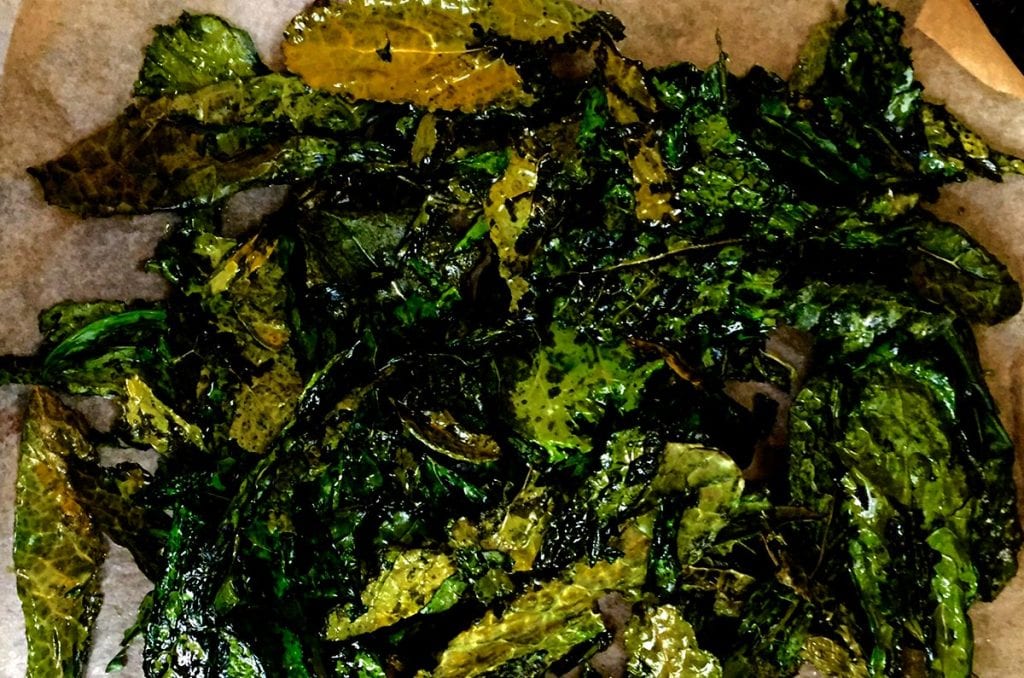 Kale chips are a big hit with my kids and, evidently, their friends, who come around and hoover them down before returning home demanding their mums make them too.
The teacher at school has her doubts, however, explaining to the kids (who are starting to ask for kale chips to be packed in their lunch boxes) that chips are bad for your health. Good on the teacher, because eating conventional chips every day is clearly not good for your health, but kale on the other hand is an incredibly nutritious food.
Keeping up with the demand is the real struggle. Luckily, the kids enjoy helping me make these moorish, healthy snacks so we can have them in constant supply.
Many of the ingredients in this recipe can be sourced from my one-stop-favourite, organic wholefoods online store, The Wholefood Collective. They go to great lengths to ensure everything they source is amazing quality, they stock all my favorite products and I don't even have to leave the house! Oh and the cherry on the cake is they donate profits to improve food security for vulnerable Aussies.
Here are some of the ingredients you'll need:
Coconut or olive oil
Himalayan rock salt
Kale Chips
Ingredients
1

bunch of kale

2

tablespoons

of coconut or olive oil

Celtic sea salt or Himalayan rock salt
Instructions
Preheat oven to 150 degrees

Place coconut oil into oven for 1 minute to melt

Cut/pull kale off the stem & wash well

Spin in a salad spinner to dry then place on tea towel to absorb any extra moisture

Put coconut oil in a bowl and using your hands, circulate the kale in the oil until well covered

Lay strips of kale onto large flat pan (I usually need 3 pans) and put in oven for approx 10-12 mins

Check kale at 10 minutes to make sure they are becoming crispy and not turning brown

Spin the tray around (to ensure even heating).

Remove from oven and sprinkle lightly with Celtic sea salt or Himalayan rock salt

Don't forget to make sure they are completely cool before storing in glass mason jars or plastic container
Why you should be eating kale?…
Kale is a dark leafy green (we all know we should be eating more of these), full of health benefits and nutrients. Like? Kale:
– is loaded with vitamins, especially vitamin A, but also vitamins C and K and folic acid;
– is rich in calcium, potassium, copper and iron. These nutrients are necessary for healthy bones, skin and eyes;
– contains important anti-oxidants such as carotenoids & flavonoids which can help to prevent cancer;
– is low in calories & high in fibre, so it's great for digestion;
– is an anti-inflammatory food with lots of omega-3 fatty acids, which help to fight inflammatory and autoimmune disorders.
Kale is a very versatile plant that can be cooked in many ways, including steaming, stir-fries and salads … oh, and chips!
If you're looking for more recipe inspiration take a look at my ebook, Easy Wholefood Lunchboxes.
It's packed with 40 delicious nut-free, refined sugar free sweet and savoury recipes which have all been kid-tested and approved and take the guess work out of what delicious, healthy food to pack your kids for lunch!
Other snack ideas you might like are Chewy Choc-Banana Biscuits and Raw Caramel Slice.
;
Packed with 40 delicious nut-free, sweet and savoury wholefood recipes your kids will love!

Add to cart

$

14.95