Healthy Lasagna
It was my daughter's insistence and persistence that finally compelled me to pull out the pots (there's a few needed!) to make lasagne.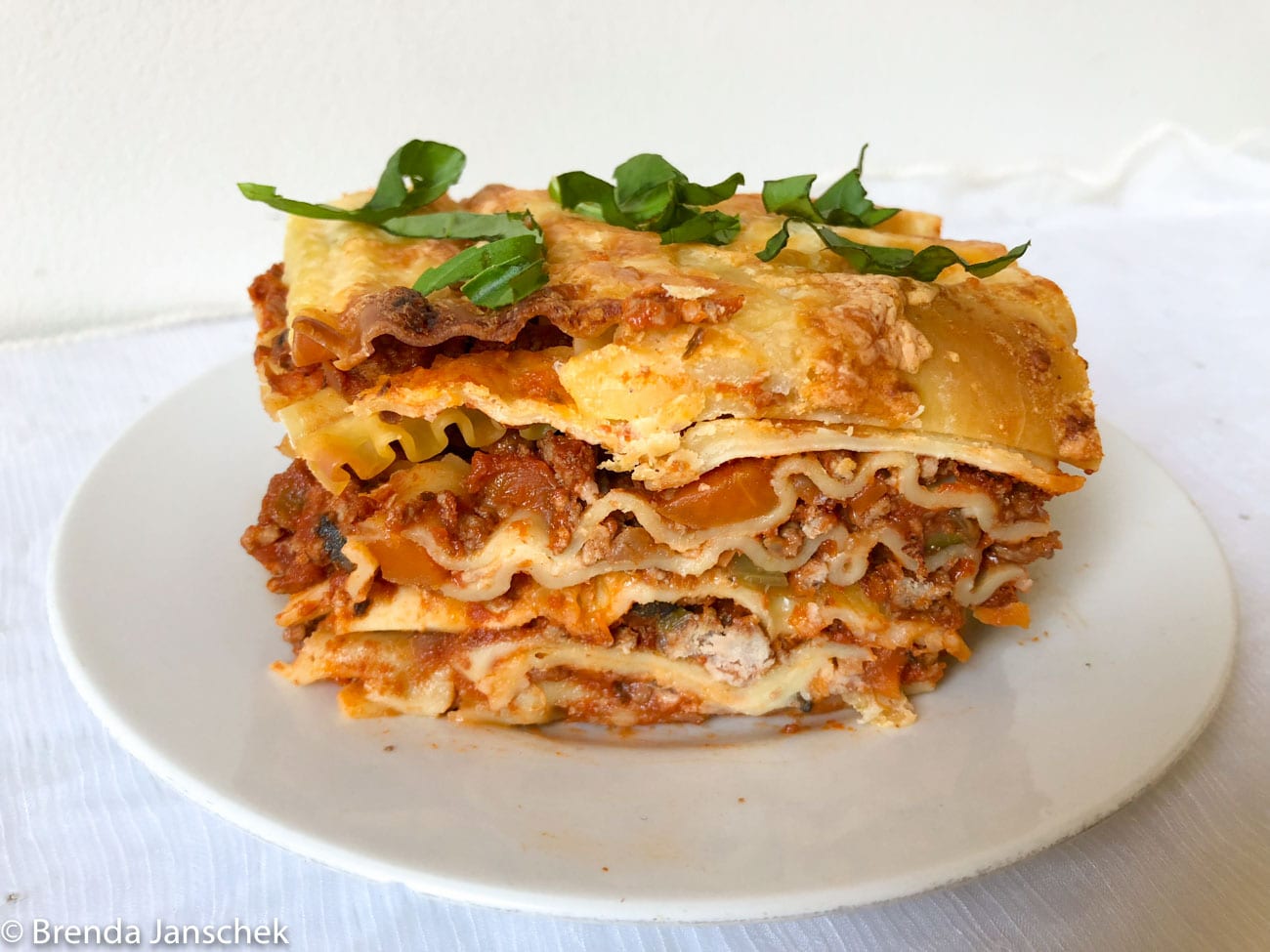 I had avoided making lasagna up until now because all those layers just looked like hard work to me.
Having finally relented I discovered that it's about as simple to make as spag bol, with just one extra (easy) step in making the cheesy bechamel sauce! The mind can play tricks on you it can : )
I made the traditional lasagna healthier simply by reducing the amount of meat and increasing the amount of vegetables. I also cooked it in some homemade chicken stock.
Simply by doing these two things, I've increased the vitamin, mineral, phytonutrient and fibre content of the dish.  Also, cooking the meat in the chicken stock makes it more digestible, not to mention boosts the immune system and delivers all that gorgeous gelatin, collagen and glycine to the body.
Lasagna will be definitely making a regular appearance on my meal plans.
It's hearty, filling and comforting, all the things my kids love.
Many of the ingredients in this recipe can be sourced from my one-stop-favourite, organic wholefoods online store, The Wholefood Collective. They go to great lengths to ensure everything they source is amazing quality, they stock all my favorite products and I don't even have to leave the house! Oh and the cherry on the cake is they donate profits to improve food security for vulnerable Aussies.
Here are some of the ingredients you'll need:
Olive oil
Tomato paste
Chicken stock
Dried thyme
Dried basil
Tamari sauce
Sea salt
Black pepper
Healthy Lasagna
Ingredients
250-350

grams

dried lasagne sheets

1

tbsp

olive oil

1

onion

finely chopped

1

medium carrot

finely diced

1

stick of celery

finely diced

1

zucchini

finely diced

1

cup

mushrooms

approx. three large, finely diced

4

garlic cloves

minced

400

gms beef mince

200

grams

pork mince

2

x 400gm can crushed tomatoes

1/4

cup

tomato paste

½

cup

red wine

½

cup

chicken stock

2

bay leaves

1/2

teaspoon

dried thyme

½

teaspoon

dried basil

2

tablespoons

tamari sauce

1/2

teaspoon

sea salt and black pepper
Bechamel Sauce
3

tbsps

butter

3

tbsps

flour

2 - 3

cups

milk

1.5

cup

grated cheddar cheese

Pinch

of ground nutmeg

Sea salt and pepper
Instructions
Heat oil in a large heavy based pot over medium heat. Add onion and cook for 5 minutes, then add garlic, celery, carrots. Cook for another 5 minutes until softened. Add zucchini and mushrooms and cook for another couple of minutes.

Add beef and pork mince breaking it up as you go.

Once browned, add crushed tomatoes, tomato paste, red wine, chicken stock, bay leaves, thyme, basil, tamari, salt and pepper.

Stir then pop lid on and simmer gently for 1 hour stirring occasionally. Remove lid and simmer for further 30 minutes until sauce reduces.

Preheat oven to 180 C
Bechamel Sauce
Make once meat and vegetable sauce is cooked.

In a medium saucepan, melt butter over medium/low heat. Add flour and mix constantly for 1 minute and a smooth paste forms.

Pour 1 cup of the milk in, mixing as you go to incorporate into the flour mixture. Once thickened add another cup of milk.

Turn heat up to medium/ high. Stir occasionally, but when sauce starts to thicken, stir more regularly. If sauce is too thick gradually add in the last cup of milk, stirring as you go. Add in 1 cup cheese once the milk has thickened and stir.
Assemble
Use a large baking dish.

Smear a bit of the meat sauce mixture on the base, then cover with lasagna sheets. Tear sheets to fit if necessary.

Spread over enough meat sauce to cover the sheets and pour over some of the béchamel sauce.

Top with lasagna sheets. Spread with more meat sauce, then pour on more béchamel sauce. Top with lasagna sheets then repeat 1 more time.

Top with a 4th layer of lasagna sheets, then pour over the remaining bechamel sauce.

Sprinkle with remaining 1/2 cup cheddar cheese, then bake for 25 minutes.

Stand for 10 minutes before cutting and serving, serve with big Greek or green salad.
Notes
You could do only 3 layers if you don't have enough lasagna sheets, meat sauce and bechamel sauce
If you know someone who could use some healthy dinner inspo, please share this recipe with them.
If you make my recipes please take photos and send them to me, or if you share them on instagram, remember to tag me @brendajanschek. I get a total kick out of seeing you make my recipes.
And here are a couple other dinner recipe ideas you might love Summer Baked Meatballs with Kale and Juicy Tomato Sauce and Crispy Chicken with Garlicky Potato Cream Sauce.
By the way, do you follow me on Instagram and Facebook? I'm always sharing lots of ideas over there. Come say hi.
Bren x
As far as breakfast cereal goes, I always say, "you may as well eat the box', it's probably more nutritious than what's inside! Here are 5 things to think about before you reach for the boxed cereal in the supermarket.

Download Now