Lamb, Feta and Spinach Gozleme
This mouth watering Turkish meal had been on my mind for weeks…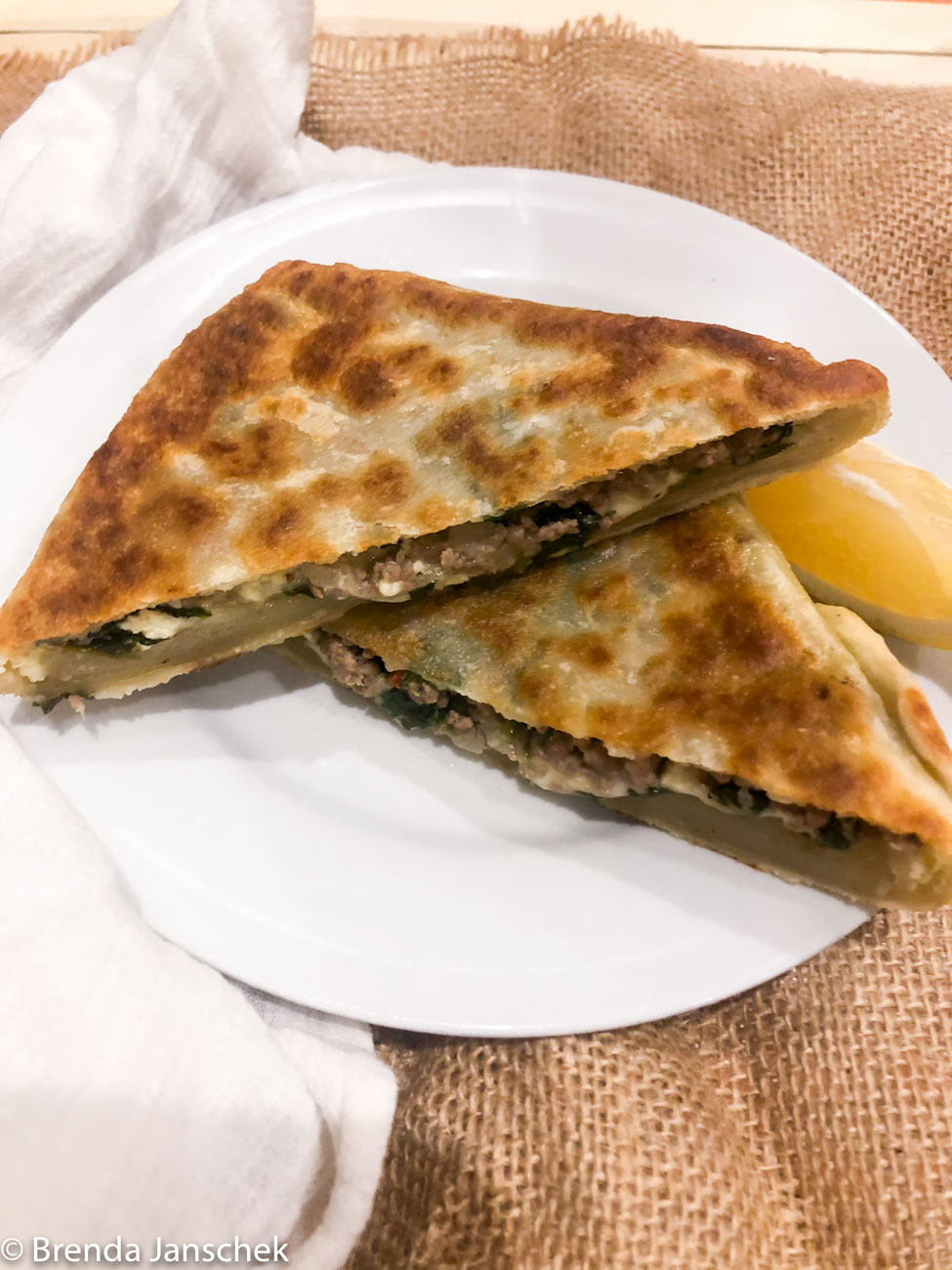 I was going to buy some from a local takeaway but my daughter warned me that the dough was more like Lebanese bread than the Gozleme dough which just wouldn't cut it in the craving Gozleme department. I absolutely love the gozleme you can buy at food stands at markets and sporting events, but because of lockdown during Coronavirus, I had no choice but to DIY!
I made the pastry from scratch which was dead easy but had to ring in number one son to roll out the dough which I never enjoy doing as a bit of effort and elbow grease is required. I filled it with savoury fillings such as lamb, spinach and cheese and was able to more than satisfy those incessant cravings satisfied and the whole family absolutely loved them too!
The recipe made one gozleme each for the four of us which I served with a side salad and we found these to be a lot more filling than we expected so it made for quite the hearty dinner. Noting we're a family of big eaters too!
LAMB, FETA AND SPINACH GOZLEME
Serves 4
Ingredients
Dough
2.5 cups unbleached plain flour
⅓ cup extra virgin olive oil
¾ cup water
½ teaspoon salt
Filling
1 onion, finely chopped
4 garlic cloves, finely chopped
500 grams lamb mince (or you can use beef if you prefer)
1 fresh red chilli, seeds removed, chopped finely or you can use a sprinkle of chilli flakes
100 grams baby spinach, roughly chopped
120 grams feta, crumbled
Lots of fresh mint, finely chopped
Lots of fresh parsley, finely chopped
Cooking
1 tablespoon olive oil per gozleme
Preparation
Dough 
Combine flour and salt in a large bowl. Make a well in the centre and add olive oil and water and mix with a spoon until well combine. If dough is too dry ad more water, a bit at a time.
Knead the dough on a floured surface until smooth and elastic, around 10 minutes. Cover with a clean tea towel and set aside for 30 minutes.
Filling
In a medium frying pan heat the olive oil over medium heat. Saute the onion for a few minutes until soft and add garlic and saute for a minute.
Add the lamb mince and break it up with a wooden spoon and cook for 8-10 minutes or until browned. 
Stir in the chilli, add the spinach, mint and parsley and stir for another 30 seconds then set aside to cool slightly.
Assembly
Divide the dough into 4 equal portion and roll in a rectangle around 12 x 10 inches.
Fill the dough with about 4 tablespoons of the lamb mixture into the middle of the dough and add s ¼ of the feta (30 grams).
Fold over the edges of the dough and repeat with remaining dough.
Heat a large frying pan over medium heat and brush each gozleme with olive oil on both sides. Add to pan and cook each gozleme for a few minutes each side until golden brown and crisp. You can also cook on the BBQ.
Cut each gozleme in half and serve with lemon wedges and salad.
NB: We had a little bit of the filling mixture left so I just threw it into some Mountain Bread, folded it all up and fried.
If you make this recipe and share on instagram remember to tag me @brendajanschek.
Otherwise feel free to pm me your photos via Facebook.
Some other delicious dinner recipes you'll love are Quiche Lorraine with Kale and Hearty Black Bean Quesadillas.
Packed with 40 delicious nut-free, sweet and savoury wholefood recipes your kids will love!

Add to cart

$14.95
As far as breakfast cereal goes, I always say, "you may as well eat the box', it's probably more nutritious than what's inside! Here are 5 things to think about before you reach for the boxed cereal in the supermarket.

Download Now