Middle Eastern Spiced Chickpea Rice
This is the type of yummy food I am served when I visit my Middle Eastern relatives.
Spicy, succulent and very satisfying,  instantly connecting me with the food of my childhood.
What makes this dish special is the use of the Baharat spices, adding a complexity and depth of flavour that makes this dish so tasty. Baharat can be hard to find unless your can get to a Middle Eastern grocer, otherwise it's really simple to make your own.
Many of the ingredients in this recipe can be sourced from my one-stop-favourite, organic wholefoods online store, The Wholefood Collective. They go to great lengths to ensure everything they source is amazing quality, they stock all my favorite products and I don't even have to leave the house! Oh and the cherry on the cake is they donate profits to improve food security for vulnerable Aussies.
Here are some of the ingredients you'll need:
Baharat Spice Mix
2 teaspoons paprika
2 teaspoons ground black pepper
1 teaspoon ground coriander
1 teaspoon ground cumin
1 teaspoon ground cinnamon
1 teaspoon ground ginger
½ teaspoon ground nutmeg
½ teaspoon ground cloves
½ teaspoon ground cardamom
Mix together and store in a glass jar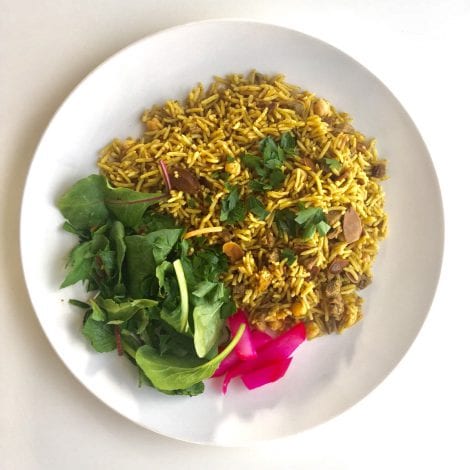 Middle Eastern Spiced Chick Pea Rice
Ingredients
1.5

teaspoons

Baharat

Middle Eastern spice blend

1.5

teaspoons

curry powder

1

teaspoon

turmeric powder

1

teaspoon

sea salt

2

cups

basmati rice

2

tablespoons

olive oil

3.5

cups

water

I do 2 cups homemade chicken stock and 1.5 cups water

1

can chickpeas

rinsed and drained

500

g

rump steak

1/2

cup

slithered almonds pan fried in 1 tablespoon olive oil until golden

Handful of fresh coriander leaves
Instructions
In a medium to large saucepan, on medium heat, add olive oil and rice. Pan fry until rice granules are heated through and start to whiten.

Add salt, one teaspoon Baharat, curry powder and turmeric and stir to coat rice.

Add water and bring to boil, then reduce temperature to a simmer and cover for approx 12 minutes or until rice has absorbed most of the liquid.

Stir through the chickpeas and replace lid for a further 5 minutes or until rice has absorbed all the liquid and is cooked.

While rice is cooking, rub the rump steak with 1 tablespoon of olive oil and remaining half teaspoon of Baharat and sprinkle with sea salt and pepper.

Heat a frying pan until hot, then pan fry the steak until cooked medium - rare. I did 3 minutes one side and 2 minutes on the other.

Once cooked, rest the steak for 5-10 minutes, then slice thinly.

Mix steak and toasted almonds through the cooked rice, sprinkle with coriander and serve with a side salad or greens leaves, plus pickles or fermented vegetables.

Eat and Enjoy!!!!
Notes
Tips: Soak basmati rice for at least half an hour beforehand to make a fluffier rice.
The rump teak will keep cooking once tossed through the rice, so don't over cook it on the pan.
Cut the recipe in half for 4 servings.
Enjoy!
Packed with 40 delicious nut-free, sweet and savoury wholefood recipes your kids will love!

Add to cart

$14.95
As far as breakfast cereal goes, I always say, "you may as well eat the box', it's probably more nutritious than what's inside! Here are 5 things to think about before you reach for the boxed cereal in the supermarket.

Download Now