Lentils and Rice (Mjaddra)
I've been reminiscing a lot lately about the food I grew up with. I think it was triggered by my recent introduction to the fabuloso gluten free restaurant Chic Pea in Summer Hill run by Foaud Kassab for a short time.
It's not every day you can just go and strike up a conversation about Tahineh (a delicious breakfast spread) or Mann al-Sams (Iraqi Taffy and my all time favourite sweet). Ta-what? Ma-who? So it was was a real thrill to be able to discuss these dishes with a real foodie after my own heart!
I don't really cook traditional Iraqi food that much for my family. I leave that to my mum who visits every second Tuesday night with a truckload of Cooba bil Leben (Arabic meatballs in yoghurt soup), Fasoulia (white beans with lamb in tomato sauce) and Baklawa (Lebanese sweets, which she forgot this week, and is now in the bad books!).
Mjaddra is a wholesome, tasty vegetarian dish of lentils, rice and caramelised onions that I have always looked forward to when visiting my Lebanese Aunties and cousins. Having a fair idea how this simple recipe would go, I checked with my foodie Auntie (who made my favourite version … sorry mum …!) to get the benefit of her experience, and tweaked it to make it right for me (and you!).
Apparently this is an ancient dish that has roots in the Old Testament, being mentioned in Genesis as the dish Jacob gave up his inheritance for. He clearly had good taste, if not financial matters!
The recipe is inexpensive, easy to make and delicious. You could try to soak your lentils in an acidic medium and rinse off well before cooking (I did my rice too) the night before. This makes them both more digestible and quicker to cook. Don't stress though if you don't have time. It's delicious served with Fatoush (a beautiful Arabic salad, which I will blog for you at some point) or a Cabbage salad and minted yoghurt.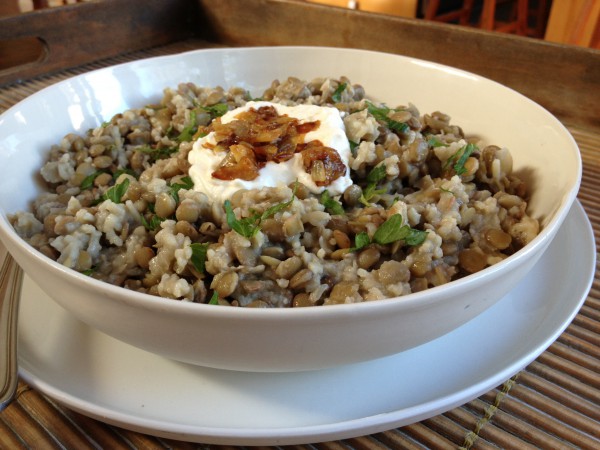 Many of the ingredients in this recipe can be sourced from my one-stop-favourite, organic wholefoods online store, The Wholefood Collective. They go to great lengths to ensure everything they source is amazing quality, they stock all my favorite products and I don't even have to leave the house! Oh and the cherry on the cake is they donate profits to improve food security for vulnerable Aussies.
Here are some of the ingredients you'll need:
Lentils
Basmati rice
Extra virgin olive oil
Salt
Cumin
Parsley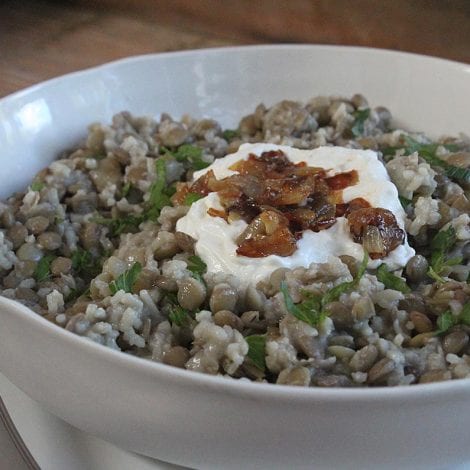 Lentils and Rice (Mjaddra)
Ingredients
1

cup

brown lentils

1/2

cup

basmati rice

approx 2.5 cups water

use home-made chicken stock if not vegetarian

3

medium onions

diced

2

tablespoons

ghee or Extra Virgin Olive Oil

1

tsp

celtic sea salt

pinch

of cumin

Parsley

chopped
Instructions
Soak lentils and rice overnight and rinse well before cooking.

Heat ghee or olive oil n a skillet and fry the onions on medium heat until golden-brown (approx 15-20mins). Pop in a splash of water to the pan if the onions start to stick to the bottom. Make sure the onions don't burn. Reserve half of the onions for garnish.

Meanwhile, place the lentils and rice together in a saucepan, along with half of the caramelised onions and the water (or stock).

Bring to the boil, then simmer gently with no cover, add cumin and mix.

Stir occasionally until the mixture starts to thicken (10-15 mins)

Add the salt at the end of cooking and stir.

Serve on a platter and garnish with the onion set aside earlier and a sprinkle of parsley.
Notes
Mjadra can be eaten hot or at room temperature with a side salad and some natural yoghurt mixed with mint, lemon juice and some ground coriander. You could even add some Lebanese bread if you like. We ate it with a thinly sliced raw cabbage salad with some salt, lemon and olive oil drizzled on it.
If you're looking for more recipe inspiration, take a look at my new recipe ebook which is getting rave reviews, Easy Wholefood Lunchboxes.
It's packed with 40 delicious nut-free, refined sugar free sweet and savoury recipes which have all been kid-tested and approved!
If you make my Mjaddra recipe, please take photos and send them to me. If you share them on instagram, remember to tag me @brendajanschek. Otherwise feel free to pm me your photos via Facebook. I get a total kick out of seeing you bring my recipes to life.
Other recipes you might like are Roasted Spiced Chickpeas and Mediterranean Buddha Bowl.
Bren x

Packed with 40 delicious nut-free, sweet and savoury wholefood recipes your kids will love!

Add to cart

$

14.95
product id="16264″]