Mediterranean Buddha Bowl
My whole family wolfed down this Mediterranean Buddha Bowl, the kids eating veggies I'd never dreamed I'd see them eat!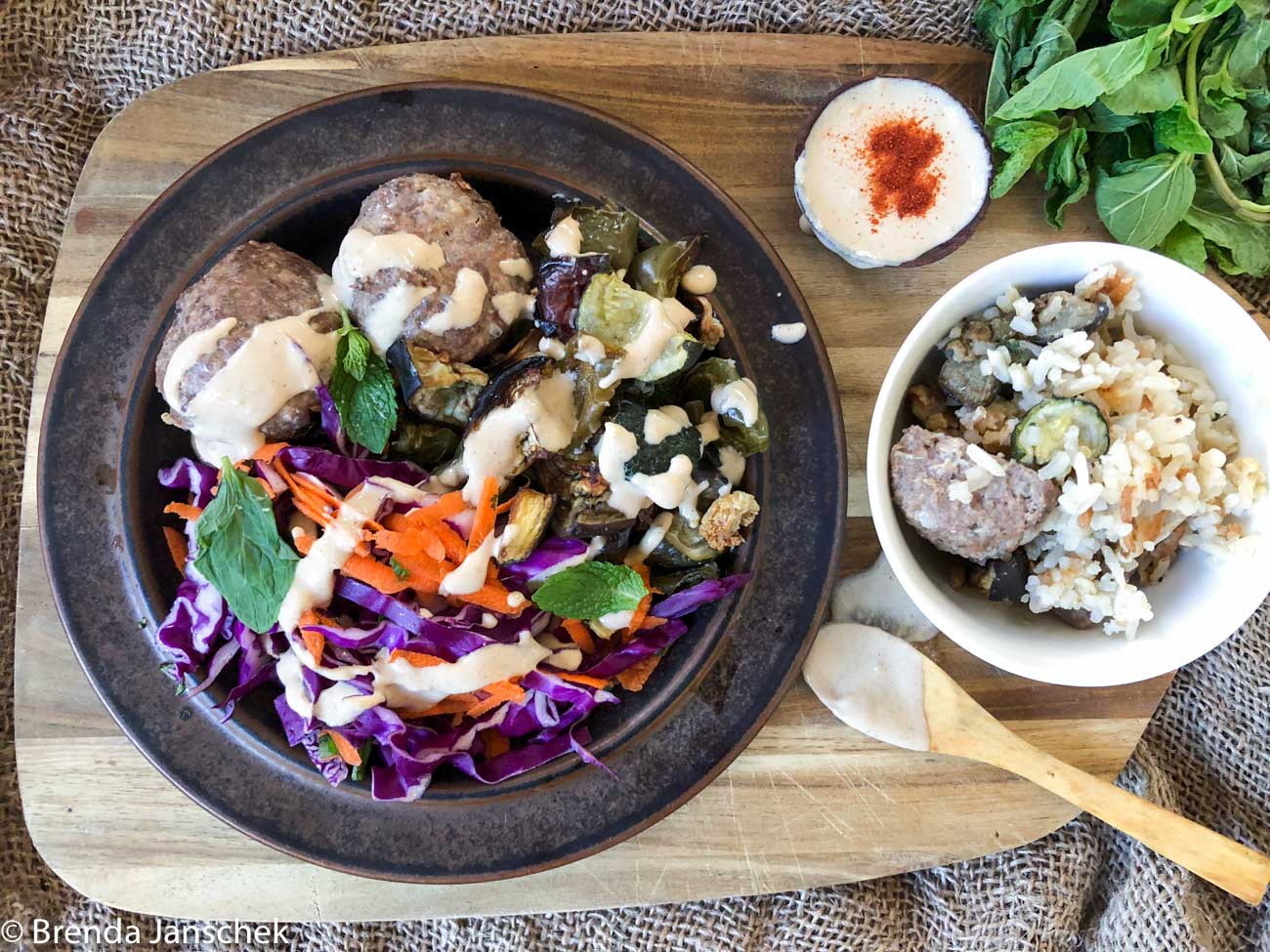 It's always so thrilling when you hit on a winner dinner that you can add to the repertoire.
Variety is the spice of life (and pursuit of mums around the world!).
I couldn't believe my eyes watching my kids hoover down the roasted eggplant and zucchini in this dish. I'm guessing it was just the mix of flavours all matching perfectly, with the tahini dressing tying it all together that did the trick.
This recipe came about because I had been craving tahini, I had meatballs in the fridge, and a red cabbage that was calling out to be eaten.
This is how most of my new recipes are inspired : )
Not a trained chef am I!
While there are a few elements to this recipe, believe me, it's dead easy to make, and if you double it, you'll have extras for lunch or dinner the next day, trust me, everyone will want some more!
Many of the ingredients in this recipe can be sourced from my one-stop-favourite, organic wholefoods online store, The Wholefood Collective. They go to great lengths to ensure everything they source is amazing quality, they stock all my favorite products and I don't even have to leave the house! Oh and the cherry on the cake is they donate profits to improve food security for vulnerable Aussies.
Here are some of the ingredients you'll need:
Extra virgin olive oil
Basmati rice
Tahini
Sea salt
Paprika
Mediterranean Buddha Bowl
Ingredients
1

medium eggplant

diced into small cubes

1

large zucchini

diced into small cubes

1/4

cauliflower

chopped to similar size to eggplant and zucchini

Extra virgin olive oil

6

meatballs

or you could use felafals or chickpeas, I used meatballs because that's what I had in the fridge, I just bought them from my butcher

1

small red or brown onion

chopped

1

cup

basmati rice

2

cups

water

1/4

red cabbage

finely sliced

1/2

carrot

grated

1-2

tablespoons

mint

finely chopped
Tahini Dressing
1

garlic clove

2

tablespoons

tahini

make sure you stir the tahini in the jar first

Juice from half a lemon

1

tablespoon

olive oil

7

tablespoons

warm water

pinch

sea salt

shake of paprika

sweet or smoked

Hummus

optional find the link to my recipe below.
Instructions
Preheat oven to 175 degrees.

Pop eggplant, zucchini and cauliflower onto a baking tray, drizzle with olive oil and using your hands, mix olive oil through. (Note: you could bake any of your child's favourite vegetables for this). Sprinkle with salt and pepper and pop in the oven.

After 20 minutes remove from oven and pop meatballs on the same tray and put back in the oven for another 20 minutes, or until meatballs are cooked. Remove from the oven and chop up the meatballs.

While the vegetable/meatball tray is in the oven, heat olive oil in a small pan on the stove and add the onion. Saute for around 5 minutes.

Add the rice and stir it through the onion, add 2 cups of water and bring to the boil. Lower heat to a very low simmer and cook rice and onion with lid on for 15 minutes. Once rice is cooked, turn off the heat, and mix through the baked vegetables and meatballs.

While the rice is cooking throw together the cabbage, cabbage, carrot and mint to form a salad
Dressing instructions
Pop all the ingredients into a Magi-Mix or blender, blend until smooth
To Serve
Put some salad into a bowl and the rice mix next to it and drizzle over lots of tahini.

Serve with a generous dollop of hummus.

Or you can serve it deconstructed as I have in header pic.
Hummus (optional) find the link to my recipe here
#addicted
If you know someone who could use some healthy lunch or dinner inspo, please share this recipe with them and while you're at it feel free to share my FREE breakfast ebook below.
If you make my recipes please take photos and send them to me, or if you share them on instagram, remember to tag me @brendajanschek. I get a total kick out of seeing you make my recipes.
For more Buddha Bowl recipe inspiration click here.
And here are a couple other lunch and dinner recipe ideas you might love – Tex- Mex Burrito Bowls and Middle Eastern Spiced Chickpea Rice
Bren x
As far as breakfast cereal goes, I always say, "you may as well eat the box', it's probably more nutritious than what's inside! Here are 5 things to think about before you reach for the boxed cereal in the supermarket.

Download Now