Tex-Mex Burrito Bowls
The other night I found myself in a Mexican stand off over dinner, with one kid adamant they felt like chicken, the other wanting vegetarian.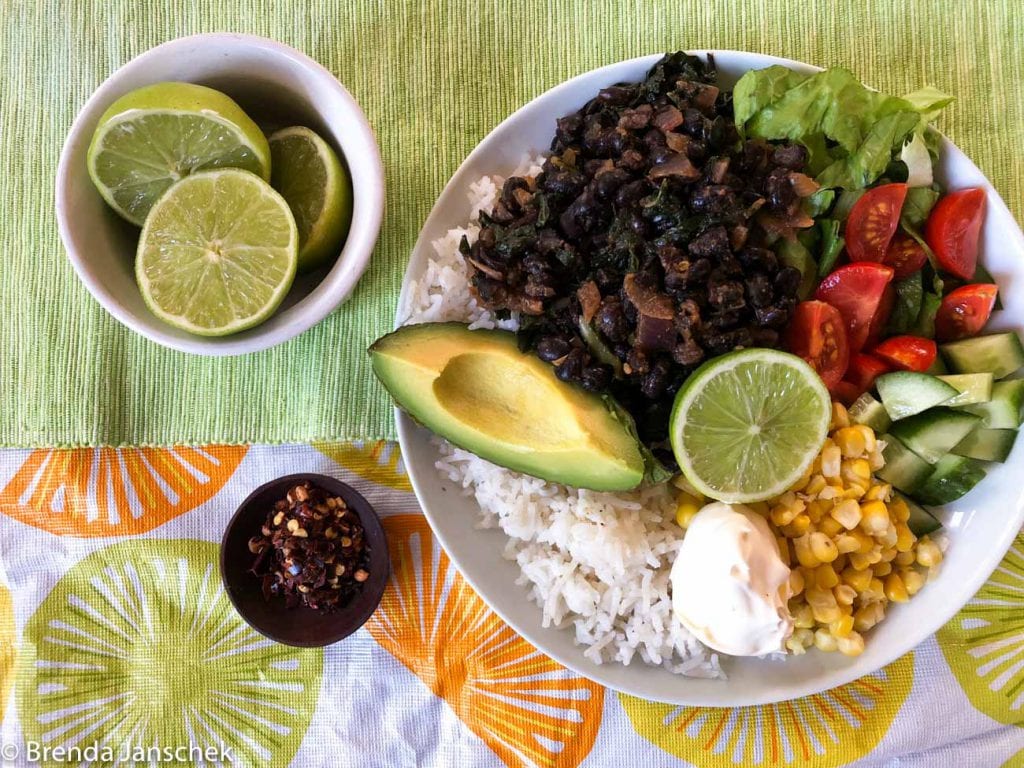 I had to think quick and get creative before guns were a-blazing.
With some leftover chicken in the fridge and a couple tins of black beans in the cupboard, I saw a way of pleasing all the people and the idea for Tex Mex Burrito Bowl was born.
By simply throwing together a bunch of yummy things into a bowl, this dinner was an instant hit and you should see the smiles on the kids faces when they hear it's Tex Mex Burrito Bowls for dinner. Sometimes feeding the family is just all about simple, fresh ideas.
These Tex-Mex bowls are fun, filling and delicious and can be served hot or cold, so it's a great one to prepare ahead.
The Tex Mex Burrito Bowl is also a great example of packing as much nutrition into one delicious meal as possible. Here's are the ingredients which help to upgrade this dinner into a powerhouse of goodness:
Bone Broth
In this case chicken broth is added to cooking the bean mix and is used to cook the rice in too.
Bone broth is loaded with nutrients that many people lack, and in a form our bodies can easily absorb and use like calcium, phosphorus, and other minerals, like silicon and other trace minerals, amino acids like proline, glycine, and glutamine (which have anti-inflammatory effects).
It's exceptionally healing for your gut,
It treats leaky gut syndrome
Helps to overcome food intolerances and allergies
Improves joint health
Reduces cellulite
Boosts immune system
The benefits are endless.
Garlic
Garlic is loaded with vitamins like B & C, and minerals like calcium, potassium, copper, manganese, and selenium.
It also contains the active ingredient, Allicin, which is released when the garlic clove is sliced or minced or chopped. To take full advantage of the health benefits you should eat garlic within 1-2 hours of cutting into it. If you are going to cook chopped garlic let it sit for 15 minutes before cooking it. This allows for the allicin to be activated.
Allicin is anti bacterial, contains high levels of anti-oxidants, which helps to prevents cancer, has antimicrobiral properties so it's great for skin, fights cold and flu symptoms. Lowers bad cholesterol and improves good cholesterol (HDL)
Kale
In terms of nutritional density, kale is virtually unparalleled among green leafy vegetables.
It's got the highest level of protein out of all the vegetables.
Like beef, it also contains all nine essential amino acids needed to form the proteins within the human body, plus nine other non-essential ones.
It contains omega-3s in a beneficial ratio to omega-6, and is really rich in vitamins A, C, and K1.
It's loaded with minerals including more calcium per gram than whole milk, and in a more bioavailable form.
They're packed with protein and iron, they've got crucial minerals like copper, manganese, thiamine, phosphorus, and magnesium. So if you don't use these in your Mexican dishes already, try to scatter them through.
Dulse flakes –which is a sea vegetable that has a strong umami flavour
 In many cases, seaweed is even more nutritious than vegetables from the land. Dulse, rich in proteins, vitamins, minerals, and antioxidants. High in iodine which is a mineral that is used to make thyroid hormones, make efficient metabolism. It's also crucial for breasts, skin, brain, stomach, salivary glands.
By seeking out a supplier with high standards and ethics, you'll receive a true superfood without any risks of contamination or environmental harms.
Olive oil is an essential fatty acids which provides the basic building blocks of fats and they have many roles within the body and they play a critical role in supporting your child's physical, emotional and mental growth. They're the fats that we can only get from our food, namely Omega 3 (which is the primary fatty acid found in the brain and Omega 6 (helps to support a healthy immune system). They help to …
Promote heart health
Protect your brain
Fight depression
Relieve inflammation
Reduce joint pain
They are so important when we're talking child development and in many of the nutritional diseases that arise later in life.
Many of the ingredients in this recipe can be sourced from my one-stop-favourite, organic wholefoods online store, The Wholefood Collective. They go to great lengths to ensure everything they source is amazing quality, they stock all my favorite products and I don't even have to leave the house! Oh and the cherry on the cake is they donate profits to improve food security for vulnerable Aussies.
Here are some of the ingredients you'll need:
Tinned Black Beans
Basmati Rice
Cumin Powder
Chilli Powder
Passata
Extra Virgin Olive Oil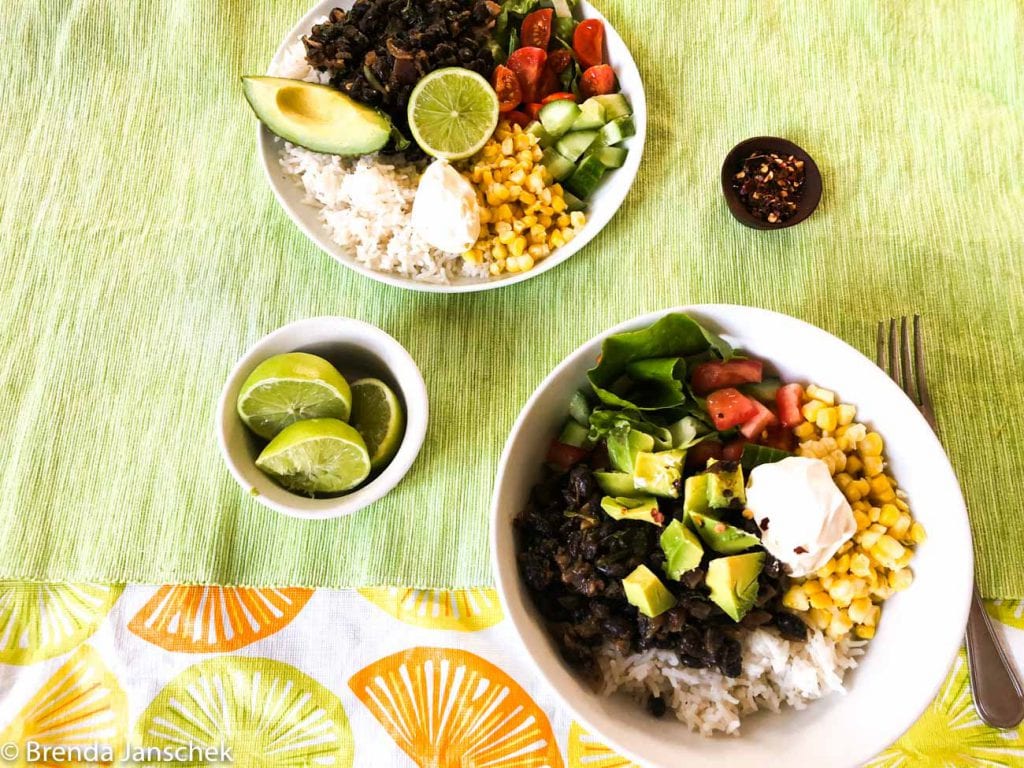 Tex Mex Burrito Bowl
A fun and filling family friendly dinner the whole family will enjoy.
Ingredients
Splash of extra virgin olive oil

1

small onion

chopped

4

cloves

garlic

chopped

2

teaspoons

Mexican seasoning or a mix of cumin

paprika and chilli powder

Two big handfuls chopped kale

2

x tins black beans

1

cup

tomato passata

optional: add if you know your kid prefers their Mexican with a tomato base

½

cup

of homemade bone broth

I used chicken broth

Handful fresh coriander leaves

chopped

Squeeze of lime juice

1

cup

cooked rice

1

corn on the cob

steamed and kernels sliced off

1

avocado

smashed up with lime juice

1

cup

cheddar cheese

grated

Sour cream to serve

Cucumber

lettuce and tomatoes, chopped

Leftover roast chicken

optional

Olive oil for drizzling

Extra lime for serving.
Instructions
Heat olive oil in a big pan on low heat and saute the onion for five minutes

Add the garlic and kale and saute for a couple of minutes, then add the Mexican spices and saute for another minute

Stir through the black beans

Add chicken broth and passatta if using

Stir and simmer for 5 - 10 minutes

Assemble the plate with rice, bean mix, chicken if using, chopped lettuce, tomatoes and cucumbers, corn kernels, avocado smash, a dollop of sour cream and a sprinkle of grated cheese

Drizzle the lot with olive oil and a good squeeze of lime
If you make this recipe let me know if your family loves it as much as we do, and please take photos and send them to me, or if you share them on instagram, remember to tag me @brendajanschek
You might also like these other family-friendly dinner ideas Potato and Zucchini Slice or Chicken Leek and Mushroom Pie
Bren x
Packed with 40 delicious nut-free, sweet and savoury wholefood recipes your kids will love!

Add to cart

$14.95
As far as breakfast cereal goes, I always say, "you may as well eat the box', it's probably more nutritious than what's inside! Here are 5 things to think about before you reach for the boxed cereal in the supermarket.

Download Now