Lunch Bowls Made Easy
Most of us lead busy lifestyles, so we all appreciate how notoriously difficult it can be to eat well while at work.
Unless we are prepared, it can be a pretty slippery slope to grabbing whatever is available 'downstairs' and munching on it at the desk, and it's never satisfying. Nor is it good for us when it becomes a repeated pattern. In order to make sure we eat well at work, it is imperative to be organised in advance. The beauty of doing this is that it's not really that difficult!
I want to share with you a simple system that is guaranteed to keep you away from the burritos and schnitzels and in a steady supply of refreshing, rejuvenating, delicious lunch bowls.
If you're looking for some lunch inspiration, take a look at my recipe ebook, Easy Wholefood Lunchboxes. It's packed with 40 delicious nut-free, refined sugar free sweet and savoury recipes which have all been kid-tested and approved and the whole family will love!
Off course, the easiest way is to ALWAYS make extras at dinner to pack for lunch the next day. Here are some meals which provide great lunch bowl leftovers: fish cakes , make extra and break them up into a garden salad for lunch; make extra Potato, Feta and Spinach Frittata for dinner and pack the rest for work with a salad; Fresh and Raw Zucchini Salad makes an easy 'pack and run' lunch bowl option; or this Indian Cauliflower, Potato and Mung Dhal Soup is a great option for Winter; add some diced cucumber and tomatoes to this Middle-Eastern rice and lentil dish; or pack up some of this Asian-Style Vegetable and Noodle Salad.
Other tips when you are making dinner:
throw in some extra vegetables to roast
cook up some extra rice or quinoa
add an extra shank into the slow cooker, chicken thighs into the oven, fish patties into the frying pan.
And now…
Each Sunday spend up to an hour getting your lunch bowl ingredients organised for Monday, Tuesday, Wednesday, then prep again on Wednesdays for Thursday and Friday.
The 4 main components you need to prepare for the lunch bowl are VEGETABLES, PROTEIN, GRAINS/CARBS AND DRESSING. Always ensure you include some healthy fats, which can be found in some of the ingredients suggested below like avocado, olive oil, fish, meat, eggs, olive, cheese and nuts.
VEGETABLES
Vegetables can be raw, lightly steamed, roasted and a combination of all of them can be used in your salad
Here are some of the bounty you can choose from,choose seasonal and make sure to include at least 1 type of leafy green
Eat the Rainbow
Cucumbers
Red Capsicum
Radish
Cherry Tomatoes
Green Beans
Snow Peas
Beetroot
Cauliflower
Eggplant
Cucumber
Potato
Sweet Potato
Corn
Squash
Tomatoes
Zucchini
Avocado
Pumpkin
Mushrooms
Asparagus
Olives
Garlic
Sundried Tomatoes
Herbs like basil, parsley, coriander, mint
Greens
Kale
Baby Spinach
Brocolli
Spinach
Rocket
Asparagus
Beet Greens (the leafy bit on top of beetroot)
Bok Choy
Brussel Sprouts
Cabbage
Celery
Chard
Lettuce
Sprouts
Watercress
Fruits which are also yummy in salads
Grapes
Figs
Apple
Pear
Strawberries
Mango
Raspberries
PROTEIN
Chicken
Fish (including tinned wild caught salmon and sustainable tuna)
Meat
Eggs
Nuts and Seeds
Cheese – cheddar, parmesan regianno, halomi, fetta, gruyere, blue, goats
Legumes/pulses -adzuki, red kidney, black, chickpeas, navy, pinto, lentils
Tempeh
GRAINS/CARBOHYDRATE (optional)
Basmati Rice
Brown Rice
Wild Rice
Quinoa
Rice or Buckwheat noodles
Sweet Potato(starchy carb)
Beans (starchy carb)
Corn (starchy carb)
Peas (starchy carb)
DRESSING
Vinaigrette
Sesame oil and tamari
Olive oil,mustard and balsamic
Fresh herbs, Olive Oil,Lemon
Honey and tumeric
Japanese Miso Dressing
ADD ONS
Fermented Veges
Dulse Flakes
Nutrional Yeast
Dried Herbs
Spices
Sesame,chia, poppy seeds
5 SALAD BOWL RECIPE IDEAS TO GET YOU STARTED
Warm Spinach Salad with Chicken, Bacon & Mushroom by Becomingness.
Tex-Mex Burrito Bowl by me.
Spicy Quinoa, Apple and Kale Salad by The Holistic Ingredient.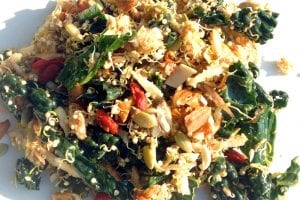 Crunchy Asian Cabbage Salad by Low Tox Life.
10 minute Nourishing Dinner Bowl (which I think is perfect for lunch too!) by The Fit Foodie.
There you have it. With a bit of preparation, you can keep firing on all systems while you work, and get excited about your next lunch break.
Bren x
Packed with 40 delicious nut-free, sweet and savoury wholefood recipes your kids will love!

Add to cart

$

14.95
</em>
As far as breakfast cereal goes, I always say, "you may as well eat the box', it's probably more nutritious than what's inside! Here are 5 things to think about before you reach for the boxed cereal in the supermarket.

Download Now