Peanut and Choc Chip Biscuits
It's official. I'm nuts for peanuts!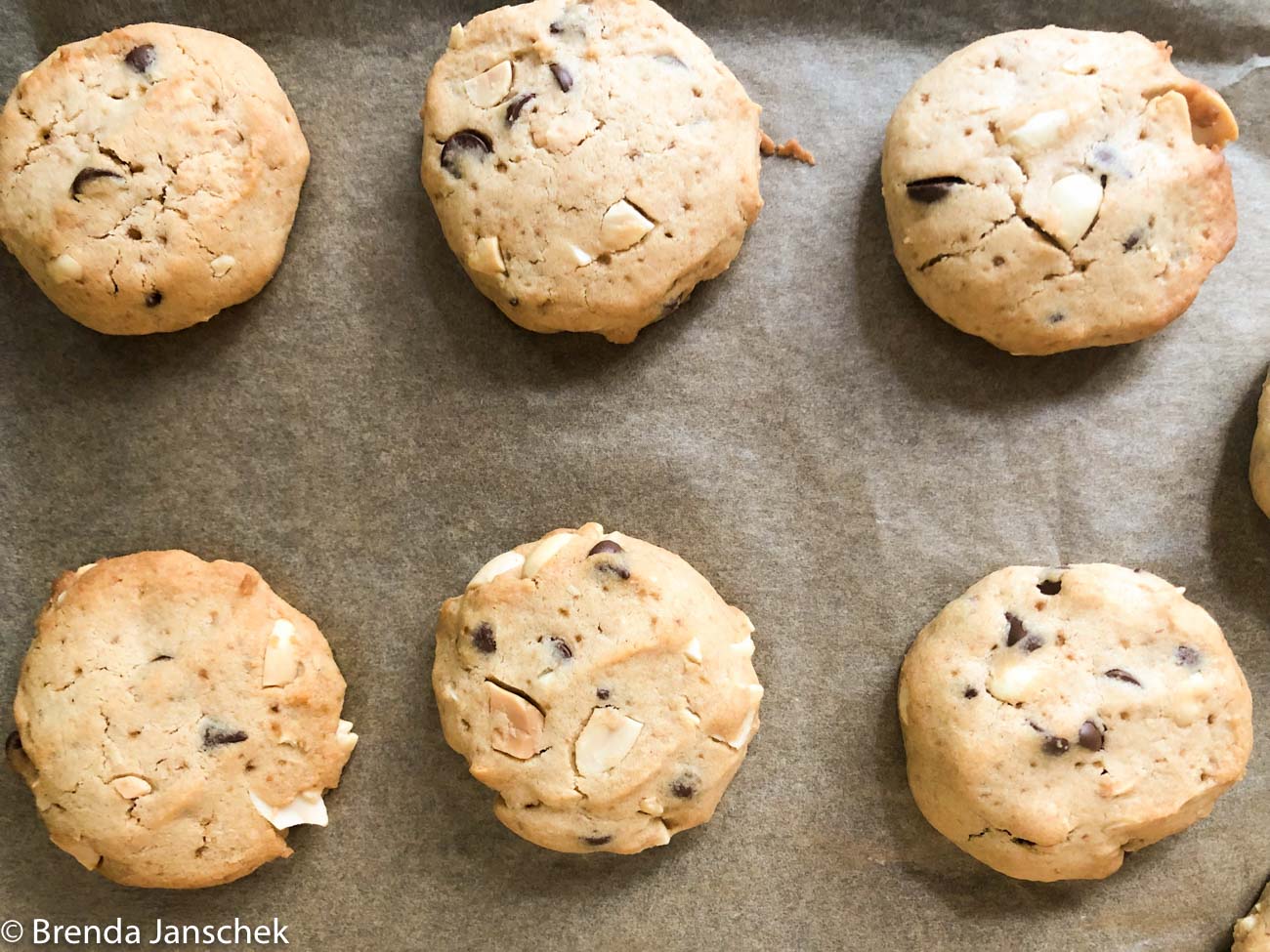 I mean, constantly trying to dream up ways to add them into recipes is a dead giveaway right?
I wasn't sure if my gang would go for this peanut version of the choc-chip biscuit, so I did half the batch without the peanuts.
The peanut-less batch paled in comparison, with a unanimous vote from the whole family for the peanut version!
I think it's that extra little crunch and saltiness that does the trick.
No, you probably can't pack these in your kids school lunchboxes (save them for after school) but lucky for you you can grab 40 sweet and savoury, nut-free and refined sugar-free, school-friendly lunchbox ideas in my Easy Wholefood Lunchboxes recipe ebook here (the Coconut Rough Cookies are to die for!)
Many of the ingredients in this recipe can be sourced from my one-stop-favourite, organic wholefoods online store, The Wholefood Collective. They go to great lengths to ensure everything they source is amazing quality, they stock all my favorite products and I don't even have to leave the house! Oh and the cherry on the cake is they donate profits to improve food security for vulnerable Aussies.
Here are some of the ingredients you'll need:
Rapadura sugar
Vanilla
Spelt flour
Baking powder
Dark chocolate chips
Peanut and Choc Chip Biscuits
Ingredients
180

grams

butter

room temperature

2/3

cup

rapadura sugar

1

egg

1

teaspoon

vanilla

2

cups

spelt flour

1

teaspoon

baking powder

100

grams

roasted

salted peanuts, chopped (I bought them already roasted but sprinkled with sea salt myself)

3/4

cup

dark chocolate chips
Instructions
Preheat oven to 170 C.

Line two baking trays with parchment paper.

Put butter into a medium-large bowl and soften. Add sugar and beat with an electric mixer until pale and creamy (approx 2 mins).

Add egg and vanilla and beat through on low setting.

Sift in spelt flour and baking powder and fold through until just combined (I actually get my hands in and mix it together)

Add peanuts and choc chips and fold thorugh

Put tablespoons of the batter around 4 cm apart onto the tray and gently flatten

Bake 10 minutes, spin trays around, bake another 5 minutes until just golden.

Cool on trays for a few minutes allowing them to set slightly.

Cool completely on wire rack.

Store in airtight container.
If you make this recipe please do take photos and send them to me.
If you share them on instagram, remember to tag me @brendajanschek. Otherwise feel free to pm me your photos via Facebook. I get a total kick out of seeing you bring my recipes to life. 
And remember, if you haven't already, grab your copy of Easy Wholefood Lunchboxes here.
You might also like to try my recipes for Peanut Butter Slice and Chocolate Choc Chip Cookies. 
Bren x
Packed with 40 delicious nut-free, sweet and savoury wholefood recipes your kids will love!

Add to cart

$14.95