Peanut Butter Slice
Calling all peanut butter fans!
I had an early Easter with my mum, brother, sister and our kids on the weekend.
One of my family members is dairy- free, so I wanted to make something suitable that was delicious, Easter-y and easy.
My theory is that anything made with peanut butter is going to taste sensational and make life better so off I went with my jar of Peanut Butter.
And now say hello to this Peanut Butter Slice!
You guys! YOU HAVE NO IDEA!!!
Similar to a caramel slice, but with a next level taste.
I have to give credit for the peanut butter filling to my friend, Wholesome Cook, and her recipe for Peanut Butter and Buckwheat Fudge Bites from her amazing cookbook, The Wholesome Cook, and which she allowed me to blog some time ago.
The slice is quite rich, so a little goes a long way. They are also quite filling, due to the good fats from the coconut oil, and protein from the peanut butter and nuts and oats.
I hope you love them.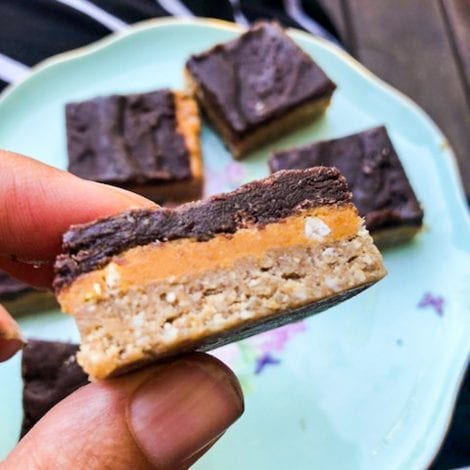 Peanut Butter Slice
Ingredients
BASE

2

cups

rolled oats

1/2

cup

almonds or pecans or cashews or nuts of choice

125

grams

Medjool dates

1/4

cup

desiccated coconut

1

teaspoon

ground cinnamon

FILLING

1

cup

peanut butter

I used Mayvers Dark Roasted Smooth Peanut Butter

2

tablespoons

of rice malt syrup or raw honey or maple syrup

3

tablespoons

buckinis

optional, but adds a crunch that is just soooo good! You could try rice or quinoa puffs too

TOPPING

1/4

cup

coconut oil

1/4

cup

pure maple syrup or rice malt syrup

1/4

cup

cacao powder
Instructions
Line a slice tin with baking paper overhanging the sides so you can easily pull it out of the tin once it's set.

BASE

Pop all the ingredients in food processor and process until finely chopped and well combined and sticks together when pressed.

Pour into the slice tin and press down evenly to form the base.

Pop into the freezer to set for 10 minutes

FILLING

Mix all ingredients together in a bowl

Spread the peanut butter mixture over the base and pop back into the freezer for 5-10 minutes. )I use a wet knife to help spread the mixture if it's too sticky)

TOPPING

Stir ingredients in a small saucepan on very gentle heat for a minute or two until combined

Spread the chocolate sauce over the peanut butter filling

Pop back into the freezer to set for minimum half an hour

Once set, pull out of tin and immediately slice to your desired shape.

Store in an a container in the freezer
Notes
I recommend storing and eating these straight from the freezer.
I don't have an accurate yield for this recipe because it depends on how you cut it up.
If you know someone who could use some healthy treat inspo, please share this recipe with them!
And please take photos and send them to me, or if you share them on instagram, remember to tag me @brendajanschek
You might also like these Orange Poppyseed Bars or this Ginger Molasses Cardamon Cookie Hearts. Both also make great lunch box additions plus I have stacks more wonderful lunchbox recipes in my Easy Wholefood Lunchboxes ebook. 
Bren x