Spiced Quinoa Porridge
Here's an exotic breakfast idea that will nourish your body and awaken your senses!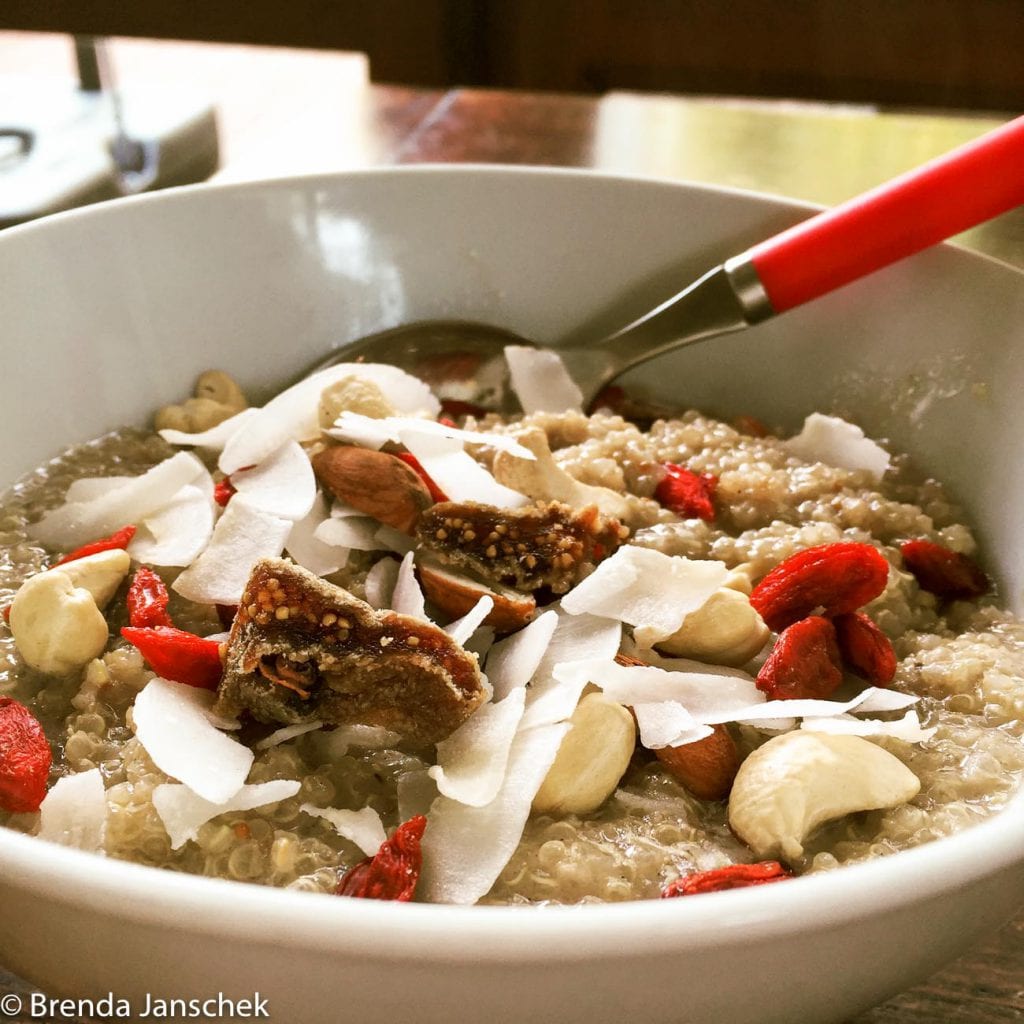 This quinoa porridge is choc-a-block full of goodness with just about all the ingredients containing powerhouse immune-boosting properties such as protein and zinc, iron and fibre, Vitamin C, lauric acid and so much more. And it's gluten-free!!
The recipe makes enough for breakfast for two days. I just stash leftovers in the fridge and add more water to heat it up the next day. It's so grounding and filling I can often skip lunch and just settle for an early dinner instead!
Just a little note to please try to buy your quinoa from Australia if you can, as there's a sustainability problem in Peru, they can no longer afford to buy their own quinoa : (
Many of the ingredients in this recipe can be sourced from my one-stop-favourite, organic wholefoods online store, The Wholefood Collective. They go to great lengths to ensure everything they source is amazing quality, they stock all my favorite products and I don't even have to leave the house! Oh and the cherry on the cake is they donate profits to improve food security for vulnerable Aussies.
Here are some of the ingredients you'll need:
White quinoa
Coconut Oil
Salt
Coconut Milk 
Dried Figs
Medjool dates
Cinnamon Powder
Cardamom Powder
Nuts & Seeds
Coconut flakes
Spiced Quinoa Porridge
Ingredients
1

cup

quinoa

pinch

sea salt

1

tablespoon

yoghurt or whey

1

teaspoon

coconut oil

1/2

teaspoon

mixed spices like cardamom

nutmeg, cloves

1.5

cups

water

2

cinnamon sticks

2 - 2.5

cups

coconut milk

2

tablespoons

orange blossom water

optional

1

teaspoon

vanilla powder or extract

1/4

cup

chopped Turkish figs and Medjool dates

Sprinkle of cinnamon and cardamom

1/2

cup

mix of nuts and coconut flakes

raw or roasted (I love pistachios with this dish)
Instructions
Soak the quinoa overnight in warm filtered water, a pinch of sea salt and a tablespoon of yogurt. Rinse very well in the morning. This is to release all the bitter saponins and make the quinoa more nutritious and digestible.

Warm the coconut oil in the saucepan, add the quinoa and mixed spices and toss for a couple of minutes.

Add in the water and cinnamon sticks.

Bring to the boil, then lower the heat and simmer, with lid on for approx 10 minutes.

Add the coconut milk and orange blossom water, vanilla, dates and figs. Stir through and simmer on a very low heat for 5 minutes.

Serve with a sprinkling of cinnamon powder and the nut and coconut flake mix.

Enjoy!
If you're looking for more recipe inspiration, take a look at my new recipe ebook which is getting rave reviews, Easy Wholefood Lunchboxes.
It's packed with 40 delicious nut-free, refined sugar free sweet and savoury recipes which have all been kid-tested and approved!
If you make this recipe please do take photos and send them to me.
If you share them on instagram, remember to tag me @brendajanschek. Otherwise feel free to pm me your photos via Facebook. I get a total kick out of seeing you bring my recipes to life.
Other  recipes you might like are Pimped Up Oat Porridge and Breakfast Rice Porridge.

Packed with 40 delicious nut-free, sweet and savoury wholefood recipes your kids will love!

Add to cart

$

14.95
Packed with 40 delicious nut-free, sweet and savoury wholefood recipes your kids will love!

Add to cart

$

14.95
As far as breakfast cereal goes, I always say, "you may as well eat the box', it's probably more nutritious than what's inside! Here are 5 things to think about before you reach for the boxed cereal in the supermarket.

Download Now