Super Cleanse Salad
We really do give our bodies quite a flogging over time. Our modern day diet, lifestyle plus other environmental factors all contribute to the toxic load our systems take on.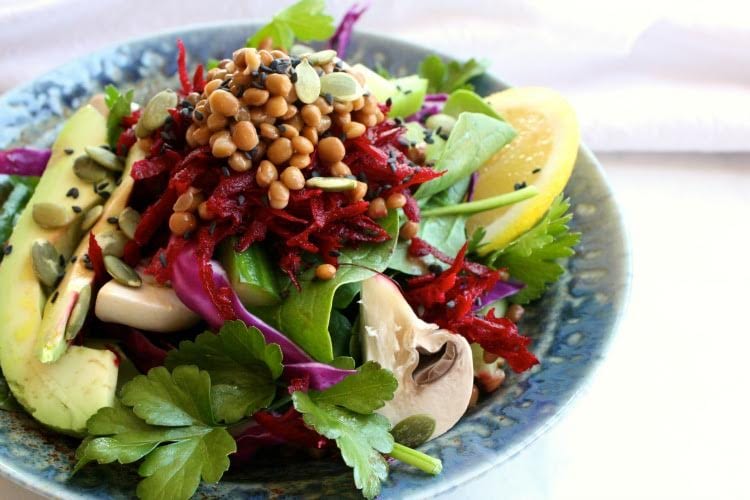 So it's important to allow these toxins to move out of our body and replenish it so it can be thriving on all levels. We can easily kick- start our natural cleansing mechanisms by ensuring we include food rich in natural compounds which support the liver.
Vegetables like bitter greens such as rocket, radicchio or watercress as well are great detoxifiers, as are brassica vegetables like broccoli, cabbage and brussels sprouts. Beetroot and turmeric (fresh or powdered) are great to have in the mix too.
Use the salad recipe as a base to throw on whatever protein you have hanging around. Things like sustainable tuna, slices of leftover steak, hardboiled egg all make tasty options.
Heal from the inside out. Restore your energy. Feel fantastic in a body you love. Get ready for glowing skin, vibrant health, and renewed energy!
This bundle has been created to help you get back on track and reset your health. We've provided the tools to help you get started from wherever you are at with your health, without feeling overwhelmed. Grab $280 worth of materials for just Aus $39! Offer ends Monday 29th November. FIND OUT MORE HERE. 
Many of the ingredients in this recipe can be sourced from my one-stop-favourite, organic wholefoods online store, The Wholefood Collective. They go to great lengths to ensure everything they source is amazing quality, they stock all my favourite products and I don't even have to leave the house! Oh and the cherry on the cake is they donate profits to improve food security for vulnerable Aussies.
Here are some of the ingredients you'll need:
Pumpkin seeds
Parsley
Salt
Turmeric
Olive oil
Super Cleanse Salad
Ingredients
For the salad
2

cups

rocket

1

cup

red cabbage

thinly sliced

½

cup

cucumber

chopped

½

celery

chopped

½

cup

grated beetroot

½

cup

pumpkin seeds

½

cup

white button mushrooms

halved

large handful of parsley

chopped

¼

avocado

100

gm roast chicken or ½ cup puy lentils
For the dressing
Mix together-

juice from ½ lemon

pinch

salt

½

teaspoon

turmeric

1

tablespoon

olive oil
Instructions
Toss dressing through salad

Serve and enjoy!
Notes
Remember to chew and eat slowly
Packed with 40 delicious nut-free, sweet and savoury wholefood recipes your kids will love!

Add to cart

$14.95
[product id="13300″]



>