What the Heck is 'Burst Training' and Why Do I Do It.
This week I shared a snippet of my exercise routine on Facebook, talking about how I love 'burst training'.

It surprised me how many people hadn't heard of it.
Burst training is basically a type of exercise that you can do anywhere, anytime and which saves you a bucket load of $$ on gym memberships or special equipment
You might know it as High Intensity Interval Training (HIIT).
Basically, it's working your heart rate almost to the maximum for about 30-60 seconds, immediately followed by low intensity, or in my case, resting, for a minute or two. And repeat.
My favourite form of burst training is sprints.
I power walk down to either the local oval or beach stairs, and sprint, rest, sprint, rest about 8 times.
Burst training can be done in many different ways.
For example – running on the spot, on a stationary bike, using a skipping rope, swimming ..the options are endless!
Why do I do Burst Training?
As a busy working mum, I particularly love how time efficient it is. I'm usually done and dusted in half an hour (including the walk to and from the location). You've got to love maximum benefit with limited time!
It burns fat incredibly efficiently
It boosts my metabolism
It reduces inflammation in the body
It's great for toning muscles
It makes me feel energised
It doesn't put stress on my body like other forms of cardio exercise
It balances my hormones
It doesn't flare up my dodgy neck and back issues
Gets me out into nature, getting Vitamin D and helping to set my circadian rhythms
Keeps ageing at bay
I usually aim for 2 x sessions per week, interspersed with 1 x session of weight training and power walking the rest of the days and once home, I usually follow up with a ginger, mint and green apple smoothie or this anti-oxidant smoothie.
Naturopath Naomi Judge and I talk in depth about the right type of exercise for balancing hormones and shedding stubborn weight in our Break Through! Signature Cleanse. Find out more about the cleanse here.
Bren x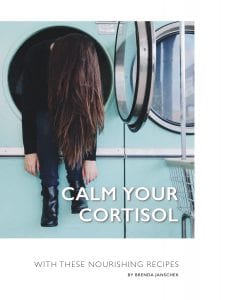 Grab your FREE copy of my 'CALM YOUR CORTISOL' recipe book to soothe your cortisol and start your journey to high energy, fast metabolism, and feeling like yourself again!