Ginger, mint and green apple smoothie
A great way to increase the amount of vegetables in your diet is to add them to your smoothies.
According to the Harvard School of Public Health, variety is as important as quantity because no single fruit or vegetable provides all the nutrients you need to be healthy.
So start to experiment and start to throw different fruits and vegetables into your smoothies – pineapple, papaya, berries, baby spinach, kale, lettuce – the sky's the limit!
This recipe is easily one of my favourites.
This recipe is included in my 28 day Break Through! Signature Cleanse program designed to detoxify the body, increase energy, heal from the inside out and feel fantastic in a body you love.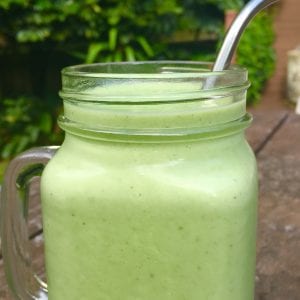 GINGER, MINT AND GREEN APPLE SMOOTHIE.
Ingredients
1

small green apple

quartered

1

cup

baby spinach or kale

½

cucumber

roughly chopped

1

tablespoon

mint leaves

A scoop of avocado

1

inch

piece of ginger root


peeled

1

cup

coconut water or coconut milk

1

⁄4 cup raw cashews

lots of ice
Instructions
Blend it all up until smooth and creamy and pour into a glass
If you make this recipe please do take photos and send them to me.
If you share them on instagram, remember to tag me @brendajanschek. Otherwise feel free to pm me your photos via Facebook. I get a total kick out of seeing you bring my recipes to life.
My 28 Day Break Through! Signature Cleanse Program is designed for women who recognise that their overburdened lifestyle means they need to give their body a much-needed break and assistance to get out of bad habits.
The cleanse allows your body to reset and renew and feel energised, happy and comfortable in your own skin so each day you can put your best foot forward and enjoy life to the fullest.
Take a look here to see if the Break Through!Signature Cleanse sounds right for you.
Bren x
You might also like 8 Nutrient Packed Smoothies for Dinner and 20 Reasons to Love Smoothies and 10 Recipes
Bren x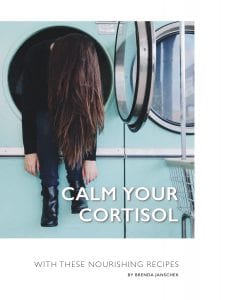 Grab your FREE copy of my 'CALM YOUR CORTISOL' recipe book to soothe your cortisol and start your journey to high energy, fast metabolism, and feeling like yourself again!
Packed with 40 delicious nut-free, sweet and savoury wholefood recipes your kids will love!

Add to cart

$

14.95
</em>