Anti-Oxidant Smoothie
Smoothies have always been a favourite of mine, they hold of pride of place in this household for breakfast, lunch or dinner.
When life is busy, smoothies are super-quick to make and are highly nutritious.
The better news is that, as a handy breakfast option for the whole family, they leave unhealthy breakfast cereals packed full of superfluous sugar and other nasties in their wake.
Free radical-fighting Vitamin C plays a leading role in this smoothie, and your immune system and energy levels will thank you almost as much as your taste buds.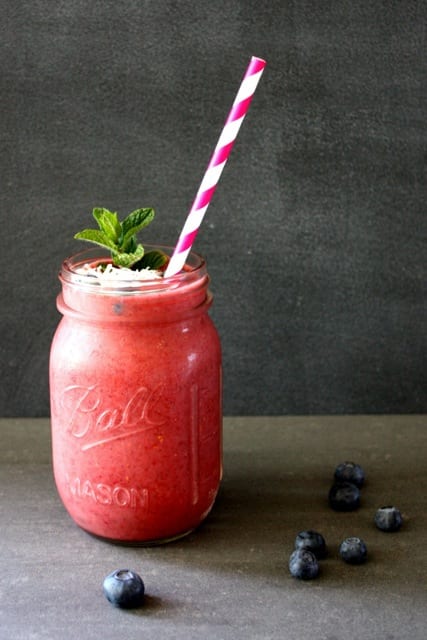 Anti-Oxidant Smoothie
Ingredients
1

cup

raspberries or blueberries,

nb: blueberries make it sweeter

1/2

teaspoon

lemon zest

1

teaspoon

lemon juice

1

tablespoon

mint or basil

1/2

cup

mixed cashews, chia seeds, and linseeds

2

tablespoons

grass-fed gelatin

optional, l but awesome for all it's incredible benefits to our skin, elasticity, wrinkles, cellulite, great for weight loss, teeth and hair and nails, digestion, arthritis just to name a few

1

teaspoon

coconut oil

optional but adds a good. healthy fat

200

mls

coconut water or almond milk or filtered water

Lots of ice
Instructions
Whizz all the ingredients in a blender and serve
You might also love these delicious recipes:
Ginger, Mint and Green Apple Smoothie
8 Nutrient Packed Smoothies for Dinner 
Fresh and Raw Zucchini Noodle Salad
Enjoy!
Packed with 40 delicious nut-free, sweet and savoury wholefood recipes your kids will love!

Add to cart

$14.95