Fresh and Raw Zucchini Noodle Salad
Zucchini noodles, zoodles, zucchini spaghetti or, as a friend calls them, 'Zpagetti' (lol) are perfect if you follow a grain-free diet … or not!
Bursting with vitamins, minerals and phytonutrients, the Zucchini noodle makes a super nutritious alternative to high-carb pasta.
This recipe is one of many I have developed for my Break Through! Signature Cleanse Program, which focuses on delicious, satiating meals that encourage optimum health and weight.
The aim is to create meals that not only taste good and are healthy, but leave you satisfied.
This is the way to creating sustainable results with your health and weight goals, transcending the start-stop yo-yo of 'dieting'.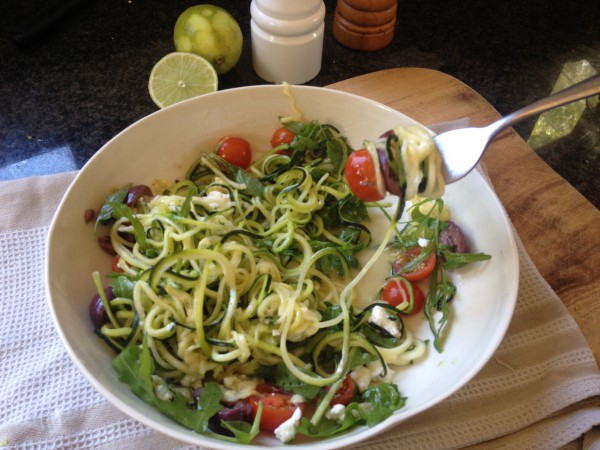 Many of the ingredients in this recipe can be sourced from my one-stop-favourite, organic wholefoods online store, The Wholefood Collective. They go to great lengths to ensure everything they source is amazing quality, they stock all my favorite products and I don't even have to leave the house! Oh and the cherry on the cake is they donate profits to improve food security for vulnerable Aussies.
Here are some of the ingredients you'll need:
Extra virgin olive oil
Salt and pepper
Chilli flakes
Fresh and Raw Zucchini Noodle Salad
Ingredients
1

large zucchini

6

cherry tomatoes

halved

6-8

Kalamata olives pitted and quartered

Handful of fresh basil leaves

Handful of rocket

Drizzle Extra virgin olive oil

1

tablespoon

lime juice

Zest of half a lime

1

garlic

minced

Salt and pepper

Crumbled goats cheese

optional

Thinly sliced fresh red chilli or chilli flakes

optional
Instructions
Make zucchini noodles - if you don't have a spiraliser, use a potato peeler to make thick strips then cut them into thinner strips

Pop into a bowl with cherry tomatoes, olives, basil and rocket

Make dressing out of olive oil, lime juice, lime zest, garlic, salt and pepper

Pour on top of ingredients and gently mix together and if you have time allow to sit for 10 minutes, then it's good to go with an extra crack of salt and pepper.

Add crumbled goats cheese and/or chilli if using
Guess what happened as I was making zucchini noodles………
Putting this in perspective, Miss then 8 pictured here is what I call a zucchini-sceptic.
However, having made the zucchini noodles with me and noting how colourful and vibrant they looked, she took the plunge and ended up hooking in!
Perhaps it's more the presentation of the zucchinis that won her over, or perhaps it was the mixture of tastes. Either way, we have a convert on our hands.
Just goes to show that anything can happen when you get kids into the kitchen.
Enjoy!

As far as breakfast cereal goes, I always say, "you may as well eat the box', it's probably more nutritious than what's inside! Here are 5 things to think about before you reach for the boxed cereal in the supermarket.

Download Now