Chewy Peanut Butter Cookies
My son is the self-titled "King of Cookies"
During my son's golf club competitions, the lovely manager's wife , RIP, always brings snacks for the the young players, and a fave is a particular cookie she's always got on hand.
We found out they were from a supermarket, and when we checked them out, there were one too many questionable ingredients on the list for my liking. And because cookies are so easy to whip up, I suggested we try to recreate them. Compare the ingredient list below with the one in my son's recipe!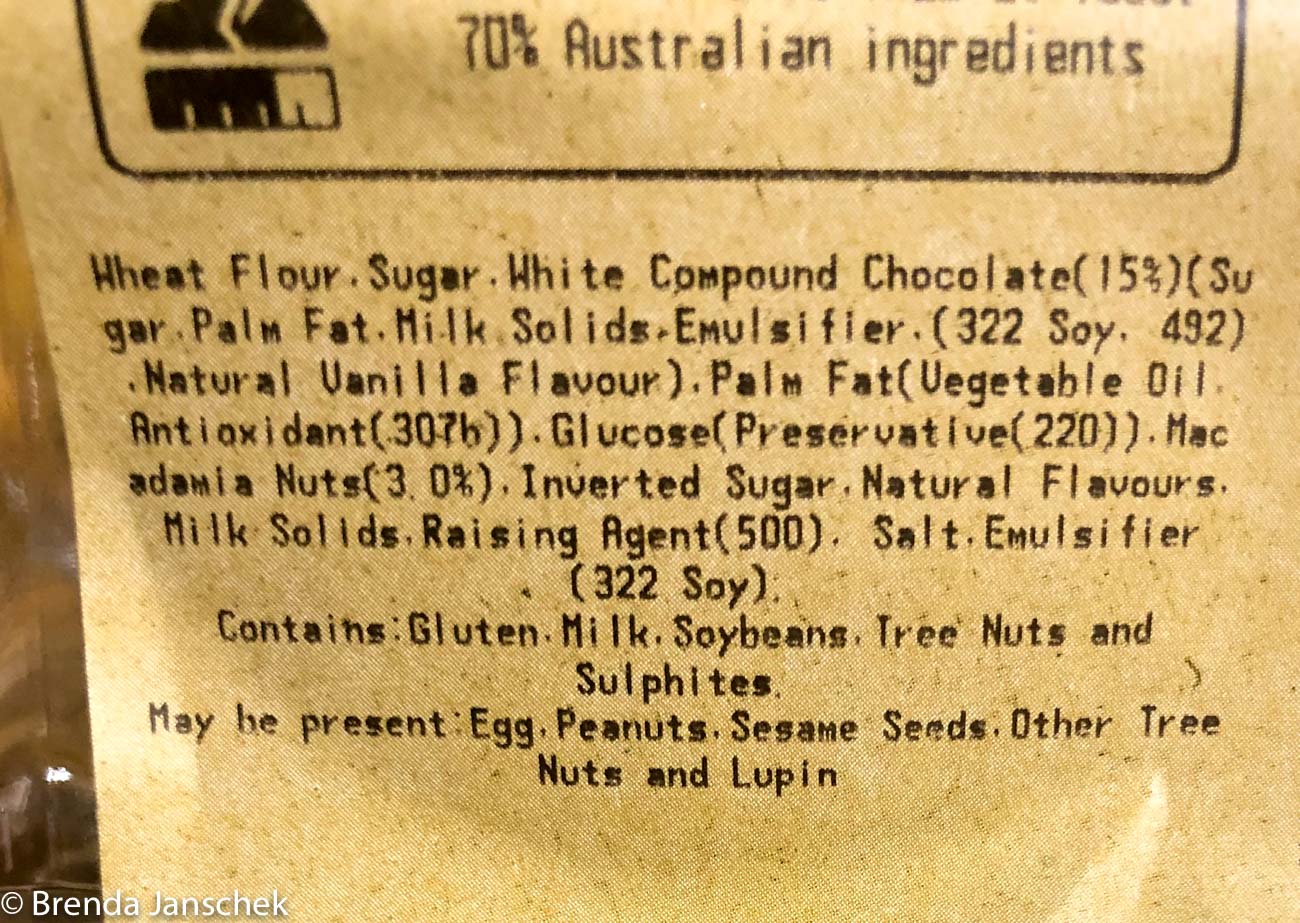 So while I'm totally fine with store-bought sweets like this every now and then, here are my issues with the above list.
– given the makers of Roundup (Monsanto) have just been fined 10 billion to settle cancer suits and who spray a crap tonne of Roundup on our wheat crops right before harvest, I'm not cool about the kids eating too much non-ogranic wheat flour.
– sugar appears 4 times in the list (including the white compound chocolate) which equals a lot!
– I don't want detergent-like food additives in my kids food thanks aka, emulsifier.
– Palm Fat (oil) has an extremely harmful impact on the environment. Deforestation of some of the world's most biodiverse forests in order to extract the oil from the fruit is destroying the habitat of already endangered species like the Orangutan, pygmy elephant and Sumatran rhino  : (
– Milk Solids –  some experts believe they contain oxidized, or damaged, forms of fat and cholesterol which are  linked to hardening of the arteries. I'd rather not risk it myself.
-Preservative 220 (sulphur dioxide) – not great for people with asthma, sinus or headaches.
Now, cookies are dead easy to whip up, so I suggested we try to recreate them and my teen son insisted he take over the role of cookie creator, then promptly researched, experimented, tweaked, and has since baked around seven batches of different varieties of cookies. All of them delicious, but my favourite being these Chewy Peanut Butter Cookies, because, well, #peanutbutter
These are sweeter than the biscuits or cookies I would make, but despite numerous requests that he uses at least a quarter cup less sugar, my son refuses to co-operate. If I were making them, I'd reduce the sugar by at least 1/4 cup, but I'm not kicking up a stink because at least they're home-made with ingredients which the body recognises and can process, and at the end of the day, his cookies provides us with so much joy and deliciousness (plus fodder for the lunchboxes which I didn't have to make!) and he just loves making them for us! Update: I've since made this recipe myself with less sugar and everyone loves them so go ahead and try that out.
If you're looking for more recipe inspiration take a look at my ebook, Easy Wholefood Lunchboxes. It's packed with 40 delicious nut-free, refined sugar free sweet and savoury recipes which have all been kid-tested and approved and take the guess work out of what delicious, healthy food to make your kids for lunch!
Chewy Peanut Butter Cookies
Ingredients
1/2

cup

smooth peanut butter

1 1/4

cup

unbleached plain flour

or your choice of preferred flour

1/2

cup

brown sugar

If you are transitioning from store bought cookies you may need to increase by another 1/4 cup

1/2

cup

rapadura or coconut sugar

or you can use raw sugar

1

teaspoon

bicarb soda

1/2

cup

unsalted butter

melted

1

egg

room temperature

1

pinch

sea salt

1/2

cup

dark chocolate chips
Instructions
Preheat oven to 180 degrees C

Line 2 baking trays with parchment paper

Combine butter, sugars, peanut butter and salt and beat with electric mixer until smooth

Add the egg and whisk until incorporated

Mix flour and baking soda together in small bowl, then fold into wet mixture until just combined

Add choc chips and gently fold through the mixture

Using an ice cream scooper drop rounded balls of mixture onto the baking trays, a few centimetres apart as they spread, and press down slightly

Bake for 10-13 minutes or until lightly golden, turning baking trays at halfway mark

When ready, leave to cool completely on baking trays

Store for up to a week in airtight container
Notes
Feel free to reduce the sugar to 1/2 cup or 3/4 cup, that's what I would do if I were baking them! 
If you make this recipe and share on instagram, remember to tag me @brendajanschek.
Otherwise feel free to pm me your photos via Facebook.
Some other delicious recipes created or inspired by my son are Chocolate Choc Chip Cookies and Rustic Banana, Blueberry and Coconut Cake and Orange and Poppyseed Bars.

Packed with 40 delicious nut-free, sweet and savoury wholefood recipes your kids will love!

Add to cart

$14.95