Healthy Anzac Biscuits
The history of these delicious biscuits dates back to World War 1 when Mums and wives of Aussie soldiers in Europe wanted to create a biscuit that included ingredients that wouldn't go bad too quickly.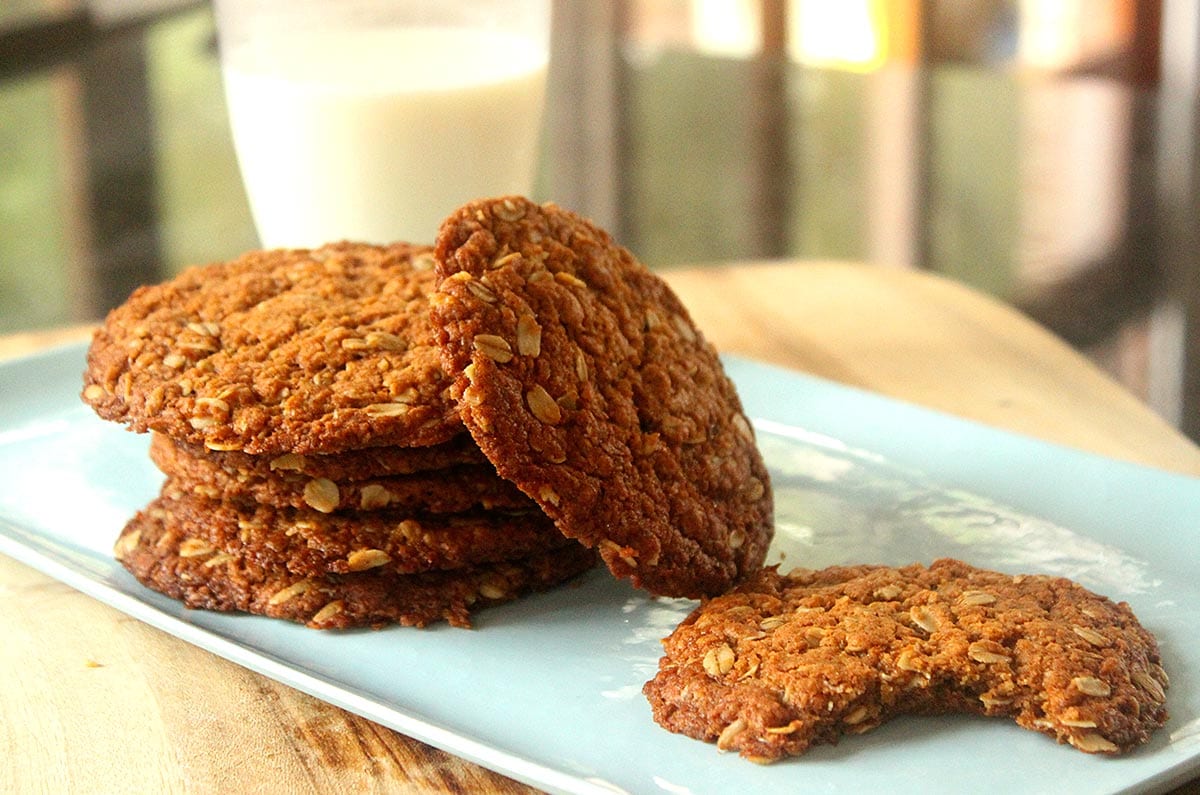 These loving women wanted to make sure that their dear ones would have a long-lasting nutritious snack as they travelled for weeks by sea to the front.
The humble Anzac biscuit is a delightful tasting biscuit and extremely easy to make. I've replaced a few of the standard ingredients to make them even more nutritious than the original. I've replaced golden syrup (a by product of sugarcane refining) with maple syrup, commercial wheat flour (subjected to bleaching agents) with spelt flour and brown sugar (not really different to white sugar) with coconut sugar or rapadura sugar. And I like to use organic ingredients wherever possible.
Make a batch or two of these easy biscuits to share with family and friends on Anzac day.
Thanks to my friend Danielle from Keeping Up the Holsby's for this picture of a batch she made and loved!
Anzac Biscuits
2016-09-14 20:35:30
Lunchbox friendly, nut-free,egg-free, can be dairy free by replacing butter with coconut oil
Ingredients
125 grams butter
2 tablespoons pure maple syrup
2 tablespoons boiling water (from the kettle is fine)
½ teaspoon of bicarbonate of soda
1 ¼ cups spelt flour
1 cup rolled oats
1 cup desiccated coconut
3/4 cup coconut sugar
Instructions
Preheat oven to 175 degrees celcius or 160 degrees fan forced.
Grease or line oven trays.
Melt butter with maple syrup in small saucepan over low heat until smooth.
Mix flour, oats, coconut and sugar in a medium bowl.
Combine bicarbonate of soda and boiling water and add to saucepan and stir.
Pour wet mixture into dry mixture and stir well.
Roll tablespoons of mixture into balls and place them on baking tray/s and flatten. Space well apart.
Bake for about 15 minutes or until golden.
Cool biscuits on trays.
Brenda Janschek Health & Lifestyle https://brendajanschek.com/
As far as breakfast cereal goes, I always say, "you may as well eat the box', it's probably more nutritious than what's inside! Here are 5 things to think about before you reach for the boxed cereal in the supermarket.

Download Now
Created by certified health coach, Brenda Janschek, and her hungry and creative son Orlando, this eBook contains a rich variety of over 20 nourishing, real food recipes designed to satisfy the tastebuds and growth requirements of developing teenagers.

Add to cart

$

9.95