Indian Cauliflower, Potato and Mung Dal Soup
You never really know what you're going to get when your kids are served food prepared by somebody else, and that goes triple for fussy eaters!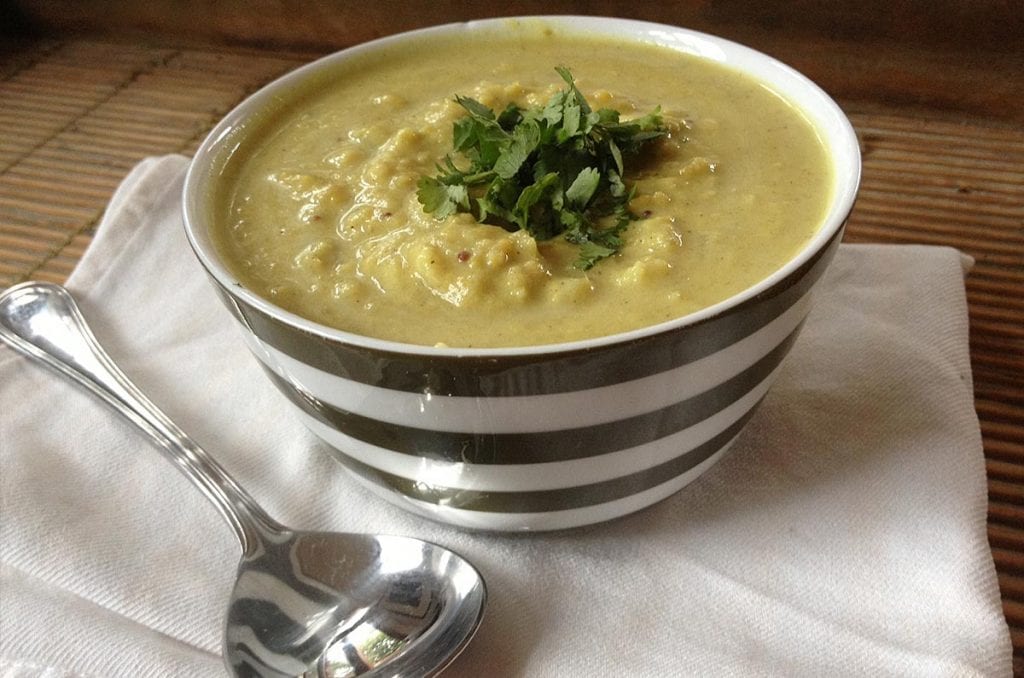 Kids develop a certain trust in their parent's cooking and its associated aromas, tastes & textures. So they can be understandabley tentative when they don't have home ground advantage. It can really be an eye-opener. Or a pleasant surprise. Or even embarrassing at times, lol.
When my kids devoured this soup served by my sister in a recent visit to the Blue Mountains, I was quick to ask for the recipe.
Last night I made it for the first time, and decided to add some mung dal (for extra protein) that had been in the cupboard debating its purpose in life. I'm pleased to report it found a happy home in this soup. Anf despite protests from the kids revolving around the pappadums being the real attraction of the initial dish, they both loved this spice-rich soup the second time around.
Indian Cauliflower, Potato and Mung Dal Soup
2016-06-07 21:35:10
Serves 4
Ingredients
1 large brown onion, chopped
1 tablespoon ghee or coconut oil
2 cloves garlic, finely chopped
1 tablespoon grated ginger
1 chilli, finely sliced (I took out the seeds and used half a large red chilli)
2 teaspoons black mustard seeds
2 teaspoons garam masala
1 teaspoon ground tumeric
2 teaspoons ground cumin
2 teaspoons ground coriander
4-6 cups water or bone broth
1 cup coconut cream
3 potatoes, diced
1 cup mung dhal
700gms cauliflower, chopped into medium florets
1/2 cup plain yoghurt, for serving, optional
Chopped coriander
Instructions
Fry onion in ghee or coconut oil for a few minutes until soft.
Add garlic, ginger and chilli and lightly saute until soft.
Stir in the spices for 1 minute or until fragrance is released.
Add water and coconut cream and bring to the boil.
Add potato and mung dhal and cook for 5 minutes.
Add cauliflower and simmer for 10-15 minutes until cooked.
Process half the mixture then add to remaining soup and serve.
Notes
Serve with yoghurt and chopped coriander and a nice big salad.
Brenda Janschek Health & Lifestyle https://brendajanschek.com/
As far as breakfast cereal goes, I always say, "you may as well eat the box', it's probably more nutritious than what's inside! Here are 5 things to think about before you reach for the boxed cereal in the supermarket.

Download Now