Rich Chocolate Chia Dessert
This simple chocolate chia pudding has only a few ingredients but manages to make a creamy, dreamy pudding.
Everybody needs a Naturopath like Naomi Judge, especially if she's gonna be creating desserts like this! Naomi guest blogs on the site today…over to you Naomi….
I love experimenting with making tasty desserts and snacks but without adding too much sugar. Sometimes it works really well, such as my pumpkin pie recipe, and other times it is a complete fail! This time I nailed it. The creaminess of the coconut, mixed with the strong flavor of cacao balanced up with vanilla works a treat. This dessert isn't for the faint hearted though, you also need to love raw cocoa and coconut, which isn't hard to do in my books.
I love using vanilla, not only because it creates a beautiful warm sweet flavor, but because it has so many medicinal qualities. Vanilla is particularly good for the brain; it contains vanilloids, which are the constituents, and which give vanilla its brain and mood boosting abilities. Vanilla has been used for centuries as a calmative and nervous system soother.
You can't use your bog standard vanilla drops in glycerin though, you'll need to invest in vanilla beans, powder or pure essential oil to get the real benefits, and trust me, you'll taste the difference too! If these types of vanilla are hard to find, go for a good quality vanilla extract.
IS MENOPAUSE AND THE HORMONE CHANGES A HUGE STRUGGLE FOR YOU? THERE IS HELP! CHECK OUT THE MASTERING MENOPAUSE BUNDLE, WHICH INCLUDES 28 EBOOKS, ECOURSES, AND PRINTABLES DESIGNED TO HELP YOU BECOME THE BOSS OF YOUR MENOPAUSE USING RESOURCES CREATED BY WOMEN WHO UNDERSTAND THE STRUGGLE. THE BUNDLE IS VALUED AT $1265 BUT FOR 5 DAYS ONLY YOU CAN GRAB IT FOR JUST AUS$50!  LEARN MORE HERE.
Many of the ingredients in this recipe can be sourced from my one-stop-favourite, organic wholefoods online store, The Wholefood Collective. They go to great lengths to ensure everything they source is amazing quality, they stock all my favorite products and I don't even have to leave the house! Oh and the cherry on the cake is they donate profits to improve food security for vulnerable Aussies.
Here are some of the ingredients you'll need:
Raw cacao powder
Raw honey or maple syrup
Chia seeds
Coconut milk
Vanilla powder
Coconut oil 
Salt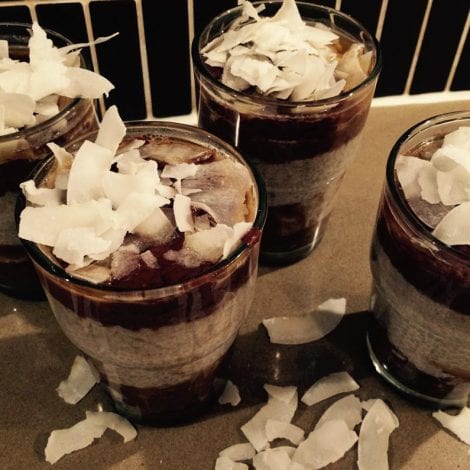 Rich Chocolate Chia Dessert
Although this recipe is simple with not too many ingredients, it does take a bit of prep time, as you need to let it sit over night.
Ingredients
1

ripe avocado

2

tablespoons

raw cacoa powder

2-3

teaspoons

raw honey or maple syrup

¼

cup

chia seeds

1

can coconut milk

2

cups

water

2

teaspoons

vanilla extract

or powder, bean or oil

40

gm cacao butter or coconut oil

pinch

sea salt
Instructions
Blend the avocado with a tablespoon of cacao powder, ½ teaspoon vanilla and a teaspoon of honey or maple syrup. Blend until creamy.

Next, divide the mix into 4 and pop in the bottom of 4 glasses.

For the chia layer, place chia seeds in a bowl; mix in 1 ½ cups of coconut milk, 2 cups water and ½ teaspoon vanilla . Leave for 15 minutes to allow the chia seeds to expand and absorb the liquid.

Split the chia mix equally into 4 serves and place on top of the avocado layer.

Next make the chocolate topping. Heat the remaining coconut milk in a pan (1 cup), when steam begins to rise add in cacao butter or coconut oil, a tablespoon of cacao powder, teaspoon of vanilla and 1-2 teaspoons of honey or maple plus a pinch of salt. On the lowest heat setting, keep stirring so that the cacao butter or coconut oil melts down. The longer you stir, the thicker and creamier the mix gets.

Remove the chocolate mix from the heat, allow to cool down for a few minutes, spoon chocolate mix onto the chia layer. The mix should just reach the top of the glass.

Finally add coconut flakes as the final layer. Place desserts in the fridge; leave them to sit over night to set.

Other toppings could include cacao nibs, frozen berries or a fruit puree. You may also experiment with other flavours, cinnamon, chilli, salt and caramel.
Notes
When you are ready to serve, remove them from the fridge and enjoy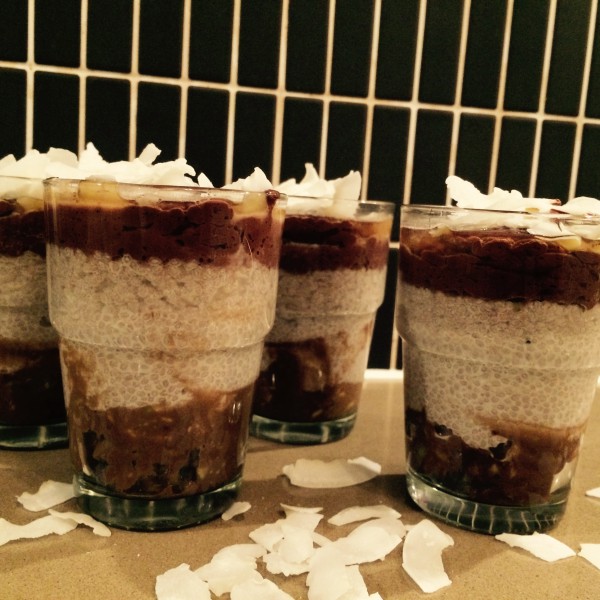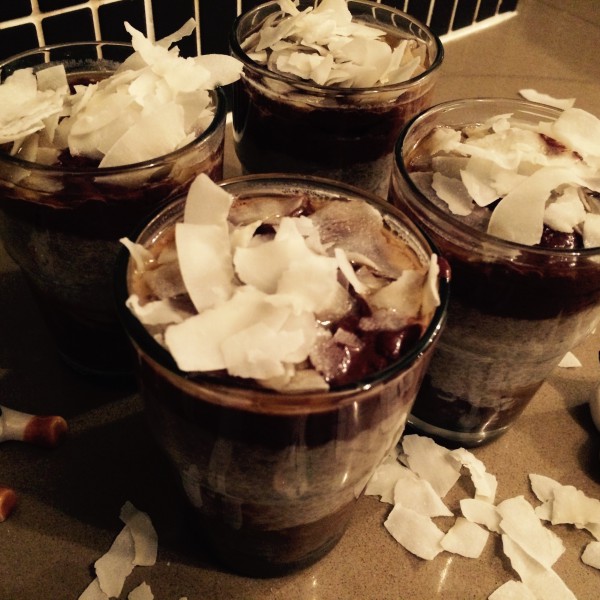 A big thank you to Naomi for sharing her beautiful recipe. And check out her Facebook page which is full of lots of great information on women's health and general wellbeing.
Packed with 40 delicious nut-free, sweet and savoury wholefood recipes your kids will love!

Add to cart

$

14.95
As far as breakfast cereal goes, I always say, "you may as well eat the box', it's probably more nutritious than what's inside! Here are 5 things to think about before you reach for the boxed cereal in the supermarket.

Download Now

>