Lunchbots lunchbox
With both my kids growing up, and No.1 even moving onto high school (umm, excuse me, how did that happen?), it was time to upgrade the lunchbox situation. Brightly coloured tupperware boxes apparently just don't cut if you're 9 and 11yrs old!
I've been gradually moving away from all things plastic, so I did my research (i.e. stalked Facebook threads) and asked around. I also asked my kids what style, size, shape they wanted, finally deciding that stainless steel was going be a 'cool' way to go – cool for them given their shiny and slick appearance, and cool for me because they are earth friendly, chemical-fee, sustainable and super easy to clean.
Each day the kids take a smaller box for recess (Lunchbots Duo) and a large bento style one for lunch (Lunchbots Trio). My kids are very active and so hungry all the time, and I find the size of the boxes to be perfect to contain enough food to sustain them through the day. I've also got a Lunchbots Thermal Insulated Stainless Steel Food Container which works well for bolognese, lamb curry, soups, or yoghurt and berries.
I love everything about these bento style boxes and it makes adding vibrant, nourishing foods to the repertoire so much easier.
Here's a snapshot of how I pack them. Recess is chunks of rockmelon and a savoury muffin and sweet muffin.
Lunch contains organic home popped popcorn with lots of good quality butter and sea salt, chopped up organic vegetables, and spinach and cheese Mountain Bread toasties (the kids also like to add ham or chicken to these, but we had none left).

The kids were on lunch duty while I got breaky ready. Getting your kids in the kitchen from a young age has so many rewards! Read more here.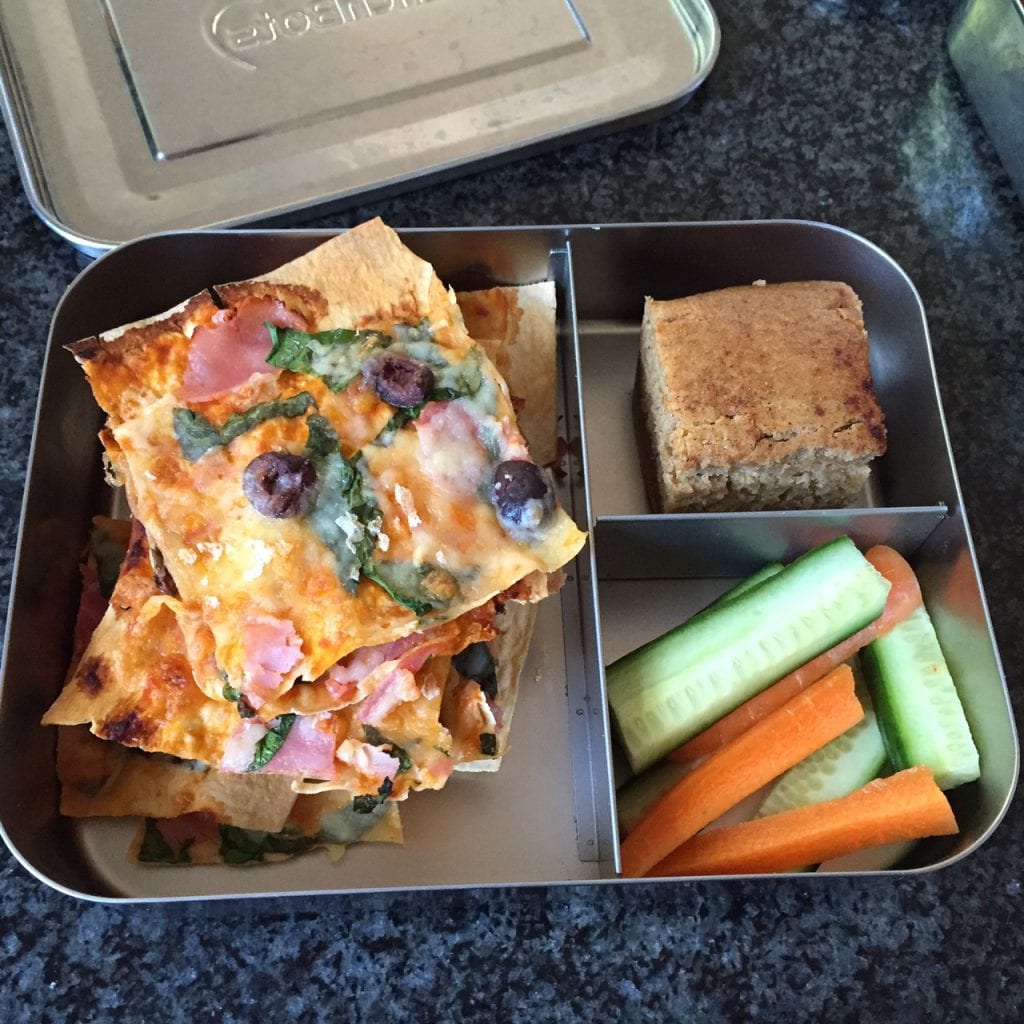 A bit of prep on Sunday made lunch boxes a breeze come Monday morning with Mountain Bread Pizza with some homemade tomato pizza sauce, ham, olives, baby spinach and mozzerella cheese and some vegetable sticks plus a piece of Cardamom-Spice Cake.
That should keep them going until the barge through the door at 3.15pm asking for more food!
Bren x
As far as breakfast cereal goes, I always say, "you may as well eat the box', it's probably more nutritious than what's inside! Here are 5 things to think about before you reach for the boxed cereal in the supermarket.

Download Now