The Best Lunchboxes For Kids (and whole family)!
With both my kids growing up, and No.1 even moving onto high school (umm, excuse me, how did that happen?), it was time to upgrade the lunchbox situation. Brightly coloured tupperware boxes apparently just don't cut if you're 9 and 11yrs old!
I've been gradually moving away from all things plastic, so I did my research (i.e. stalked Facebook threads) and asked around. I also asked my kids what style, size, shape they wanted, finally deciding that stainless steel was going be a 'cool' way to go – cool for them given their shiny and slick appearance, and cool for me because they are earth friendly, chemical-fee, sustainable and super easy to clean.
Each day the kids take a smaller box for recess – U Konserve Rectangle Container which has a divider which makes it extra versatile because the divider can be removed and used as a larger lunchbox as well.
For lunch they take a large bento style box –  Lunchbots Trio. My kids are very active and therefore hungry all the time and I find the size of the boxes to be perfect to contain enough food to sustain them through the day.
I've also got a Thermos 450ml Wide Mouth Food Jar with Folding Spoon  and Goodbyn Insulated Food Jar 12oz 350ml. In these containers I pack soups, pastas, stews, all hot meals really and also cold salads and things like bircher muesli, yoghurt, fruit and granola. The Goodbyn comes in Black or Pink.
For bread rolls stuffed with healthy fillings I just can't go past the awesome 4MyEarth sandwich wraps. We've had ours for years so we've got the Combie design but I've noticed some new designs which I love like this OceanLife and Flamingo.
And for water bottles I just can't go past Klean Kanteen stainless steel.
I love everything about these bento style boxes, bags and water bottles and it makes adding vibrant, nourishing foods to the repertoire so much easier.
Here's a snapshot of how I pack them. Recess is chunks of rockmelon and a savoury muffin and sweet muffin.
Lunch contains organic home popped popcorn with lots of good quality butter and sea salt, chopped up organic vegetables, and spinach and cheese Mountain Bread toasties (the kids also like to add ham or chicken to these, but we had none left).

The kids were on lunch duty while I got breaky ready. Getting your kids in the kitchen from a young age has so many rewards! Read more here.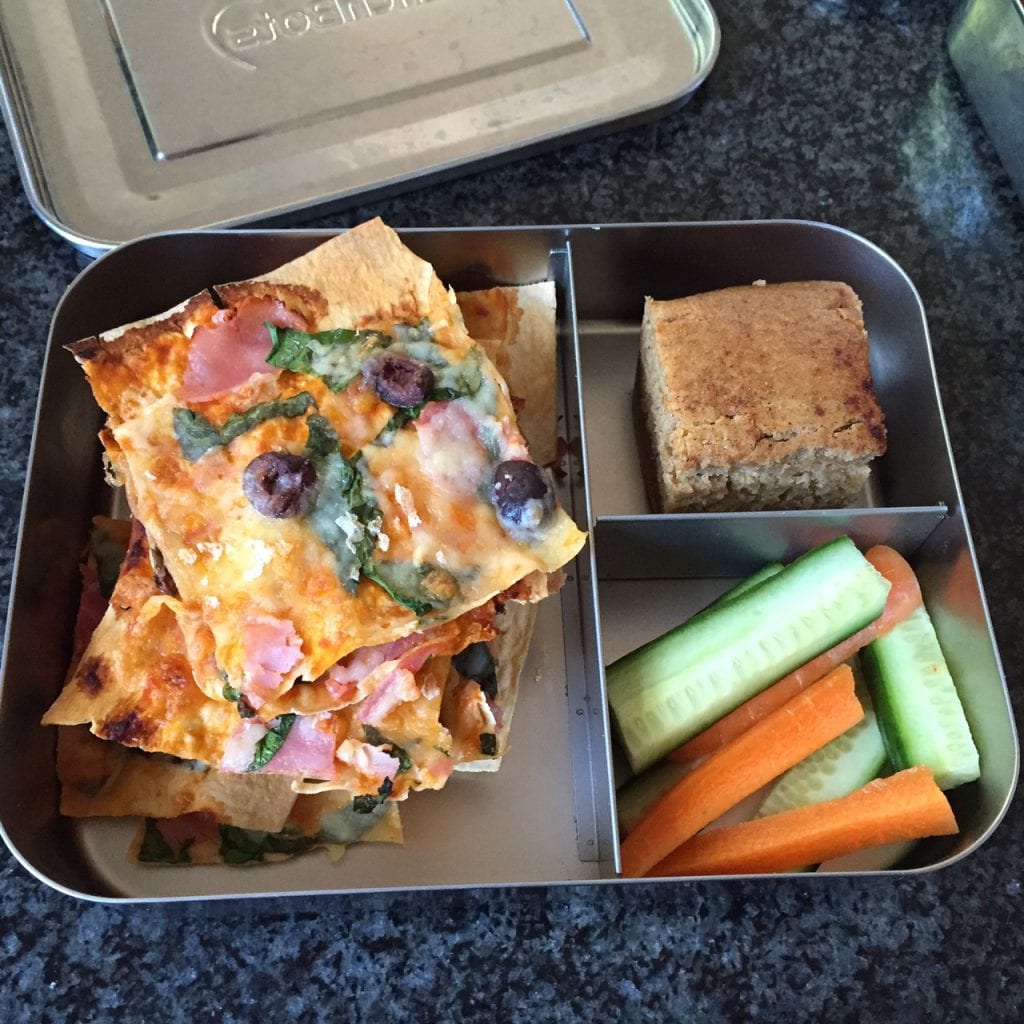 A bit of prep on Sunday made lunch boxes a breeze come Monday morning with Mountain Bread Pizza with some homemade tomato pizza sauce, ham, olives, baby spinach and mozzerella cheese and some vegetable sticks plus a piece of Cardamom-Spice Cake.
That should keep them going until the barge through the door at 3.15pm asking for more food!
If you're looking for more lunchbox recipe inspiration take a look at my ebook, Easy Wholefood Lunchboxes. It's packed with 40 delicious nut-free, refined sugar free sweet and savoury recipes which have all been kid-tested and approved and take the guess work out of what delicious, healthy food to make your kids for lunch!
Other post you might like are:
10 Warm and Hot Meals to Pack for School Lunches
10 Savoury School Lunchbox Ideas
17 Sweet and Easy School Lunchbox Recipes
Bren x
Packed with 40 delicious nut-free, sweet and savoury wholefood recipes your kids will love!

Add to cart

$14.95
As far as breakfast cereal goes, I always say, "you may as well eat the box', it's probably more nutritious than what's inside! Here are 5 things to think about before you reach for the boxed cereal in the supermarket.

Download Now