Pea and Ham Soup
This Pea and Ham Soup is tasty, hearty and filling, and so easy to make.
This Winter I'd really been craving soup and all it's healing power as I had been battling the most annoying (and badly timed) head cold.
But I don't get to make soup for the whole family all that often, because my son doesn't like soup.
Isn't it interesting how as mums, we tend to push our own needs to the side, in so many little ways without even realising we're doing it.
But I digress …
So, when thinking of a soup I could make which might appeal to said child's tastes, Pea and Ham soup sprang to mind.
When I broke the news to him that it would be soup for dinner, it was insisted upon that I make garlic bread to go with it, given the sacrifice he was making : )
And guess what?
That was the first time he happily polished off an entire bowl of soup! Acknowledging this himself!
Now I know the soup looks a bit orange for a Pea and Ham soup, but of course I'm always adding extra vegetables wherever I can, and in this case it was carrot.
This soup is perfect for dinner, be sure to make double to pack to take to work or school for lunch.
I'm often asked how to keep the food hot until lunchtime.
Well, it's as easy as 1, 2, 3:
Boil the kettle and then pour the water into the thermoses, be sure to pop the lids on
Heat up the food
Pour out the hot water add the warmed up food into the container, then pop the lid on immediately.
Here are my fave insulated jars which have lasted me years:
Lunchbots Insulated Stainless Steel Container 470ml 16oz
In these containers I pack soups, pastas, any hot meals and also cold salads.
Goodbyn Insulated Food Jar 12oz 350ml – Blue
I like this smaller size option to keep things cool like yoghurt, granola and fruit, overnight oats or to keep things warm like the chicken nuggets or smaller serves of things like soup, stew, pasta.
If you're looking for more lunch inspiration, take a look at my new recipe ebook, Easy Wholefood Lunchboxes. It's packed with 40 delicious nut-free, refined sugar free sweet and savoury recipes which have all been kid-tested and approved!
There's even a delicious recipe for Kale and Cannelleni Bean Minestrone which my kids love taking to school in their insulated container.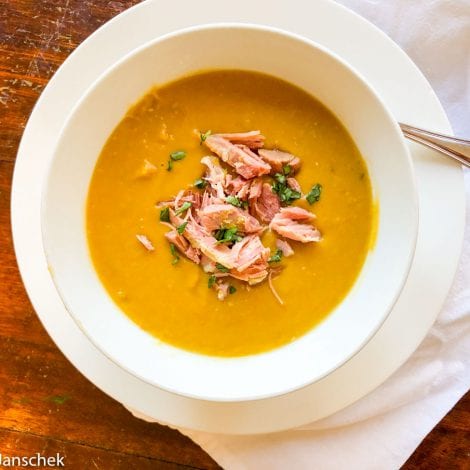 Pea and Ham Soup
Ingredients
500

grams

green split peas

Sea salt

Warm filtered water

Yoghurt

2 tablespoons

1

tablespoon

olive oil

1

large onion

chopped

4

garlic cloves

chopped

2

carrots

diced

2

celery sticks

diced

1

potato or sweet potato

peeled and diced

1

kilo ham hock

1

bay leaf

2

cups

chicken stock

6

cups

water

sea salt and cracked black pepper to taste
Instructions
Soak the split peas in warm filtered water, sea salt and yoghurt for 6-8 hrs then rinse well.

Heat oil on medium heat in a large pot and saute onion for a few minutes until the soften up

Add garlic, carrot, celery and potato and sweat with the lid on for 5 minutes

Pop in ham hock, chicken stock, water, split peas, bay leaf, sea salt and pepper and bring to boil

Turn heat down, cover and simmer for around 2 hours or until peas are cooked and soup has thickened.

Using tongs, remove hock and remove skin and fat and chop up the ham to use to top the soup.

Blend remaining soup to your preferred consistency.

Serve in bowls topped with chopped ham.

Serve with garlic bread
Notes
This recipe can be frozen.
If you know someone who could use some inspo in the kitchen, please share this recipe with them and while you're at it feel free to share my FREE breakfast ebook below : – )
And if you make any of my recipes please take photos and send them to me, or if you share them on instagram, remember to tag me @brendajanschek. I get a total kick out of seeing you make my recipes!
For more nourishing and soothing recipes, check out my soup round up, 7 Soup Recipes To Soothe the Soul.
Bren x
As far as breakfast cereal goes, I always say, "you may as well eat the box', it's probably more nutritious than what's inside! Here are 5 things to think about before you reach for the boxed cereal in the supermarket.

Download Now