Pumpkin & Root Vegetable Soup
Neither of my kids like pumpkin very much (are they mad?!), but they'll gobble up pumpkin soup like there's no tomorrow.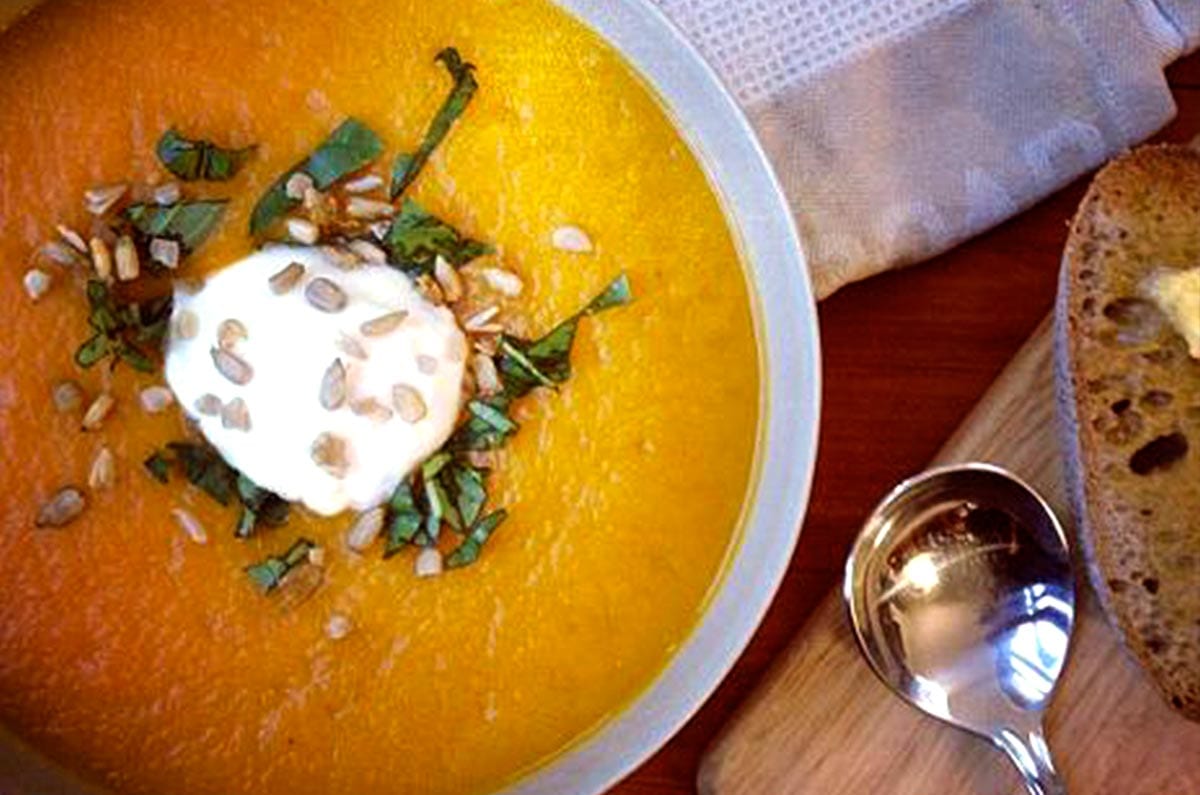 My 7yr old daughter isn't very fond of carrots either, so this is a great way to include (read: sneak!) it into her diet.
The combination of pumpkin with root vegetables makes this a delicious, comforting soup, easy to digest soup for the whole family. The picture you see is before the milk was added , it was my serving as I've never been a fan of milk. Omitting the milk just means the soup will be thicker and chunkier. Adding the milk makes it silkier and smoother, the way the rest of my family like it. Easy to make everyone happy with this one!
Pumpkin & Root Vegetable Soup
2016-11-24 02:05:35
Serves 4
Ingredients
1 tablespoon butter
1 teaspoon coconut oil
1 large onion, chopped
1 large carrot, chopped small pieces
1 large potato, chopped medium pieces
1 medium sweet potato, chopped larger pieces
¼ large pumpkin, chopped larger pieces
2 cups homemade vegetable or chicken stock
Good pinch of nutmeg
Freshly ground salt and pepper
2 cups milk
1 tablespoon lemon juice
Instructions
Heat the butter and coconut oil in a large saucepan and fry the onion gently over low heat until soft
Add the carrot, stir well and sweat over low heat for 5 minutes, add potato, sweet potato and pumpkin and continue to sweat for another 5-10 mins
Stir occasionally to prevent them from sticking to the pan
Stir in the stock, nutmeg and salt and pepper and bring to the boil and simmer until vegetables are tender (approx 10-15mins)
Once slightly cool, pour into food processor and blend well
Pour back into saucepan heat gently and add milk and lemon juice
Serve hot
Top with chopped parsley, natural yoghurt and sunflower seeds
Notes
Serve with buttered sourdough bread or toast
Double the batch for freezer, leftovers or school lunchboxes
Brenda Janschek Health & Lifestyle https://brendajanschek.com/
Have a flavourful day!
Bren x
As far as breakfast cereal goes, I always say, "you may as well eat the box', it's probably more nutritious than what's inside! Here are 5 things to think about before you reach for the boxed cereal in the supermarket.

Download Now