Slow Cooked Lamb Shank & Barley Soup with Gremolata
The temperature really dropped this week and that gets me thinking about food. Strictly speaking I am always thinking about food, but for the purpose of this post, we'll just say it was due to the drop in the mercury.
Guest post: Kim Brill, busy mum of two and great mate of Brenda.
The colder months add a whole new dimension to the 'what is for dinner?' question. Winter meals have to be warm, comforting, nourishing, please the whole family and given that it can be cold for a few months, it can't always be a roast dinner (sadly).
My default mid-week dinner throughout winter is soup. I love soup and this recipe is my new favourite.
With soup, unlike children, it is quite OK to have a favourite. Be gone French Onion Soup, I have found a new love. As of this week my new soup love is a slow cooked lamb shank and barley soup with gremolata.
Sounds fancy (win) and yet is so easy (win win). Had there been any left I would have sent Miss 9 and Mr 7 to school with the soup in their thermos flasks for lunch as they loved it as well (nearly a win win win).
Now back to Brenda ….
I'm often asked how to keep the food hot until lunchtime.
Well, it's as easy as 1, 2, 3:
Boil the kettle and then pour the water into the thermoses, be sure to pop the lids on
Heat up the food
Pour out the hot water  add the warmed up food into the container,  then pop the lid on immediately.
My fave insulated jars which have lasted me years I got from Biome:
Biome Insulated Jars
In these containers I pack soups, pastas, any hot meals and also cold salads.
Goodbyn Insulated Food Jar 12oz 350ml – Blue
I like this smaller size option to keep things cool like yoghurt, granola and fruit, overnight oats or to keep things warm like the chicken nuggets or smaller serves of things like soup, stew, pasta.
And if you're looking for more lunch inspiration, take a look at my new recipe ebook,  Easy Wholefood Lunchboxes. It's packed with 40 delicious nut-free, refined sugar free sweet and savoury recipes which have all been kid-tested and approved!
There's even a delicious recipe for Kale and Cannelleni Bean Minestrone which my kids love taking to school in their insulated container.
Many of the ingredients in this recipe can be sourced from my one-stop-favourite, organic wholefoods online store, The Wholefood Collective. They go to great lengths to ensure everything they source is amazing quality, they stock all my favorite products and I don't even have to leave the house! Oh and the cherry on the cake is they donate profits to improve food security for vulnerable Aussies.
Here are some of the ingredients you'll need:
Olive Oil
Garlic cloves
Passata
Pearl Barley
Bay Leaves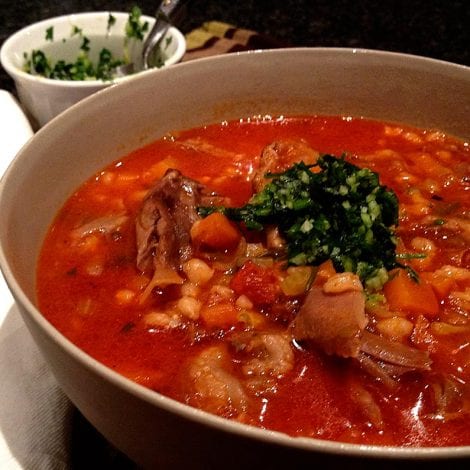 Slow Cooked Lamb Shank & Barley Soup with Gremolata
Ingredients
2

tbs

olive oil

4

small lamb shanks

100

g

pancetta

2

carrots

peeled, finely chopped

2

celery sticks

finely chopped

1

brown onion

finely chopped

2

garlic cloves

crushed

2

tsp

chopped fresh rosemary

1

L

4 cups chicken stock

400

g

passatta

70

g

1/3 cup pearl barley, rinsed

2

dried bay leaves

Gremolata

¼

cup

chopped fresh continental parsley

1

tsp

finely grated lemon rind

1

garlic clove

crushed
Instructions
Heat half the oil in a stock pot over medium-high heat. Add the lamb and cook, turning, for 4-5 minutes or until browned. Transfer to a plate.

Heat the remaining oil in the pot. Add the pancetta, carrot, celery and onion. Stir for 8 minutes or until soft. Add the garlic and rosemary and stir for 1 minute. Add the lamb.

Add the stock, tomato, barley and bay leaves to the stockpot. Cover and bring to the boil. Reduce heat to low and simmer for 2 hours or until lamb is tender and falls apart when tested. Transfer the lamb to a plate. Discard bones and coarsely shred meat. Skim and discard any excess fat from soup. Add the shredded lamb and season.

To make the gremolata, combine the parsley, lemon rind and garlic in a small bowl.

Divide the soup among serving bowls and sprinkle with gremolata.
Notes
TOP TIP: The pearl barley in this soup is a great source of dietry fibre. The low GI content of barley means it releases its carb energy slowly which may leave you feeling fuller for longer.
*Thermos flasks come in all sizes. Kmart & Plenty sell small ones (10oz) that are perfect for packed lunches. You can reheat most dinner leftovers which is a great alternative to sandwiches on cold days.
Another great soup idea is SUNDAY LUNCH SOUP:
Method:
1. On Sunday make a roast dinner.
2. On Monday blitz the leftovers, add stock as necessary and heat.
3. The End.
If you share them on instagram, remember to tag me @brendajanschek. Otherwise feel free to pm me your photos via Facebook. I get a total kick out of seeing you bring my recipes to life.
You might also like to check out my favourite soup round up, 7 Soup Recipes to Soothe the Soul.
Bren x
Packed with 40 delicious nut-free, sweet and savoury wholefood recipes your kids will love!

Add to cart

$

14.95
As far as breakfast cereal goes, I always say, "you may as well eat the box', it's probably more nutritious than what's inside! Here are 5 things to think about before you reach for the boxed cereal in the supermarket.

Download Now