Apple and Carrot Muffins
I always allow the kids some input into what goes into their lunchboxes.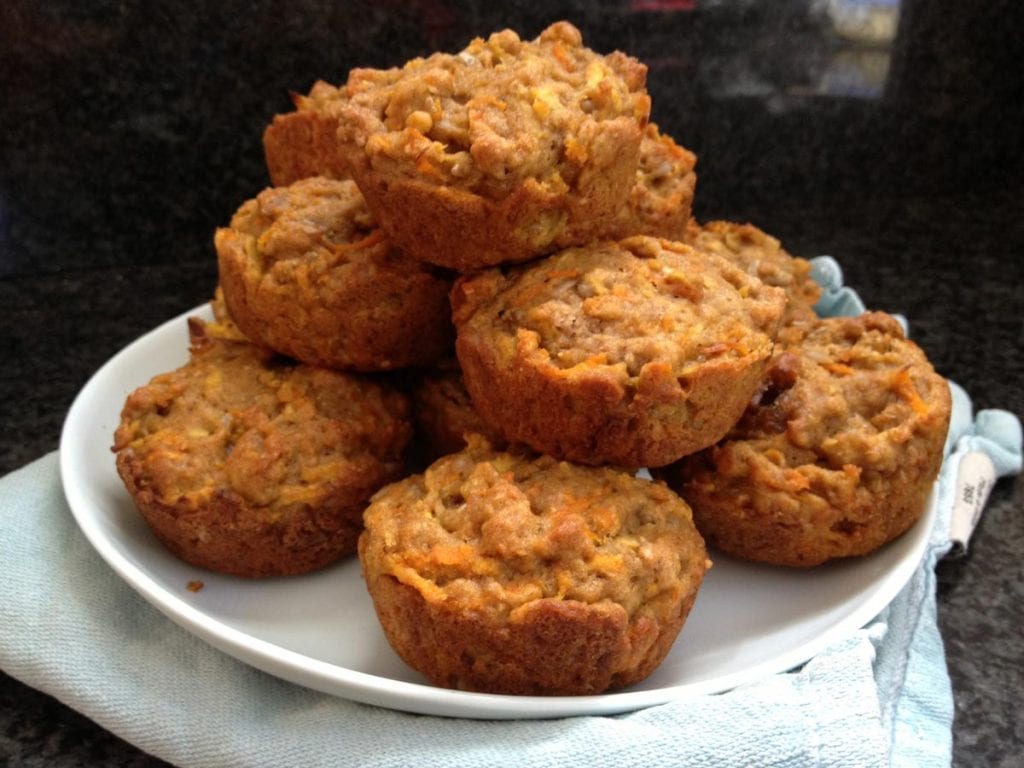 They know the boundaries, so they never ask for anything too outlandish, but they appreciate being asked just the same.
Now I can take it a step further as I have the pleasure of actually creating recipes with my 12yr old food-loving son. And because he understands the balance of nourishment and taste, the upside to this little collaborative approach is that the food is more likely to be eaten rather than return home! Unsurprisingly, muffins are hot on their list of regular items.
Muffins are always a delicious treat, but it's still a good idea to mix them up for variety.
I always try to make my muffins as nutritious as possible, so in this recipe I added the sunflower seeds, carrots and apples to the staples, which include the best quality eggs, butter, flour, sugar and coconut I can find and don't they just make the perfect healthy lunchbox snack too!
If you're looking for more recipe inspiration, take a look at my new recipe ebook which is getting rave reviews, Easy Wholefood Lunchboxes. It's packed with 40 delicious nut-free, refined sugar free sweet and savoury recipes which have all been kid-tested and approved! 
Many of the ingredients in this recipe can be sourced from my one-stop-favourite, organic wholefoods online store, The Wholefood Collective. They go to great lengths to ensure everything they source is amazing quality, they stock all my favorite products and I don't even have to leave the house! Oh and the cherry on the cake is they donate profits to improve food security for vulnerable Aussies.
Here are some of the ingredients you'll need:
White Spelt flour
Wholemeal spelt flour
Coconut sugar
Sunflower seeds
Baking powder
Cinnamon
Salt
Desiccated coconut
Milk
Vanilla powder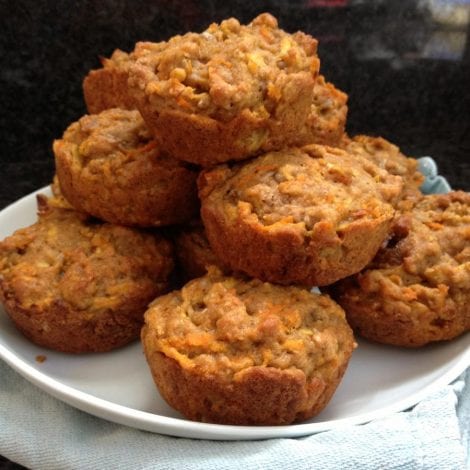 APPLE AND CARROT MUFFINS
Ingredients
1

cup

spelt flour

1

cup

wholemeal spelt flour

1/2

cup

coconut sugar

1/2

cup

sunflower seeds

roughly or finely ground

2.5

teaspoons

baking powder

1

teaspoon

cinnamon

1/4

teaspoon

salt

1/2

cup

desiccated coconut

1

large granny smith apple

peeled and grated

1

medium carrot

grated

2

cups

milk

100

grams

butter

melted and slightly cooled

2

eggs

1

teaspoon

vanilla extract
Instructions
Preheat oven to 175 degrees.

Butter a 12 hole muffin tray.

Mix flour, sugar, baking powder, desiccated coconut, cinnamon, sunflower seeds and salt in a large bowl.

Whisk together the eggs, butter, milk and vanilla and add to the flour mixture along with the grated carrot and apple and gently mix through.

Spoon the batter into the muffin tray until 3/4 full and bake for approx 20 mins or when skewer comes out clean.

Enjoy and share the recipe with your friends!
Here's a little information on the benefits of each ingredient:
Sunflower seeds
High in Vitamin E, magnesium and cancer-fighting selenium, anti-inflammatory, mineral-rich (great for bones), great for nerves and skin.
Carrots
Protect against heart disease and cancer, high in anti-oxidants and vitamins (A, K, C and calcium).
Apples
Packed full of disease fighting vitamins (C & B-complex), and a rich source of antioxidants, minerals flavanoids and dietary fibre.
Eggs
Go for pasture-raised or organic. High in Omega 3's, Vitamin D, choline and selenium.
Butter
Full of vitamins (A, E, D & K), lauric acid, anti-oxidants anti-cancer properties.
Coconut
Contains minerals, supports brain function, increases feelings of satisfaction and fullness, healthy fat, high in fibre.
If you make this recipe please do take photos and send them to me.If you share them on instagram, remember to tag me @brendajanschek.
Otherwise feel free to pm me your photos via Facebook. I get a total kick out of seeing you bring my recipes to life.
And remember, if you haven't already, grab your copy of Easy Wholefood Lunchboxes here.
If you liked this recipe you may also like these other delicious muffin recipes – Date & Cinnamon Muffins and Savoury Cheese Muffins.
Bren x
Packed with 40 delicious nut-free, sweet and savoury wholefood recipes your kids will love!

Add to cart

$

14.95
As far as breakfast cereal goes, I always say, "you may as well eat the box', it's probably more nutritious than what's inside! Here are 5 things to think about before you reach for the boxed cereal in the supermarket.

Download Now