Brenda's Brekky Ball (great for anytime of day!)
I recently ran my Think Outside the Cereal Box breakfast workshop and found it was a very popular topic!
It was great to see so many people eager to get inspiration to move away from nutrient-depleted boxed cereal, and onto much healthier wholefood options.
As a treat I thought I would develop a bliss ball recipe especially for the participants, and to show them how stuck we tend to get, into boxing our meals into morning, noon and night timeslots. A big bliss ball (or two) isn't just a snack or healthy treat. Because it is much more nutrient-dense than say, Weet Bix, it can be eaten for brekky along with a green smoothie or big glass of milk. There's really no need to time-of-day define it.
The Cacao powder in the bliss ball acts as a powerful antioxidant and immune-booster in its raw state.
The nuts and seeds offer a great source of fat and protein (chia seeds are very high in Omega 3s) , and the dates provide a natural source of sweetness and an easily digestible source of fibre.
Coconut oil is great for boosting the metabolism and helping us feel satiated, as well as being anti-viral, anti-fungal. What a great immune booster!
Here's the recipe which makes around 8- 10 large balls or 15 smaller ones.
Brenda's Brekky Ball
Ingredients
1/3 cup Nutraorganics Thriving Protein powder (optional)
8 Medjool dates
1 tablespoon cacao powder
1/2 teaspoon vanilla powder
1/2 teaspoon cinnamon
2 teaspoons chia seeds
1 tablespoon ABC nut butter
2 tablespoons desiccated coconut (extra for rolling)
3-4 tablespoons coconut oil
1 tablespoon LSA (optional)
1 cup raw almonds
Preparation
Pop almonds into food processor or Thermomix and grind to a meal.
Add the rest of the ingredients and process for approx 1 minute
Roll into large balls in your hands, then roll in some desiccated coconut.
Store in a container and pop in the fridge to set.
Best left in fridge or freezer.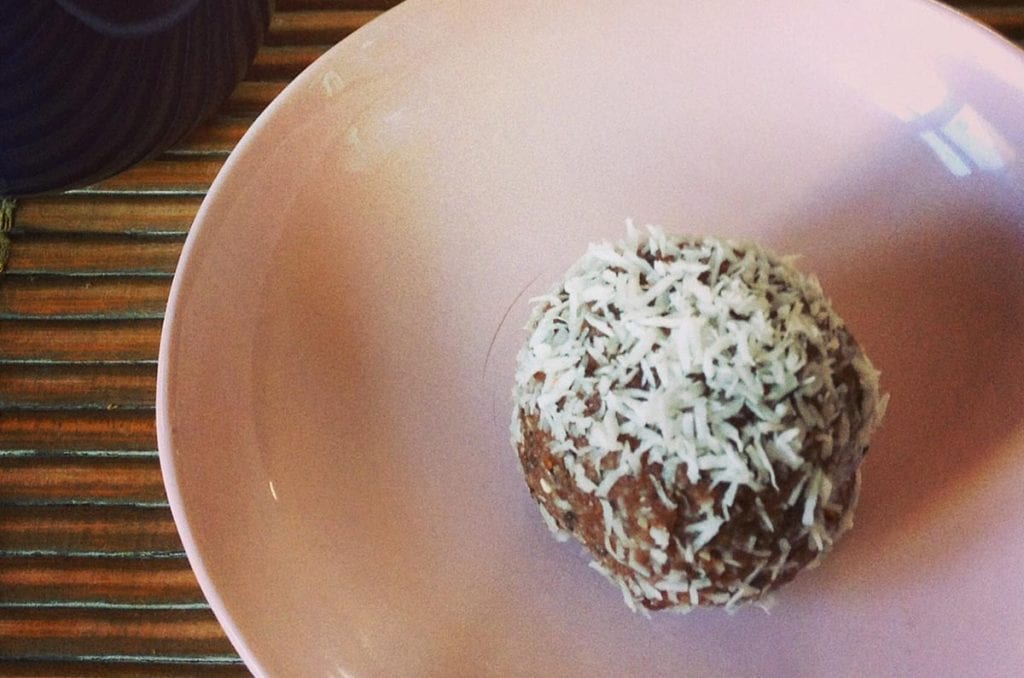 If you're looking for more recipe inspiration, take a look at my new recipe ebook which is getting rave reviews, Easy Wholefood Lunchboxes.
It's packed with 40 delicious nut-free, refined sugar free sweet and savoury recipes which have all been kid-tested and approved!
Packed with 40 delicious nut-free, sweet and savoury wholefood recipes your kids will love!

Add to cart

$14.95