Brenda's Breaky Ball (great for anytime of day!)
I recently ran my Think Outside the Cereal Box breakfast workshop and found it was a very popular topic!
It was great to see so many people eager to get inspiration to move away from nutrient-depleted boxed cereal, and onto much healthier wholefood options.
As a treat, I thought I would develop a bliss ball recipe especially for the participants, and to show them how stuck we tend to get, into boxing our meals into the morning, noon, and night time slots.
A big bliss ball (or two) isn't just a snack or healthy treat. Because it is much more nutrient-dense than say, Weet Bix, it can be eaten for breaky along with a green smoothie or big glass of milk. There's really no need to time-of-day define it.
The cacao powder in the bliss ball acts as a powerful antioxidant and immune-booster in its raw state.
The nuts and seeds offer a great source of fat and protein (chia seeds are very high in Omega 3s), and the dates provide a natural source of sweetness and an easily digestible source of fiber.
Coconut oil is great for boosting the metabolism and helping us feel satiated, as well as being anti-viral, anti-fungal. What a great immune booster!
Many of the ingredients in this recipe can be sourced from my one-stop-favourite, organic wholefoods online store, The Wholefood Collective. They go to great lengths to ensure everything they source is of amazing quality, they stock all my favorite products and I don't even have to leave the house! Oh, and the cherry on the cake is they donate profits to improve food security for vulnerable Aussies.
Here are some of the ingredients you'll need:
180 Nutrition Chocolate Protein Powder
Medjool Dates
Cacao Powder
Cinnamon Powder
Chia Seeds
Almonds
Nut Butter
Desiccated Coconut
Coconut Oil
LSA
Brenda's Breaky Ball
Ingredients
1/3

cup

180 Nutrition Chocolate Protein Powder

optional

8

Medjool dates

1

tablespoon

cacao powder

1/2

teaspoon

vanilla extract

1/2

teaspoon

cinnamon

2

teaspoons

chia seeds

1

tablespoon

ABC nut butter

2

tablespoons

desiccated coconut

extra for rolling

3-4

tablespoons

coconut oil

1

tablespoon

LSA

optional

1

cup

raw almonds
Instructions
Pop almonds into food processor or Thermomix and grind to a meal.

Add the rest of the ingredients and process for approx 1 minute

Roll into large balls in your hands, then roll in some desiccated coconut.

Store in a container and pop in the fridge to set.

Best left in fridge or freezer.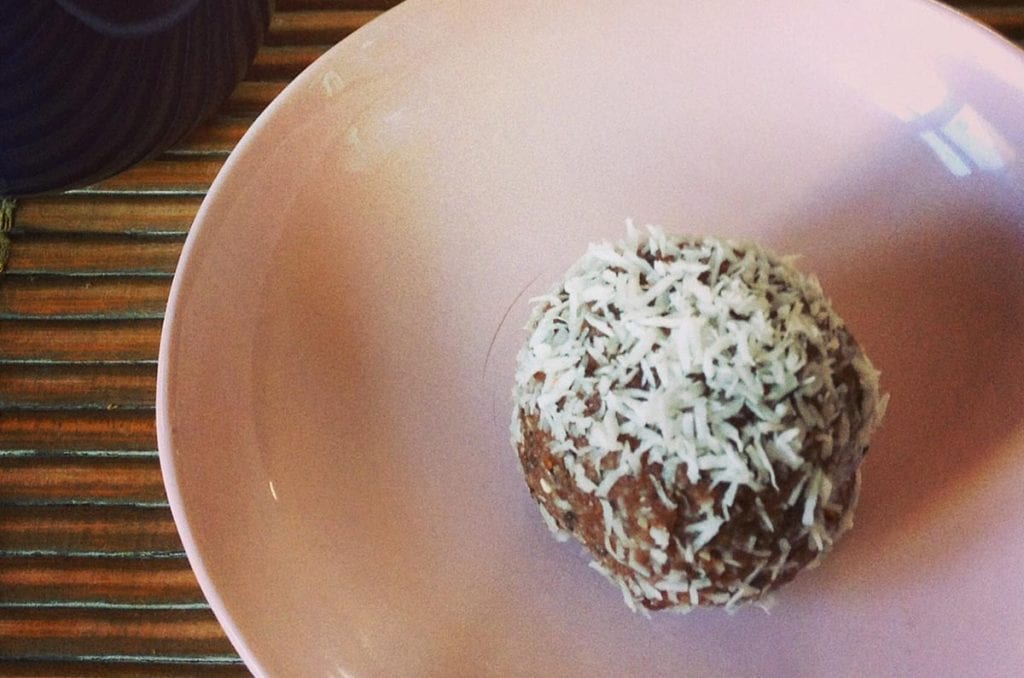 If you're looking for more recipe inspiration, take a look at my new recipe ebook which is getting rave reviews, Easy Wholefood Lunchboxes.
It's packed with 40 delicious nut-free, refined sugar-free sweet and savoury recipes which have all been kid-tested and approved!
If you make this recipe and share on instagram remember to tag me @brendajanschek. Otherwise, feel free to pm me your photos via Facebook.
Some other delicious breakfast recipes you might like are Brenda's Big Batch Bircher Muesli and Anti-Oxidant Smoothie.


Packed with 40 delicious nut-free, sweet and savoury wholefood recipes your kids will love!

Add to cart

$14.95
As far as breakfast cereal goes, I always say, "you may as well eat the box', it's probably more nutritious than what's inside! Here are 5 things to think about before you reach for the boxed cereal in the supermarket.

Download Now