Cauliflower & Potato Soup
Aussie temperatures are hard to read at the moment, soaring to 34 degrees one day and plummeting to 20 degrees the next.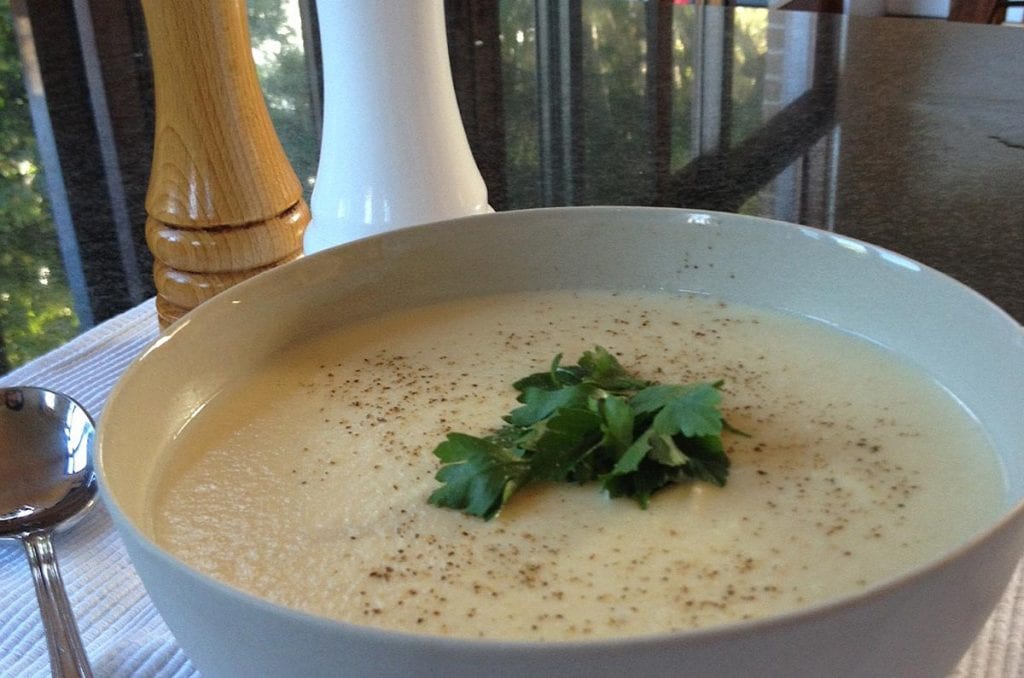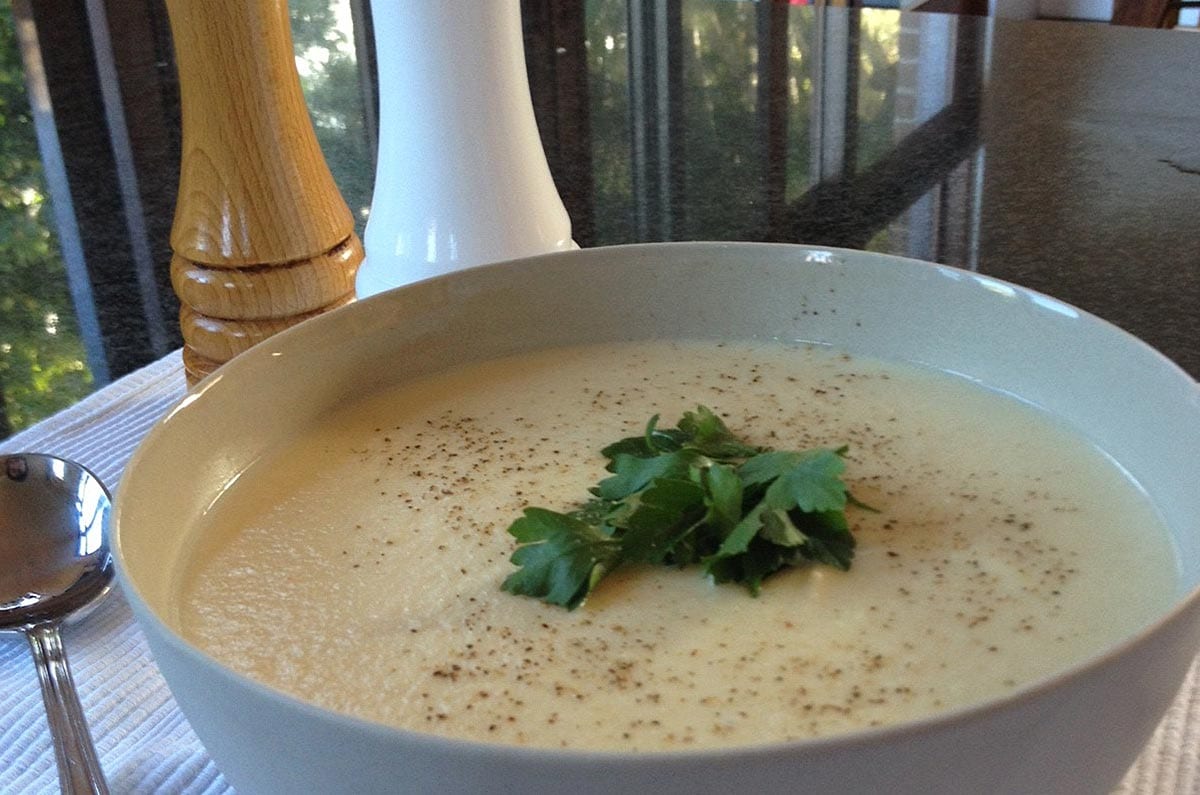 I took advantage of the cool change the other day and snuck in a wintery meal which I'd been planning to make, but hadn't got around to – until now. Knowing that my opportunities would diminish as the summer really kicked in, now was my chance.
I pulled out my Thermomix Everyday Cookbook to make the Cauliflower Soup recipe, but found the recipe evolved right before my fingertips into a more nutrient-dense version that had my family licking the bowls! Memo to self: don't take them out in public!
This soup is perfect for dinner or packed to take to work or school for lunch.
I'm often asked how to keep the food hot until lunchtime.
Well, it's as easy as 1, 2, 3:
Boil the kettle and then pour the water into the thermoses, be sure to pop the lids on
Heat up the food
Pour out the hot water  add the warmed up food into the container,  then pop the lid on immediately.
Here are my fave insulated jars which have lasted me years:
Lunchbots Insulated Stainless Steel Container 470ml 16oz
In these containers I pack soups, pastas, any hot meals and also cold salads.
Goodbyn Insulated Food Jar 12oz 350ml – Blue
I like this smaller size option to keep things cool like yoghurt, granola and fruit, overnight oats or to keep things warm like the chicken nuggets or smaller serves of things like soup, stew, pasta.
If you're looking for more lunch inspiration, take a look at my recipe ebook, Easy Wholefood Lunchboxes. It's packed with 40 delicious nut-free, refined sugar free sweet and savoury recipes which have all been kid-tested and approved!
There's even a delicious recipe for Kale and Cannelleni Bean Minestrone which my kids love taking to school in their insulated container.
Many of the ingredients in this recipe can be sourced from my one-stop-favourite, organic wholefoods online store, The Wholefood Collective. They go to great lengths to ensure everything they source is amazing quality, they stock all my favorite products and I don't even have to leave the house! Oh and the cherry on the cake is they donate profits to improve food security for vulnerable Aussies.
Here are some of the ingredients you'll need:
So I'm excited to say this is my first (adapted!) Thermomix recipe, but an easy one to make the conventional way too.
Here's how to make it both ways:
Cauliflower and Potato Soup
Ingredients
30

g

parmesan

cut into cubes (optional)

600

g

chicken stock

I used home-made for all it's benefits or 300mls chicken stock and 300mls water

600

g

cauliflower

cut into small florets

3

medium potatoes

diced

sea salt

to taste

2

teaspoons

butter

1/4

cup

cream

pinch

of nutmeg
Instructions
Place parmesan into mixing bowl and grate 10sec/speed 9. Set aside.

Place stock/water, cauliflower, potato and salt into mixing bowl and cook 15min/100 degrees C/speed 1

Add butter and cook 5 min/100 degrees/speed 1

and Blend 1 min/speed 9, gradually increasing speed from speed 1 to speed 9

Add parmesan and cream and blend for 10 sec
Notes
CONVENTIONAL INSTRUCTIONS
Grate 30g parmesan. Set aside.
Melt butter in a medium saucepan and add cauliflower and potato and sweat with lid on for  10 minutes. 
Add stock and salt and bring to boil.
Simmer with lid on for 15 minutes or until vegetables are tender.
Pour contents into a food processor or blender and blend until smooth.
If you know someone who could use some inspo in the kitchen, please share this recipe with them.
And if you make any of my recipes please take photos and send them to me, or if you share them on Facebook or instagram, remember to tag me @brendajanschek. I get a total kick out of seeing you make my recipes!
For more nourishing and soothing recipes, check out my soup round up, 7 Soup Recipes To Soothe the Soul.
Bren x

Packed with 40 delicious nut-free, sweet and savoury wholefood recipes your kids will love!

Add to cart

$14.95
As far as breakfast cereal goes, I always say, "you may as well eat the box', it's probably more nutritious than what's inside! Here are 5 things to think about before you reach for the boxed cereal in the supermarket.

Download Now