Chai Date and Sesame Biscuits
I'm always looking for the best way to get the most out of my healthy treats in terms of both taste and nutrition, so sometimes creating a recipe is kind of a process of working backwards.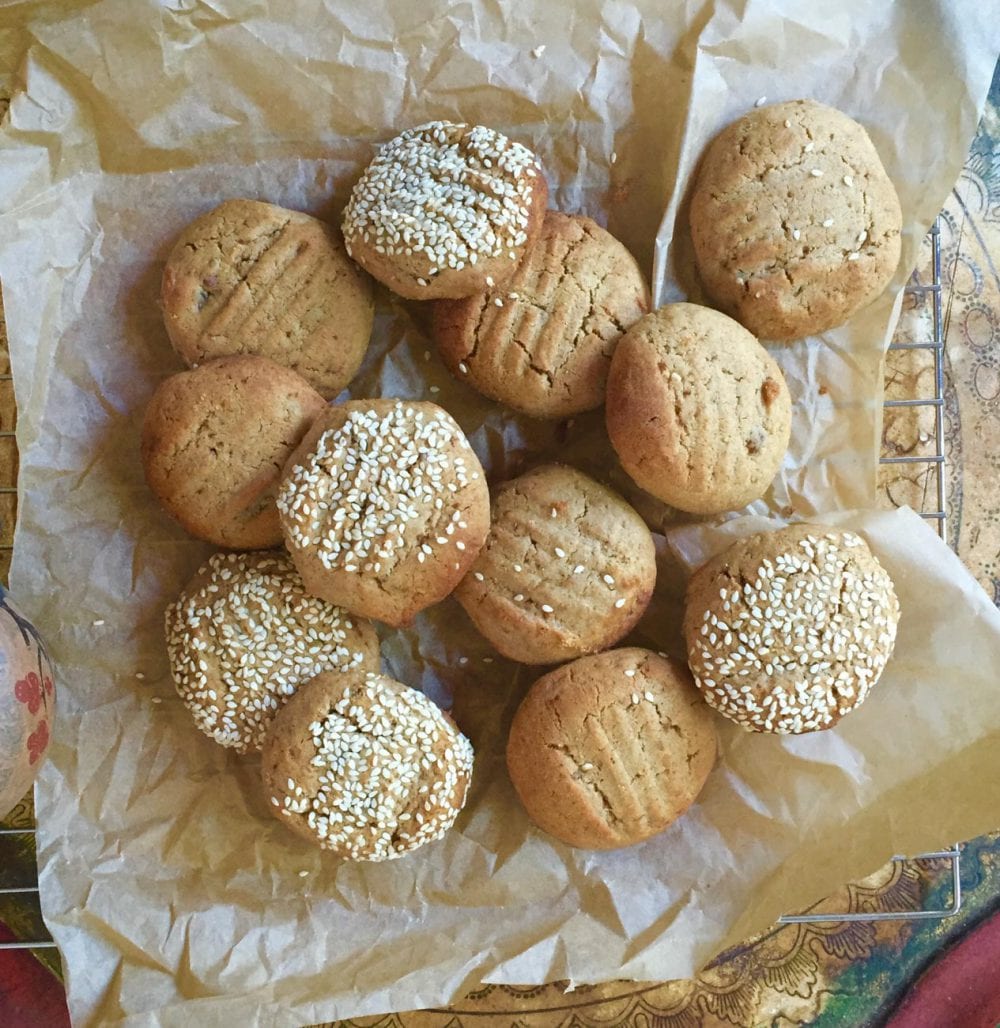 I've been keen to find ways to use sesame seeds in my recipes because why not always try to add in some tasty nutrition.
Here's a snapshot of why we want to try to include them:
they provide a fantastic source of calcium
they include a high supply of energy
they offer the liver protection
sesame seeds helps in healing wounds faster
they are a great source of antioxidants
provide a great source of fat for the brain
These biscuits are inspired by my favourite Middle Eastern biscuit my Mum makes called 'Klecha' and if you ask my kids, you won't be one bit sorry you made these! Into the lunchboxes they go!
If you're looking for more recipe inspiration take a look at my ebook, Easy Wholefood Lunchboxes.
It's packed with 40 delicious nut-free, refined sugar free sweet and savoury recipes which have all been kid-tested and approved and take the guess work out of what delicious, healthy food to pack your kids for lunch!
Many of the ingredients in this recipe can be sourced from my one-stop-favourite, organic wholefoods online store, The Wholefood Collective. They go to great lengths to ensure everything they source is of amazing quality, they stock all my favorite products and I don't even have to leave the house! Oh, and the cherry on the cake is they donate profits to improve food security for vulnerable Aussies.
Here are some of the ingredients you'll need:
Whole Spelt Flour 
Rapadura Sugar
Baking Powder
Salt
Cinnamon
Ground Cardamon
Nutmeg Powder
Cloves
Sesame Seeds
Medjool Dates
CHAI, DATE AND SESAME BISCUITS
Ingredients
125

grams

butter

softened

1/4

cup

rapadura or coconut sugar

1

teaspoon

vanilla extract

1

egg

2

cups

wholemeal spelt flour (or any plain flour)

or buckweat flour for gluten-free

1

teaspoon

baking powder

1

teaspoon

cinnamon

1

teaspoon

ground ginger

pinch

of ground cloves

1/4

teaspoon

nutmeg

1

teaspoon

ground cardamom

tiny pinch of sea salt

3/4

cup

Medjool dates, seeded and chopped

1/4

cup

sesame seeds
Instructions
Preheat oven to 180 degrees C.

Line a baking tray with baking paper.

Using electric beaters, cream the butter, sugar and vanilla in a medium bowl until light and fluffy (around 2-3mins)

Add egg, beating until just combined.

Sift in the flour and baking powder and add all the spices and stir until combined.

Stir through chopped dates.

Put sesame seeds into a small bowl.

Shape tablespoons of dough into balls and dip one side into the sesame seeds and place sesame side up on the tray. Continue until all the balls are lined up on the tray.

Using the back of a fork gently press down on each biscuit to flatten slightly.

Place in oven for 10 - 15 minutes, turning tray once, or until lightly golden brown.

Remove from oven and cool on tray for 5 minutes before transferring to a wire rack.
THERMOMIX INSTRUCTIONS
Place the sugar into mixing bowl and mill 10 sec/speed 9

Place butter and vanilla into mixing bowl and mix 2 min/speed 3

Add egg, flour, baking powder, spices and salt and mix 10 seconds S 3.5.

Add dates and mix 10 sec/reverse speed 3.

Follow the rest of the instructions above.

These are a fantastic addition to school lunch boxes.

Enjoy!
If you make this recipe and share on instagram, remember to tag me @brendajanschek.
Otherwise feel free to pm me your photos via Facebook.
Some other delicious healthy lunchbox friendly treats you might like are these delicious Fig Bars and Raspberry Coconut Squares.
Packed with 40 delicious nut-free, sweet and savoury wholefood recipes your kids will love!

Add to cart

$14.95
As far as breakfast cereal goes, I always say, "you may as well eat the box', it's probably more nutritious than what's inside! Here are 5 things to think about before you reach for the boxed cereal in the supermarket.

Download Now