Creamy Cauliflower and Bacon Bake
Sometimes I get the impression people think I cook up gourmet meals for my family.
This makes me laugh because, truth be told, the best way to describe dinner around here is 'grub'!
Life's too busy for anything too fancy. It's all about sausages with mash, butter chicken, beef stroganoff, spicy chicken wings, lentil soup, quesadillas … you get the picture.
Often I'll just throw things together based on what I have left in the fridge and which may match the tastebuds of my family.
I don't often blog these recipes, but, as mums we are all in the same boat, so I've decided to blog my 'grub' …
Creamy cauliflower and bacon bake is what I'm talking about here, and while it probably isn't something Michelangelo might consider art, it's tasty as (granted, anything with bacon is almost cheating).
Make enough to feed the family with a serving of leftovers for the next day. Our kids loved it on their leftover spelt pasta (a bit of a carbonara vibe) and side salad. For myself, I ate it straight up with a big side of salad. It would actually be pretty delicious with rice too and it's a perfect side dish to a main meal.
Many of the ingredients in this recipe can be sourced from my one-stop-favourite, organic wholefoods online store, The Wholefood Collective. They go to great lengths to ensure everything they source is amazing quality, they stock all my favorite products and I don't even have to leave the house! Oh and the cherry on the cake is they donate profits to improve food security for vulnerable Aussies.
Here are some of the ingredients you'll need:
Cannellini or red kidney beans
Paprika
Chicken stock
Creamy Cauliflower and Bacon Bake
Ingredients
1

onion

chopped

2

cloves

garlic

finely chopped

200

grams

bacon

chopped

1

tin cannellini or red kidney beans

1

teaspoon

each paprika

thyme and oregano

1/2

cup

homemade chicken or vege stock

1/2

head broccoli

chopped into small florets

1/2

head of cauliflower

chopped into small florets

1

cup

cream

1/2

cup

parmesan cheese

finely grated

1/2

cup

cheddar cheese

finely grated

extra cheese to sprinkle on top
Instructions
Heat over to 180 degrees C

In a large frying pan, fry onion and bacon on medium heat for a few minutes, until onion softens

Add garlic and cook for a few minutes.

Add beans, paprika, thyme and oregano and stir for 30 seconds

Add stock and stir well and take off the heat

While the onion and bacon are cooking, chop up cauliflower and broccoli and place in baking dish

Stir through the onion and bacon mix

In a small bowl whisk together cream and cheese and pour over cauliflower and broccoli and bacon

Pop in the oven and cook for 30-40 minutes or until cauliflower and broccoli are tender

Be sure to stir the bake 2-3 times during cooking

Once cooked, sprinkle the bake with a handful of cheese, and sprinkle with paprika and grill for 5 minutes until golden brown

Serve on top of pasta, rice, as a side dish or as is with a garden salad
Onion and bacon fry up
Cut up vegetables on pop in baking tray
Stir through onion and bacon mixture
Stir through creamy cheese sauce and pop in the oven
End result – a bubbling,creamy,cheesy,flavoursome home-style dish.Yum!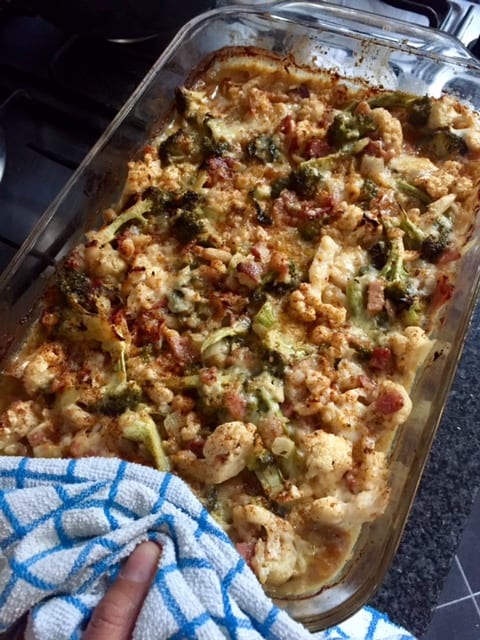 Bren x

Packed with 40 delicious nut-free, sweet and savoury wholefood recipes your kids will love!

Add to cart

$

14.95
product id="13300″]