Easy Paella
I can't quite believe I've never made paella before now that I know how easy it is to make!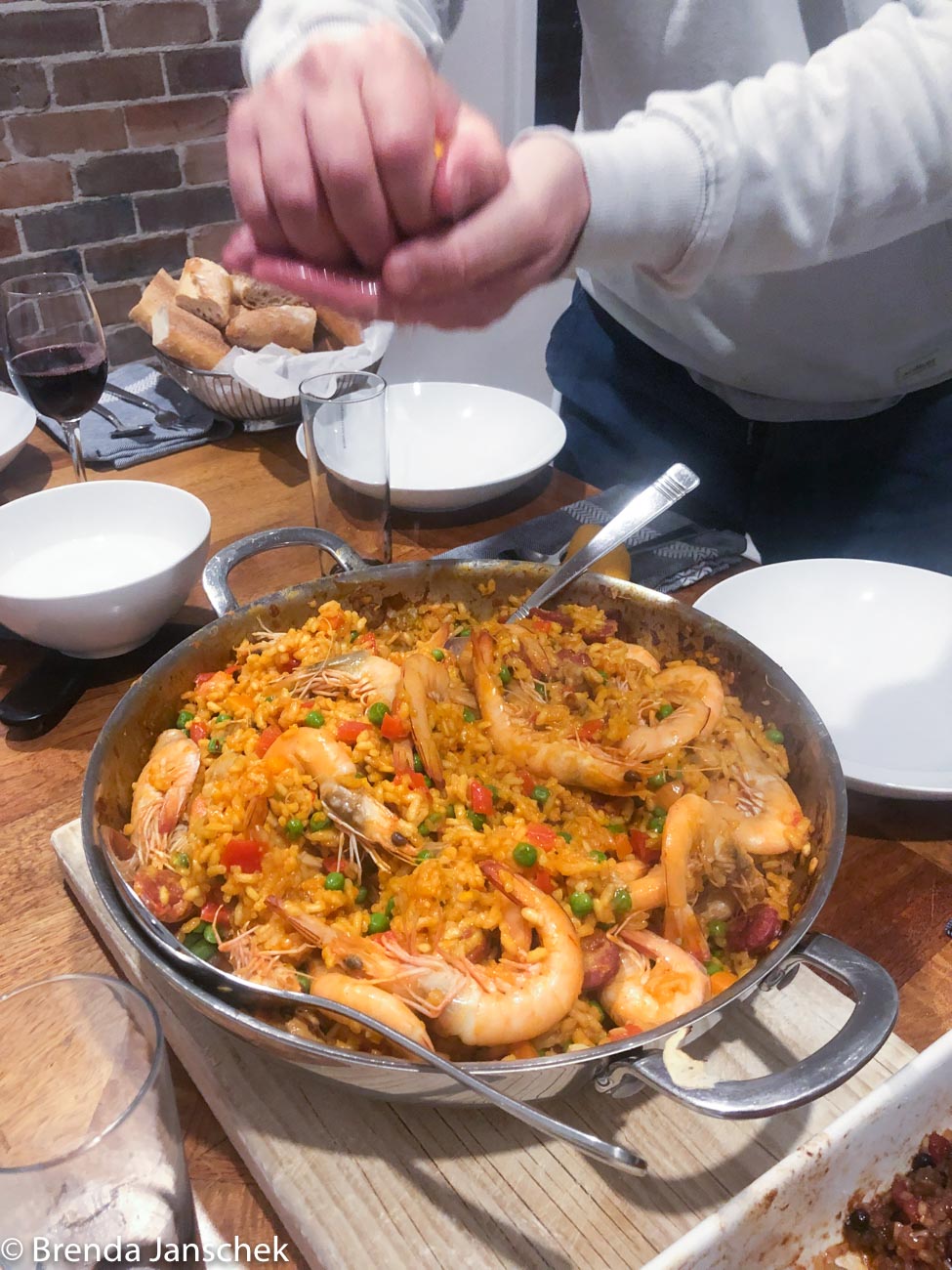 And with only one pot required, it's truly a dish that keeps on giving.
The trick in achieving the signature crispy golden crust on the bottom, is in using a wide, flat surface to create maximum surface area, allowing liquid to evaporate and to form the crust. So I recommend cooking this dish in a large skillet or even a wide pot or of course, a paella pan if you're lucky enough to have one.
Your house is going to smell amazing while you cook this dish and everyone's tummies will be rumbling!
You can also add all sorts of seafood like squid, mussels, clams and white fish, which I think would be make for quite a special meal if you were entertaining guests.
If you don't have paella rice, don't panic, you can use arborio rice instead!
Excuse the average photo taken at night just before I served it. This is real time baby!
Many of the ingredients in this recipe can be sourced from my one-stop-favourite, organic wholefoods online store, The Wholefood Collective. They go to great lengths to ensure everything they source is amazing quality, they stock all my favorite products and I don't even have to leave the house! Oh and the cherry on the cake is they donate profits to improve food security for vulnerable Aussies.
Here are some of the ingredients you'll need:
Extra Virgin Olive Oil
Tomato Paste
Smoked Paprika
Chicken Stock
Easy Paella
Ingredients
1

tbsp

extra virgin olive oil

4

cloves

garlic, finely chopped

1

brown onion, chopped

1

carrot, diced

150

grams

cured chorizo, sliced into discs

4

chicken thighs, chopped

1

small red capsicum, deseeded and diced

2

tbsps

tomato paste

300

grams

paella rice

2

tspns

smoked paprika

500

grams

chicken stock

225

grams

filtered water

1

tsp

saffron threads

1

cup

frozen peas

12

whole

green prawns

1

handful

flat leaf parsley, roughly chopped

1

lemon, cut into wedges for serving
Instructions
Into the large skillet, add capsicum and smoked paprika and saute for 1 minute. Add tomato paste and saute for a couple more minutes.

Add the paella rice and stir for a few minutes. Then add the boiling stock/water mix. Add saffron and stir well.

Bring to the boil then reduce to a simmer. Cook for 10-15 minutes until rice is almost tender but not totally cooked through.

Add peas and prawns (press prawns down into the rice, and cook for a further 5 minutes or until prawns are cooked. Turn heat up to high and cook for 2 minutes with the aim of creating the signature crust of rice on the bottom of the pan.

Season with salt and pepper to taste.

Serve on plates with a generous sprinkle of parsley and wedge of lemon.
Notes
If rice looks like it's drying out too much towards end of cooking, just add in a splash or two of water as needed. 
Enjoy!
Other rice based dinner recipes you might like are Middle Eastern Lentils and Rice (Mjaddra) and Garlic Prawns and Coconut Rice and Spicy Pork and Vegetable Nasi Goreng. 
If you make this recipe and share on instagram, remember to tag me @brendajanschek.
Otherwise feel free to pm me your photos via Facebook.

Packed with 40 delicious nut-free, sweet and savoury wholefood recipes your kids will love!

Add to cart

$

14.95
As far as breakfast cereal goes, I always say, "you may as well eat the box', it's probably more nutritious than what's inside! Here are 5 things to think about before you reach for the boxed cereal in the supermarket.

Download Now
nbsp;