Garlic Prawn and Pea Spaghetti
Boy, did the family ever tuck into this!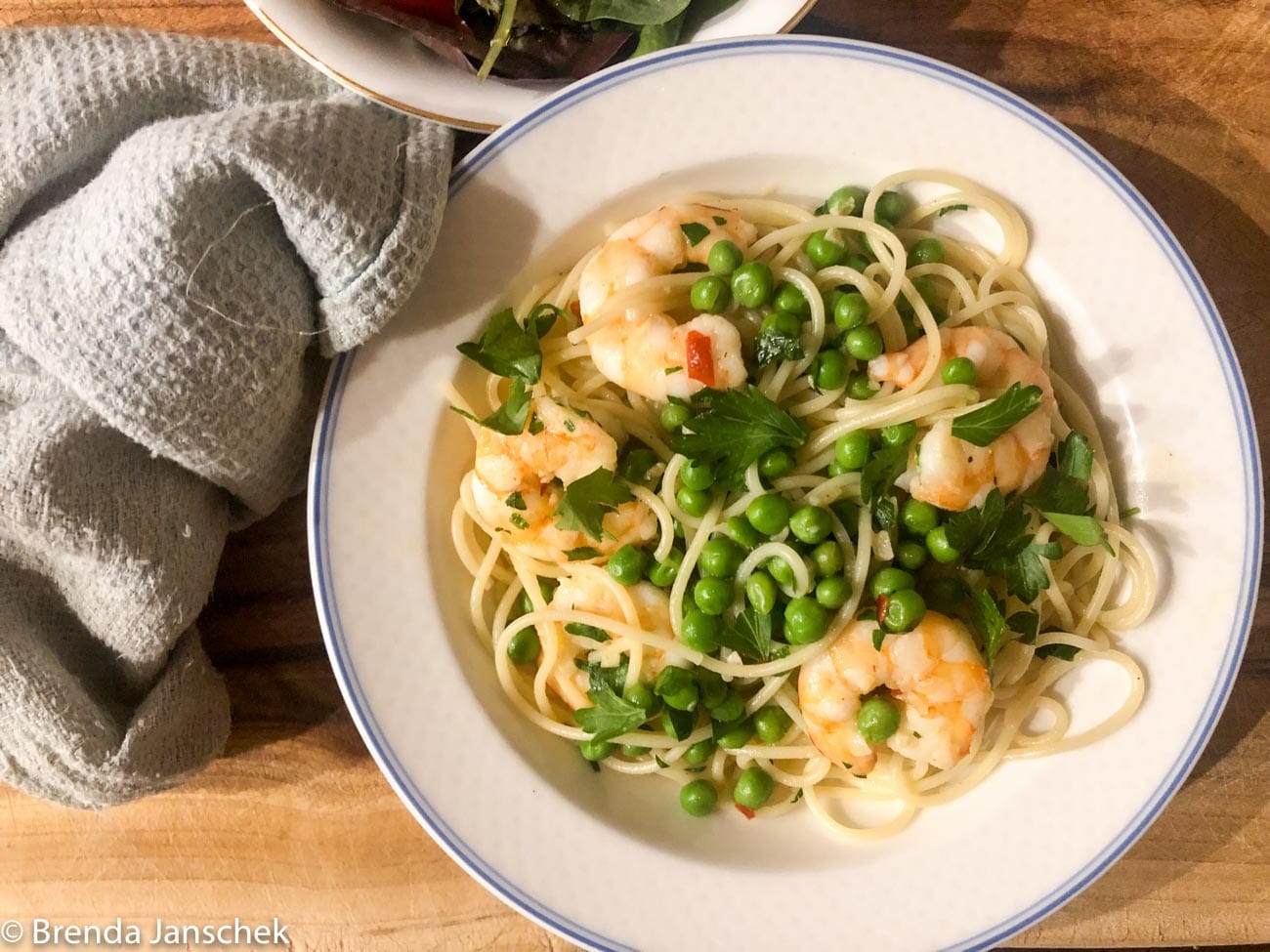 Word that it was Garlic Prawn and Pea Spaghetti for dinner spread like wildfire, culminating in a call of excitement from hubby who heard from my daughter that I was making it for dinner.
I don't think I've ever seen dinner scoffed down so fast by the whole family ?
Hubby teamed it with a glass of his favourite white wine and I had to giggle when my son remarked "Well that dinner sure put Dad in a good mood".
That's the beauty of food. Hit the spot and it can be the most comforting, delicious, uplifting experience and pull anyone out of their grumpy day.
I felt oddly guilty with each gasp of praise, given this is probably one of the easiest, no-brainer dinners you could make in all of history.
Proving that simplicity and fresh flavours win out again.
Many of the ingredients in this recipe can be sourced from my one-stop-favourite, organic wholefoods online store, The Wholefood Collective. They go to great lengths to ensure everything they source is amazing quality, they stock all my favorite products and I don't even have to leave the house! Oh and the cherry on the cake is they donate profits to improve food security for vulnerable Aussies.
Here are some of the ingredients you'll need:
Spaghetti
Sea salt and ground pepper
Extra virgin olive oil
Garlic Prawn and Pea Spaghetti
Ingredients
60

grams

unsalted butter

4

cloves

garlic

finely chopped

1

red chilli

deseeded and chopped finely (optional)

½

lemon

zested (optional)

24

prawns

peeled and tails removed (I paid the fish monger to do this step for me #lazy)

400

grams

spagettini or spaghetti

1

cup

frozen peas

Sea salt and ground pepper

¼

cup

parsley

chopped

Lemon juice

optional

Extra virgin olive oil
Instructions
Cook pasta as per packet instructions. Add peas in last 2 minutes of cooking. Drain, remembering to reserve 1 cup of the cooking water for later.

Heat the butter in a large frying pan over low-medium heat. Add the garlic, chilli and lemon zest. Cook, stirring for 2 minutes or until garlic is golden.

Add the prawns and cook on one side for a couple minutes, then gently turn and cook for another minute or until the prawns are tender.

Add the pasta, peas, parsley and reserved water.

Season with sea salt and lots of freshly cracked black pepper and toss to combine.

Serve with a squeeze of lemon juice and a good lug of extra virgin olive oil and maybe even an extra teaspoon of butter stirred through each serving and extra black pepper!
If you make this recipe please do take photos and send them to me.
If you share them on instagram, remember to tag me @brendajanschek. Otherwise feel free to pm me your photos via Facebook. I get a total kick out of seeing you bring my recipes to life. 
And remember, if you haven't already, grab your copy of my Easy Wholefood Lunchboxes recipe book here. 
It contains 40 scrumptious sweet and savoury recipes which are nut and refined-sugar free.
Other recipes you might like to try for dinner Summer Baked Meatballs with Kale and Juicy Tomato Sauce or 
Healthy Lasagna.
Bren x
As far as breakfast cereal goes, I always say, "you may as well eat the box', it's probably more nutritious than what's inside! Here are 5 things to think about before you reach for the boxed cereal in the supermarket.

Download Now