Healthy Chocolate Banana Protein Ice Cream
Both my teens are athletes and have requested extra protein in their meals in general, even in their healthy treats.
I'm so proud of how delicious my new recipe for Healthy Chocolate Banana Protein Ice cream tastes using just 6 ingredients. My son agreed and said that it tasted somewhere between ice cream and mousse!
Lately, my son, in particular, has become very disciplined when it comes to sweet foods and I've been making more and more low-sugar, high protein sweet options for him and he is thrilled to have this as a tasty high protein option to have for dessert or a snack.
I recommend eating it straight after it's made for the best consistency, if you put it in the freezer, just make sure you pull it out 20mins-30 before serving as it needs to soften.
In order to make it, just make sure you use a high-powered blender like this BioChef Galaxy Pro Blender.
Are you following me on Instagram, Facebook, Pinterest?
Have you signed up for my FREE BREAKFAST EBOOK HERE to get on my mailing list and have free recipe updates and special offers delivered to your inbox?
DEALING WITH FUSSY EATING? WE CREATED THE FUSSY EATING BUNDLE TO HELP AS MANY PARENTS AS POSSIBLE INSTIL POSITIVE EATING HABITS IN THEIR CHILDREN AND PROVIDE LIFELONG JOYFUL A RELATIONSHIP WITH FOOD, THUS CREATING PEACEFUL, STRESS-FREE MEALTIMES. FIND OUT MORE HERE.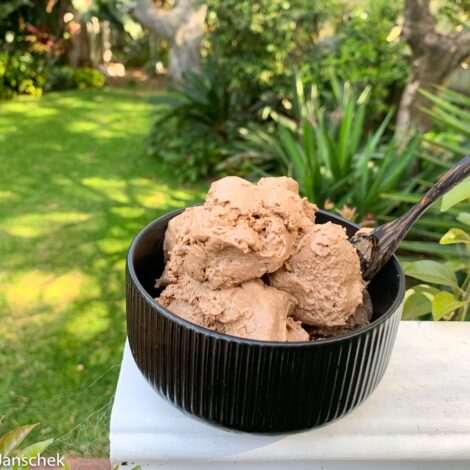 Healthy Chocolate Banana Protein Ice Cream
Ingredients
2

large

frozen bananas,

peeled and sliced

1

tbsp

cacao powder

1

tbsp

protein powder,

I used my favourite chocolate flavoured protein powder (linked above)

1/2

cup

peanut butter

1/8

cup

almond milk or milk of choice,

add a bit extra if the mixture is too thick but you don't want it too loose either. Aim for a soft serve consistency

1

tspn

cinnamon powder,

optional
Instructions
Place all the ingredients in a high powered blender and blitz on high until well combined.

Eat immediately or store in freezer.
Notes
Have a little taste and add a little maple syrup if needed.
This is best served immediately as soft-serve ice cream. If you want to eat it later store it in the freezer but remove from the freezer 20-30 minutes before serving to allow it to soften. 
If you know someone who could use some healthy treat inspiration, please share this recipe with them!
And please take photos and send them to me, or if you share them on Instagram, remember to tag me @brendajanschek
You might also like this Mango Sorbet or this Berry Smoothie Bowl.
Packed with 40 delicious nut-free, sweet and savoury wholefood recipes your kids will love!

Add to cart

$

14.95