Berry Smoothie Bowl
Smoothie bowls are on high rotation in my household. But are they actually healthy for you?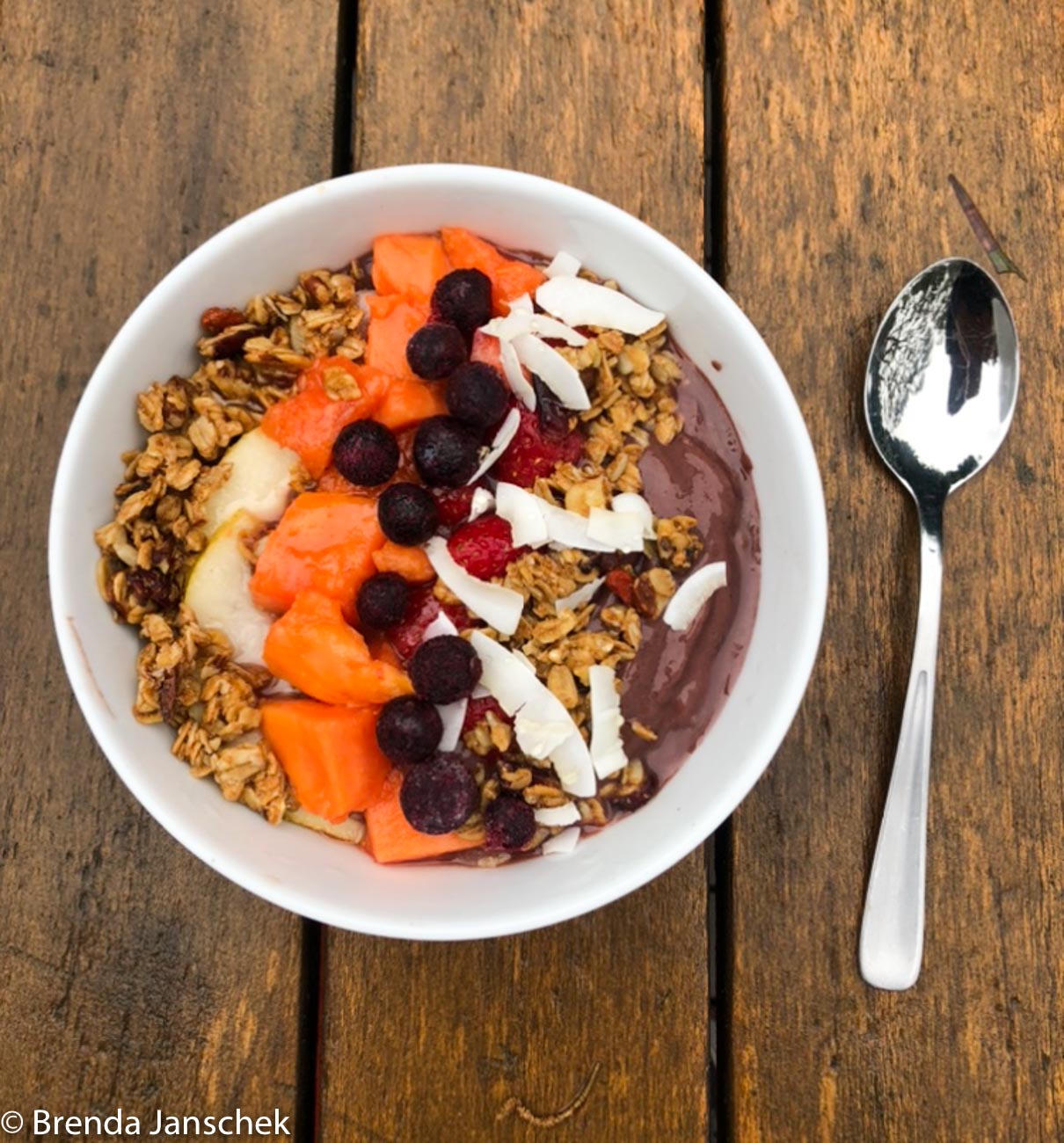 Delicious and creamy. Sweet, satisfying, and quick! How healthy are these bowls really?
Smoothie bowls are fruit-based which means while it's all-natural sugar they can contain far more servings of fruit than you'd typically eat in one sitting. In its blended form, the fructose hits the bloodstream quickly and all at once. All that fructose can spike insulin and can cause skin breakouts. And because smoothie bowls are carbohydrate-based you can end up hungry again very soon after.The trick is to make sure there is enough protein, fat, and fiber to balance out the carbs and get a slower release and stable breakdown in the body.  This is why I always recommend including things like nuts, seeds, yogurt, and protein powder to slow down that fast release. Smoothie bowls topped with lots of fruit are popular and make the bowl look very pretty and Instagram worthy but I try to limit the fruit toppings for more fat and protein-based toppings like nuts, seeds coconut flakes or shreds and granola.
The same goes for your regular ol' smoothies like this Choc-Banana Nut Butter Smoothie and Ginger Mint and Green Apple Smoothie. 
In the recipe below you'll see how I make my smoothie bowls with one of our favorite combinations.
Many of the ingredients in this recipe can be sourced from my one-stop-favorite-shop, organic wholefoods online store, The Wholefood Collective. They offer amazing quality ingredients and value for money and they stock all my favorite products and I don't even have to leave the house!  Here are some of the ingredients you'll need:
Berry Smoothie Bowl
Ingredients
1

cup

your favourite frozen berries

or you can replace berries for frozen mango

1

banana, frozen and sliced

¼

cup mixed raw cashews and chia seeds

or macadamias and almonds work well too

2

tbsp

natural or Greek yoghurt

1

scoop

protein powder

optional

1/2

cup

ice

1/4

cup

milk of choice

add extra if needed
Toppings
2-3

tbsp

homemade granola

1

tbsp

coconut flakes or shredded coconut

fruit

sliced paw paw, banana, berries

or your fruit of choice (optional)

1

tsp

chia seeds

1

tbs

peanut butter

optional
Instructions
Blend up nuts and seeds until smooth. Add the rest of the ingredients and blend on low until smooth

Serve into bowls with toppings
If you're looking for more recipe inspiration take a look at my ebook, Easy Wholefood Lunchboxes. It's packed with 40 delicious nut-free, refined sugar free sweet and savoury recipes which have all been kid-tested and approved and take the guess work out of what delicious, healthy food to make your kids for lunch!
If you make this recipe and share on instagram, remember to tag me @brendajanschek.
Otherwise feel free to pm me your photos via Facebook.
Other recipes you might like are Anti-oxidant Smoothie and Super Smoothie. 
Packed with 40 delicious nut-free, sweet and savoury wholefood recipes your kids will love!

Add to cart

$14.95
As far as breakfast cereal goes, I always say, "you may as well eat the box', it's probably more nutritious than what's inside! Here are 5 things to think about before you reach for the boxed cereal in the supermarket.

Download Now