Mango Sorbet
Aussies summers are hot. Damn hot! And it's still hot even after you leave the sand and surf.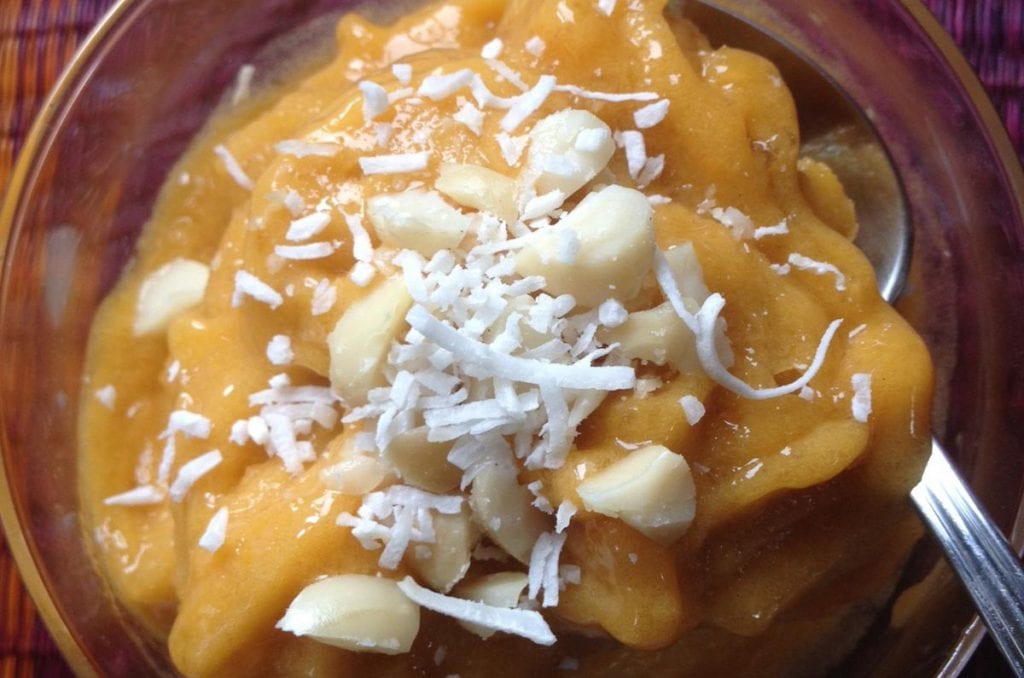 Who doesn't like to pop into the local gelato shop while you're waiting for the cool change to sweep across and cool everyone off?
We could easily make gelato a daily ritual in the summertime, but to avoid common nasties like skim milk powder, dextrose, stabilizers, colours, preservatives and the high amounts of refined sugar, you can make your own in less than 5 minutes with only 5 ingredients.
You get 6 servings out of it and it's much lighter on the wallet. The kids reckon it's better too! When I asked why they said because it tastes 'real'. Howzat?!
This is a recipe I have adapted from the Thermomix Everyday Cookbook.
Many of the ingredients in this recipe can be sourced from my one-stop-favourite, organic wholefoods online store, The Wholefood Collective. They go to great lengths to ensure everything they source is amazing quality, they stock all my favorite products and I don't even have to leave the house! Oh, and the cherry on the cake is they donate profits to improve food security for vulnerable Aussies.
Mango Sorbet
Ingredients
50 grams rapadura or coconut sugar (optional as the mango itself provides enough sweetness)
400 grams frozen mango
1 egg white (save the yellow to throw into scrambled eggs)
300 grams ice cubes
Dash of coconut cream
Preparation
Place sugar into a food processor or blender and mill until resembles castor sugar.
Add mango, egg white, coconut cream, and ice cubes and pulse to break into smaller pieces, gradually increase speed then whizz on high until blended.
Top with chopped macadamia nuts and shredded coconut.
Thermomix instructions
Place sugar into mixing bowl and mill 8 sec/speed 9.
Add mango, egg white, coconut cream, and ice and blend 20 sec/speed 10, gradually increasing speed from speed 1 – speed 10, use a spatula to assist.
Check if it has blended well and is nice and creamy, if not, continue to blend as needed on speed 9.
Serve immediately topped with chopped macadamia and shredded coconut.
Freeze the rest and make sure to thaw for 10 minutes prior to serving.
Other recipes you might like…
Healthy Chocolate Banana Protein Ice Cream
Have you signed up for my newsletter here to receive your free 'Think Outside the Cereal Box' breakfast ebook?
As far as breakfast cereal goes, I always say, "you may as well eat the box', it's probably more nutritious than what's inside! Here are 5 things to think about before you reach for the boxed cereal in the supermarket.

Download Now
Packed with 40 delicious nut-free, sweet and savoury wholefood recipes your kids will love!

Add to cart

$

14.95