Mini Quiche
I've recently learnt that most of the time at school, my kids eat their lunch whilst playing handball!
It explains why some of the more cumbersome foods in their lunch boxes keeps coming back.
So much for teaching them to sit down when they eat and engage in mindful eating!
So I've started to focus on filling their lunchbox with bite sized bits and pieces that they can eat with one hand whilst slamming a hand ball with the other : )
These mini-quiches work well and boy do my kids love them! There was a lot of begging for a quiche from other kids too. So they seem to be a popular option for kids.
They are easy to make too, especially if you get your kids involved.
With over 200 lunchboxes to tackle every year per child (!), my Easy Wholefood Lunchboxes recipe ebook was  created for the parents dreaming up a constant supply of delicious options  to keep their children happy and satisfied, while ensuring they are receiving vital nutrients as they grow physically, emotionally and intellectually.
The Easy Wholefood Lunchboxes eBook is split into 3 sections
My recommended lunch boxes, containers, drink bottles; my easy lunchbox system; and preferred ingredients
20 sweet recipes
20 savoury recipes
Plus a gorgeous photography to accompany each recipe. Check it out here. 
Many of the ingredients in this recipe can be sourced from my one-stop-favourite, organic wholefoods online store, The Wholefood Collective. They go to great lengths to ensure everything they source is amazing quality, they stock all my favorite products and I don't even have to leave the house! Oh and the cherry on the cake is they donate profits to improve food security for vulnerable Aussies.
Here are some of the ingredients you'll need:
Mini Quiche
Ingredients
3

sheets butter puff pastry

6

eggs

180

grams

feta cheese

100

grams

cream cheese

1/2

cup

milk or cream

Sea salt and pepper

300

grams

spinach

chopped

1

big handful mint

finely chopped

Red onion

thinly sliced

Cherry tomato

halved
Instructions
Preheat oven to 175 degrees celcius

Grease 2 x 12 hole muffin tins with butter

Thaw butter puff pastry as per packet directions

Pop eggs, feta, cream cheese, salt and pepper into a food processor and blend for a few seconds until mixture is smooth (ie feta isn't still in lumps)

Pour into a measuring cup with a spout and mix through spinach and mint

Using a glass, cut holes in pastry ( I used a cup with 9cm diameter) and place into muffin holes

Pour the egg mixture into the pastry

I alternated the topping with half a cherry tomato and thinly sliced red onion

Pop into the oven for 20-30 minutes, or until quiches are golden brown

Leave to cook in trays for 5 minutes then remove to a cooling rack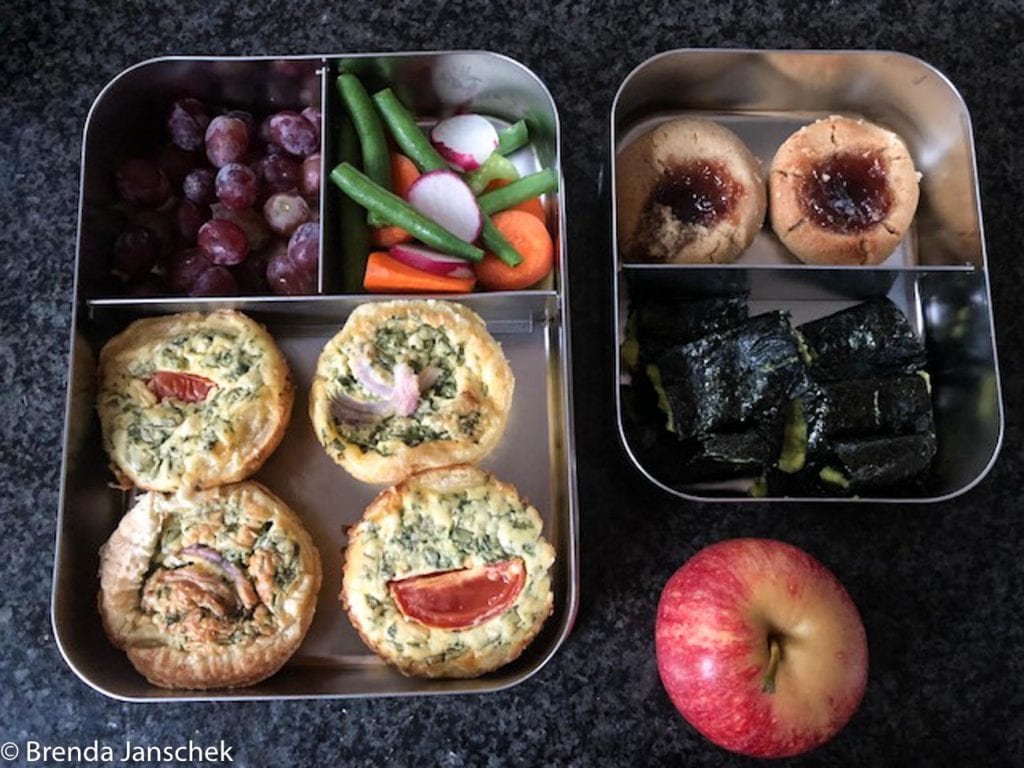 If you know someone who could use some lunch box inspo, please share this recipe with them!
And please take photos and send them to me, or if you share them on instagram, remember to tag me @brendajanschek
You might also like these 10 Savoury School Lunch Box Ideas and these 17 Sweet and Easy Lunch Box Recipes.
Bren x
Packed with 40 delicious nut-free, sweet and savoury wholefood recipes your kids will love!

Add to cart

$14.95
As far as breakfast cereal goes, I always say, "you may as well eat the box', it's probably more nutritious than what's inside! Here are 5 things to think about before you reach for the boxed cereal in the supermarket.

Download Now