One Pot Chicken and Vegetable Pilaf
Since discovering the joys of one pot wonders there's no turning back!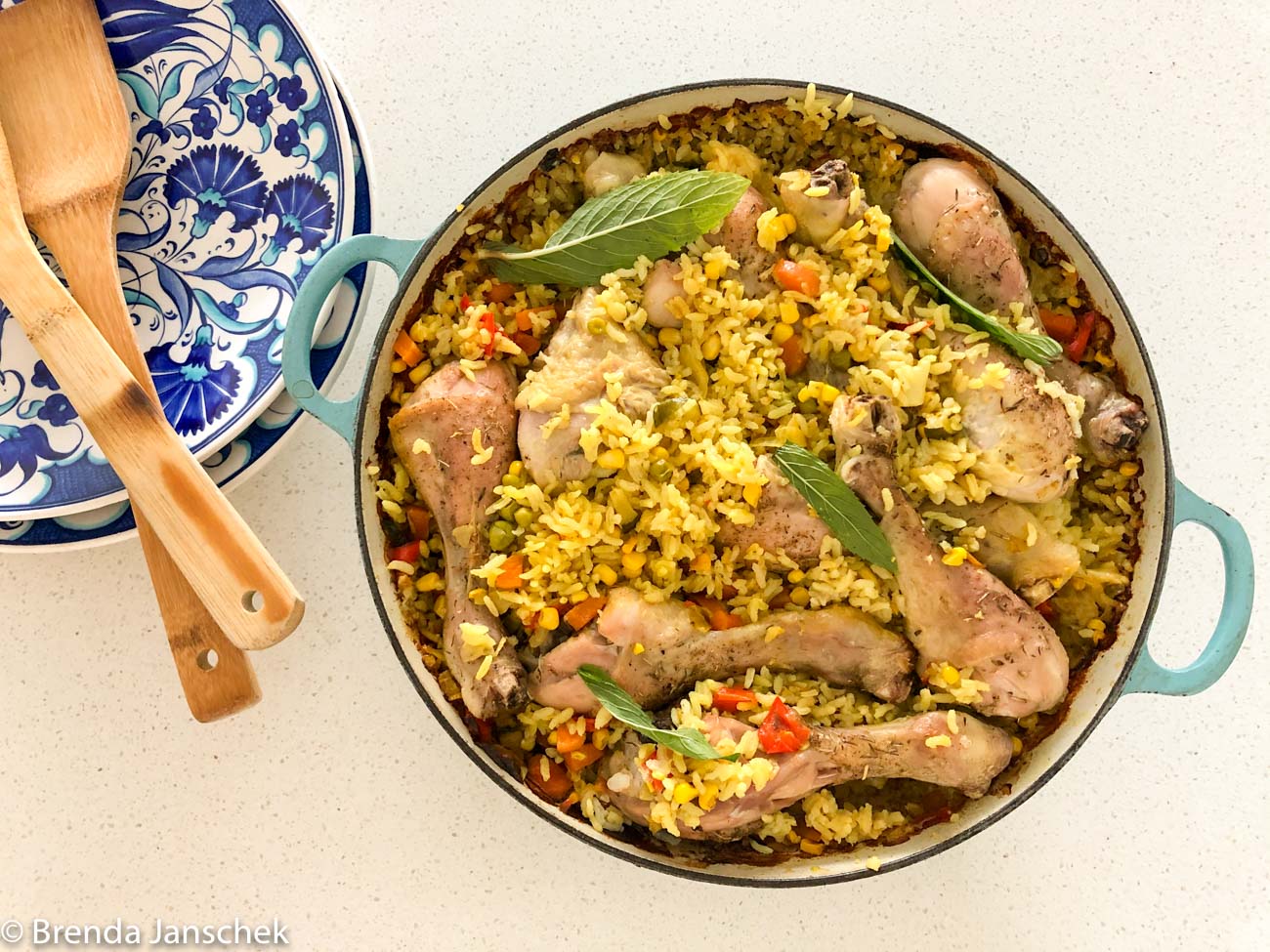 Lately, with lots going on, I've been feeling quite exhausted and have found myself looking for cooking shortcuts to take the mental load out of cooking. Thoughts of "how can I avoid having to stand over the stove" and "what's the shortest possible route to dinner" have been occupying my mind…
Thankfully, the oven and cookware in my current rented apartment are superior to what I had at home (currently being renovated, doesn't look like we'll be moving back in mid-December though and you'll agree if you've been watching my instastories).
The apartment has a couple of pieces of French oven cookware. Need I say more. I have discovered the joys of one-pot cooking in this amazing cookware which gives me fast results, less clean up, and better-tasting food!
I am loving having a home-cooked meal without all the hassle. The French oven is so easy to clean, uses much less heat to cook at high temps, goes stove to oven, can roast meat in it, make curries, broths, pasta, anything!
I can't wait to slowly fill my new, big kitchen (so excited!) with some French oven cookware. I'm so glad I got to road test it out first because now I know it's definitely worth it. It's expensive but it's for life, and you can pass them on to the kids too. I think this Chasseur 5.2 litre oven will be the first cab off the rank! And I simply adore the look of this Neoflam retro 5.6 litre low casserole pan. How good does it look!
Don't worry, you can use any French oven, Dutch oven or casserole dish you might have to make the One Pot Chicken and Vegetable Pilaf. So put your feet up and let the cookware and oven do all the heavy lifting and discover the deliciousness that comes when all the ingredients are brewed together, creating deep, complex flavours to enjoy.
Many of the ingredients in this recipe can be sourced from my one-stop-favourite, organic wholefoods online store, The Wholefood Collective. They go to great lengths to ensure everything they source is amazing quality, they stock all my favorite products and I don't even have to leave the house! Oh, and the cherry on the cake is they donate profits to improve food security for vulnerable Aussies.
Here are some of the ingredients you'll need:
Turmeric powder
Cumin powder
Paprika powder
Extra Virgin Olive Oil
Basmati Rice
Sea salt
Pepper
One Pot Chicken and Vegetable Pilaf
Ingredients
1

large brown onion, chopped

4

cloves garlic, finely chopped

1/2

large red capsicum, diced

1

carrot, diced

1

zucchini, diced

1

corn on the cob, kernels sliced off

1

cup

peas

2

tsps

turmeric powder

2

tsps

cumin powder

1

tsp

paprika powder

2

tbsps

extra virgin olive oil

1.5

cups

basmati rice

2

cups

chicken stock or water

1/2 cup

water

pinch

good pinch sea salt and pepper

8-10

chicken drumsticks
Instructions
In a large casserole dish add onion, capsicum, carrot, corn, peas, turmeric, cumin and paprika. Pour over olive oil, mix well, pop lid on and place in oven for 30 minutes.

Add rice, stock, salt, pepper and water into the baking tray and stir to combine. Place chicken drumsticks on top and season well with salt and pepper. Cover and back in oven for 45 minutes.

Remove lid and cook for a further 15-30 minutes or just until chicken and rice are cooked.
If you make this recipe and share on instagram, remember to tag me @brendajanschek.
Otherwise, feel free to pm me your photos via Facebook.
Other rice-based dinner recipes you might like are Easy Paella, Middle Eastern Spiced Chickpea Rice, and Garlic Prawns and Coconut Rice.
Packed with 40 delicious nut-free, sweet and savoury wholefood recipes your kids will love!

Add to cart

$

14.95
As far as breakfast cereal goes, I always say, "you may as well eat the box', it's probably more nutritious than what's inside! Here are 5 things to think about before you reach for the boxed cereal in the supermarket.

Download Now