Quick Feta and Olive Dip
My daughter likes to message me her food requests from school and the other day she had a desperate need for olive dip and Jatz crackers!
The craving wasn't random, it was triggered by what one of her friends was eating for lunch that day and which got my daughter salivating!
As you can imagine my mind went directly to 'how can I recreate the healthy version of this' mode, but understanding that true cravings need to be met otherwise they don't go away, I bought her them from the supermarket as a once of and boy did she enjoy it!
Since then I took to task to recreate the dip and it's darn delicious! I toasted up some Lebanese bread with za'atar spread as a crunchy dipping alternative to the Jatz crackers.
Home-made dips take 5 minutes to make and aren't full of processed oils, preservatives, sugar, and numbers like most store-bought ones.  And remember, if you have a picky eater, studies show they are more likely to eat their veggies if paired with a dip! Give it a go!
Other dip recipes you might like…
Homemade Hummus
Roast Pumpkin Dip
Lunchbox Friendly Pesto
For 40 more scrumptious sweet and savoury recipes which are nut and refined-sugar free grab your copy of my Easy Wholefood Lunchboxes recipe book here.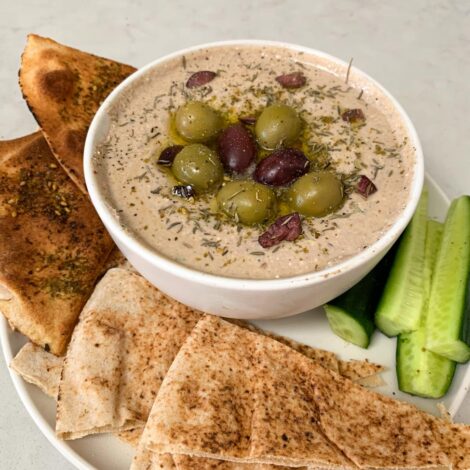 Quick Feta and Olive Dip
Ingredients
180 g

(1 packet)

feta cheese

1/4 cup

Greek yogurt

100 g

cream cheese

55 g

(1/3 cup)

extra virgin olive oil

120 g

(1 cup)

pitted black kalamata olives

2

tbsp

parsley, leaves removed, finely chopped

1/2

tspn

dried oregano
Instructions
Put parsley into the food processor and finely chop.

Add olives and process until blended.

Add yoghurt, cream cheese, olive oil, and oregano, blend until smooth.

Chill and serve with crudite, toasted Lebanese bread and/or crackers.
THERMOMIX INSTRUCTIONS
Pop parsley into the TMX bowl & chop 5 sec, speed 8-9, scrape down sides of bowl and repeat 5 seconds.

Add the olives and blend 3-sec speed 7, scrape sides of bowl if needed for a more few sec at speed 7.

Add yoghurt, cream cheese, and olive oil, blend 10 - sec, speed 7. If too thick pour in a little more oil or yoghurt. Scrape down sides again if needed and and blend 3-sec, speed 5.

Serve with your favourite crackers or vegetable sticks.
If you make this recipe please do take photos and send them to me.
If you share them on instagram, remember to tag me @brendajanschek. Otherwise feel free to pm me your photos via Facebook. I get a total kick out of seeing you bring my recipes to life. 
Bren x
Packed with 40 delicious nut-free, sweet and savoury wholefood recipes your kids will love!

Add to cart

$14.95