Two Protein Ball Recipes for Busy Women (& Kids!).
Most of you would know how incredibly passionate I am about the health and well being of our precious children. As my own kids grow up (still my babies, but much more independent now), I've been able to increase the focus on taking care of 'me' and helping other mums understand the incredible importance of nourishing themselves too.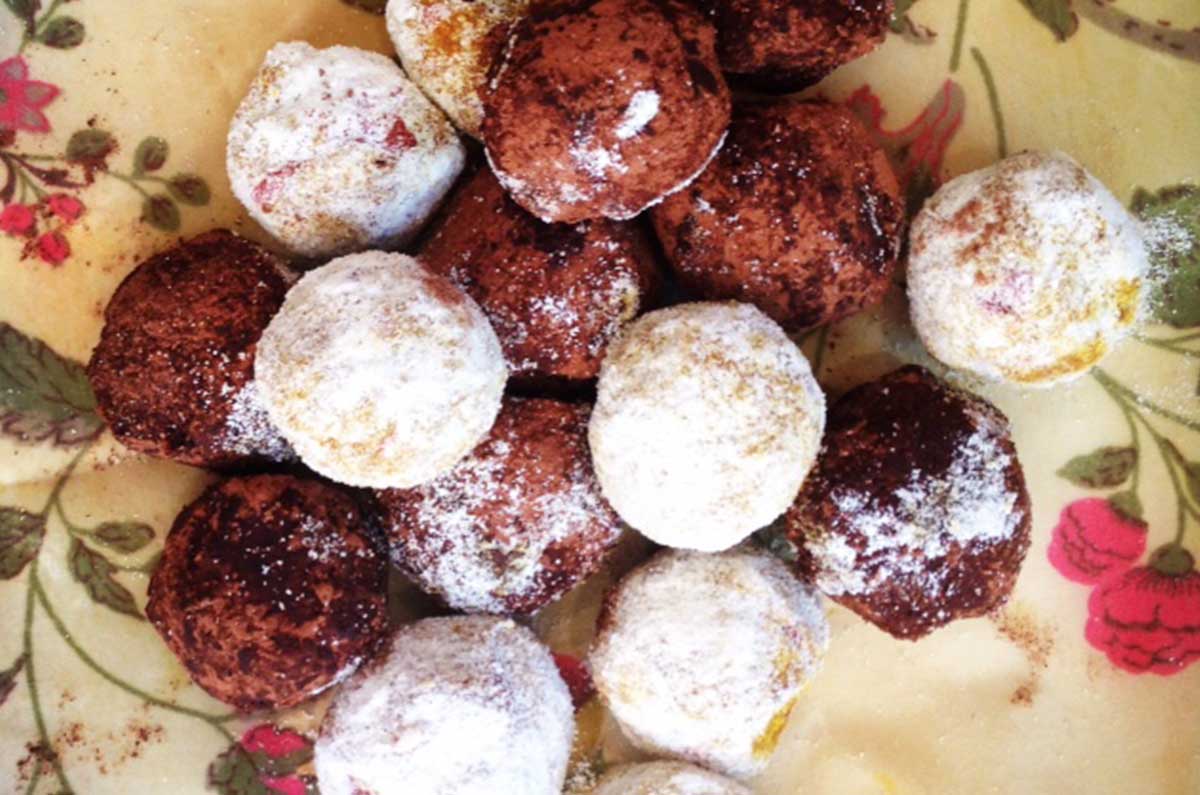 How do we busy women nourish ourselves when we don't have 5 minutes from sunrise to sunset?
How do we find the energy to focus on ourselves and understand the true importance of this?
Well I'm here to tell you it is possible.
Now, I'm not talking about making time for oil pulling, or 1 hour yoga sessions three times a week (it's great if you do, but this mama doesn't have time for that!).
I'm talking about more realistic stuff, such as:
creating a nourishing kitchen so there's always healthy, delicious food on hand
committing to even 5 minutes of quiet time to breathe or lie down with your legs raised
eating lunch mindfully with your feet on the grass instead of under a computer
exercising more efficiently whilst still losing weight
creating time to visit a naturopath to check your overall health
running your household more efficiently so their is more time for fun stuff
If you find yourself stuck in a rut with your health that and you're done thinking about doing something about and it's time for you to take action, join my FREE 5-Day Body Bounce Back Program, we start altogether on Wednesday 21st August.
Another simple way you can nourish yourself today is by making a batch of these divine Protein Ball Recipes below, two recipes which we created for the busy women on the program, that have been much loved by the whole family.
Eaten mindfully, these make a great accompaniment to a breakfast smoothie if hunger pains ensue, or perfect to throw in the hand bag for a before and/or after workout snack.
They make a nutrient dense and delicious alternative to the vending machine at the 3pm crash (at least until we get those blood sugars stabilised) and they make a perfect after school snack for the kids if you are willing to share!
Zesty Lemon Protein Ball
2016-04-27 02:32:25
Ingredients
150g cashews,
50g Goji berries or prunes
Zest from 1 lemon
Juice from half a lemon
1 heaped tablespoon tahini
Half a cup of pumpkin seeds
10 gms coconut oil
1 tablespoon Great Lakes collagen protein (optional)
Instructions
In a blender, blend lemon juice, zest, and coconut oil into a smooth cream.
Add tahini, cashew, goji berries and pumpkin seeds and blend until mixture forms together.
Shape into little balls and roll in coconut flour.
If mixture is too wet add in some desiccated coconut or coconut flour.
Store in the fridge or freezer.
Brenda Janschek Health & Lifestyle https://brendajanschek.com/
Dark Chocolate Protein Balls
2016-04-27 02:40:40
Ingredients
1 cup raw cacoa powder
Half a teaspoon of vanilla powder
1 teaspoon cinnamon
50g goji berries, soaked for 10 mins to rehydrate and add moisture
180g pecans, soaked for 10 mins to rehydrate and add moisture
20g coconut oil
1 teaspoon raw honey
1/2 cup filtered water if needed
Instructions
In a blender, blend raw honey, coconut oil and cacao powder to from a creamy consistency (would make amazing icing!).
Add pecans, goji berries, cinnamon and vanilla and blend until nice and smooth.
If needed, add half a cup of water to help soften mix (add slowly until you reach a consistency you like)
Form into little balls and roll in a mix of cacoa powder and cinnamon. You could also a little chilli powder for that extra kick!
Brenda Janschek Health & Lifestyle https://brendajanschek.com/
Bren x
Packed with 40 delicious nut-free, sweet and savoury wholefood recipes your kids will love!

Add to cart

$14.95
As far as breakfast cereal goes, I always say, "you may as well eat the box', it's probably more nutritious than what's inside! Here are 5 things to think about before you reach for the boxed cereal in the supermarket.

Download Now